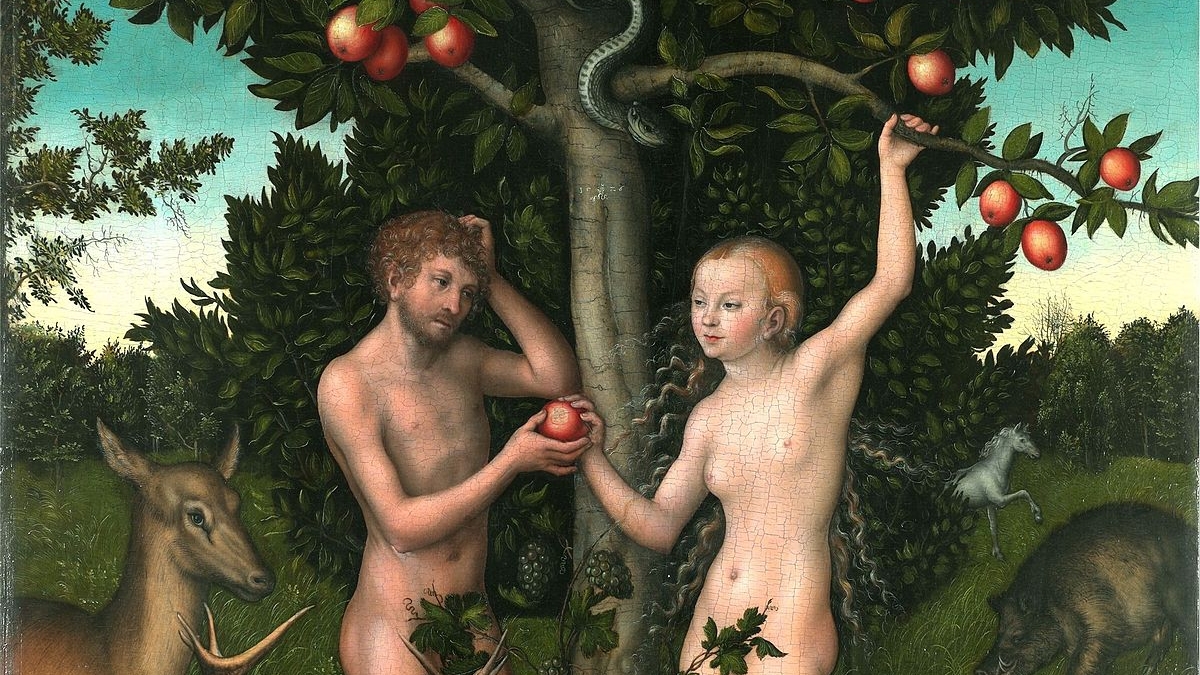 Temptation in Eden: Lucas Cranach's Adam and Eve
Exhibition Archive
21 June — 23 September 2007
This stunning exhibition was the first in Britain devoted to the great German Renaissance painter Lucas Cranach the Elder (c.1472-1553).
Temptation in Eden focuses on one of Cranach's most memorable and enchanting works: the Courtauld's Adam and Eve, painted in 1526 when the artist was at the height of his powers.  This beguiling painting demonstrates Cranach's outstanding gifts as a portrayer of landscape, animals and the female nude.
Adam and Eve brilliantly combines devotional meaning with pictorial elegance and invention.  The scene is set in a forest clearing where Eve stands before the Tree of Knowledge, caught in the act of handing an apple to a bewildered Adam.  Entwined in the tree's branches above, the serpent looks on as Adam succumbs to temptation.  A rich menagerie of birds and animals completes this seductive vision of Paradise.  The painting is particularly admired for its treatment of the human figure and for the profusion of finely painted details, including animals and vegetation. Cranach delights in capturing details such as the roe-buck catching its reflection in the foreground pool of water.
Adam and Eve is shown alongside a number other works which express the same themes of temptation and beauty, and were made on a domestic scale between 1526 and 1530.  They include the Royal Collection's Apollo and Diana, the National Gallery's Cupid Complaining to Venus, and the J. Paul Getty Museum's A Faun and his Family.  The exhibition considers the possibility that these paintings were commissioned by a single patron, perhaps for the future Elector Johann Frederick, on the occasion of his marriage in 1527.
A number of exquisite animal studies – drawn from both living and dead beasts – are displayed to show the complex processes which went into transforming these real animals into their idealised representation in the Courtauld's Adam and Eve.  These drawings, together with fine engravings and woodcuts, offer a unique opportunity to enjoy Cranach's remarkable powers of observation and story-telling as well as his outstanding skills as a graphic artist.
The exhibition was generously supported by:
Apax Partners
Columbia Foundation
The Doris Pacey Charitable Foundation
The German Embassy London
(H. E. the Ambassador Wolfgang Ischinger)
Mr & Mrs Hughes Lepic
The Kilfinan Trust
The Mallinckrodt Foundation.