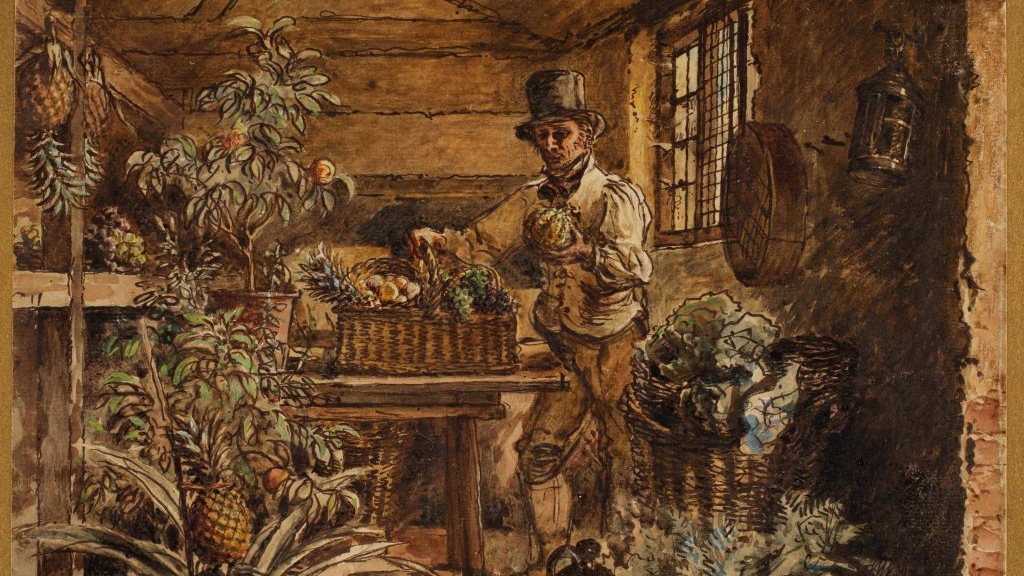 William Henry Hunt: Country People
24 June  – 17 September 2017
★★★★ Time Out

★★★★  'beautifully idyllic' Londonist

'a delight'  The Times
This focused display of 20 drawings and watercolours was the first exhibition to investigate William Henry Hunt's depiction of rural figures in his work of the 1820s and 1830s. It took its lead from a watercolour in The Courtauld Gallery's permanent collection, The Head Gardener, which was shown alongside significant loans from institutions and private collections.
William Henry Hunt (1790–1864) was one of the most prolific and admired watercolourists of the Victorian period. From 1814 he exhibited at the Old Water-Colour Society, where he was admired for his bold and innovative watercolour technique. His work was extensively collected in his lifetime, particularly the intricate still lifes of flowers, fruit and feathers that earned him the nickname 'Bird's Nest' Hunt. While his large rural genre subjects have always been highly prized, less well known are his single figures of country men and women, often observed in their home or place of work. These were painted mostly between 1825 and 1845, during a period of rapid agricultural development and social change, both in cities and the countryside. They raise questions about the identity and status, and the changing relationship with rural labour and the land during his lifetime – changes that are reflected also in the literature of the period. Hunt was a Londoner, born near Covent Garden, who brought a metropolitan eye to the land and the people who make their living from it.
Hunt gives us an appealing vision of a rural society of dignified individuals. Typical country characters are depicted in several key works including The Broom Gatherer, The Vegetable Man, and The Miller in his Mill. Several of Hunt's rural figures portray staff on landed estates, such as that of the Earls of Essex. He had a remarkable talent for finding appealing textures and colours in humble interiors, fruit and dead game as well as in homespun clothing and leather boots. But it is, above all, the humanity of his sympathetic portrayals of these country people, beautifully rendered in watercolour, that makes them remarkable. For Ruskin, a later champion of Hunt's work, these watercolours were 'virtually faultless'.