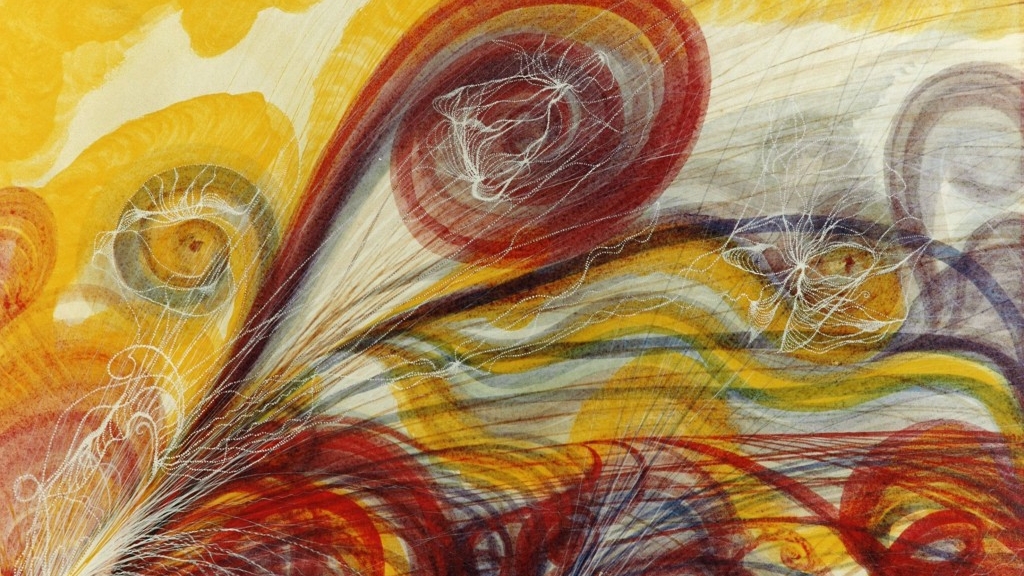 Georgiana Houghton: Spirit Drawings
★★★★★ "awe-inspiring visions of a Victorian medium"
The Guardian
"A crucial show…the Courtauld is rewriting art history"
Sunday Times, Culture
16 June – 11 September 2016
Georgiana Houghton (1814-1884) was a Spiritualist medium who, in the 1860s and 70s, produced an astonishing series of abstract watercolours. Detailed explanations on the back of the works declare that her hand was guided by various spirits, including several Renaissance artists, as well as higher angelic beings. In this exhibition The Courtauld Galley explores this astounding series of largely abstract Victorian watercolours and offers visitors a unique opportunity to view remarkable works which have not been shown in the UK for nearly 150 years.
Houghton was a prominent figure of the early spiritualist movement in Victorian England, which played a significant role in various spheres of nineteenth-century culture and was later championed by such influential figures as Sherlock Holmes author Sir Arthur Conan Doyle. Spiritualism emerged as the belief that contact with a spirit realm was possible and that such communication could bring one closer to God. Houghton, a trained artist as well as a medium, pioneered the use of drawing as a method of channelling and expressing communications with spirit entities. During the 1860s and 1870s, she produced a series of unprecedented abstract watercolours as part of her practice as a spirit medium. Houghton called these works 'spirit drawings'.
Houghton's spirit drawings are remarkably complex and layered watercolours. Technically highly accomplished, their bold colours and fluid forms have a mesmerising and deeply absorbing effect. Detailed inscriptions on the back of the works declare that her hand was guided by various spirits, including family members, several Renaissance artists, such as Titian and Correggio and higher angelic beings. These inscriptions, which are a form of automatic writing, also make clear that Houghton's richly patterned compositions are intended to be faithful visualisations of aspects of the spirit realm and designed to inspire and strengthen the spiritual life of their viewers. Although produced in a very different context, Houghton's abstract works have close connections to the ways in which twentieth- century artists developed abstract languages of art to transcend the everyday realm of representation and consciousness.
In 1871 Houghton rented a prestigious gallery space in Bond Street and presented 155 of her spirit drawings to a perplexed London audience. The Critic from The Era newspaper pronounced it to be "The most astonishing exhibition in London at the present moment." The Daily News likened the works to "tangled threads of coloured wool" and concluded that "They deserve to be seen as the most extraordinary and instructive example of artistic aberration." The exhibition proved to be a commercial failure and nearly bankrupted Houghton. Although she continued to make spirit drawings after the exhibition, her ambition of popularising the practice was not realised. Today, less than fifty of her works are known.
Organised in collaboration with Monash University Museum of Art, Melbourne, Australia

Exhibition Curators:
The Courtauld Gallery is delighted to be organising Georgiana Houghton: Spirit Drawings with the following team of curators.
Simon Grant is a writer and art historian, editor of Tate Etc magazine and co-editor of Picpus magazine, and has contributed numerous catalogue essays on modern and contemporary artists.
Lars Bang Larsen is an art historian, independent curator and writer based in Copenhagen. He has curated projects at the Stedelijk Museum, Amsterdam; Raven Row, London, and at the Bienal de São Paulo.
Marco Pasi is Associate Professor in History of Hermetic Philosophy and related currents at the University of Amsterdam. His research focuses on the complex web of relations between modern Western esotericism, religion, politics and art.