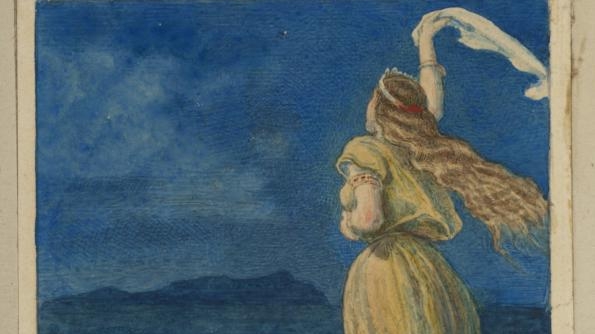 Life, Legend, Landscape: Victorian Drawings and Watercolours
17 February – 15 May 2011
"A small but perfectly formed exhibition that reveals the astonishing variety and quality of Victorian drawings and watercolours."
Country Life
This exhibition, running from 17 February to 15 May 2011, presented a rich selection of Victorian drawings and watercolours from The Courtauld Gallery's world-famous collection. Many of these works are shown for the first time. They range from exquisite highly finished watercolours to informal sketches and preparatory drawings for paintings and sculpture.
Major artists of the Victorian era are featured, from J.M.W. Turner and Edwin Landseer to Whistler and Aubrey Beardsley. Among the highlights are striking works by the Pre-Raphaelites Rossetti, Millais and Burne-Jones.
Splendid landscapes, intimate portraits and scenes from literature and everyday life reveal the Victorian preoccupation with nature, myth and legend, as well as the living model.
Lost from view for many years and recently presented to The Courtauld Gallery, The Old Farm Garden by Frederick Walker (1840-1875), sets the scene for a wide-ranging exploration of Victorian drawings and watercolours. The exhibition was the first devoted to this area of The Courtauld Gallery's collection and reflected the growing appreciation for Victorian draughtsmanship.
The show included numerous previously unseen works and ranged from informal preparatory drawings for paintings, sculptures and stained glass to highly finished exhibition watercolours. It included life studies, landscapes, genre scenes and subjects from literature and legend. The exhibition features works by most of the major artists of the age, from the redoubtable Royal Academicians of the early years of Victoria's reign, such as J.M.W. Turner, William Etty and Edwin Landseer, to Pre-Raphaelites such as Dante Gabriel Rossetti, and works of the 1890s by Whistler and Aubrey Beardsley.
Frederick Walker began his career as an illustrator but his growing success as an ambitious painter in oils and watercolours was cut short by his early death, aged 35. Although he is now little-known outside a small circle of specialists, his work enjoyed a significant posthumous reputation, with artists as diverse as Vincent van Gogh and John Ruskin amongst his fervent admirers. The Old Farm Garden of 1871 shows a woman, modelled by the artist's sister Mary, knitting out of doors, with a cat about to spring on her ball of wool.  Tulips, flowering shrubs and beehives adorn the garden. The influential critic John Ruskin described the flowers in this work as 'worth all the Dutch flower pieces in the world'. The exhibition also included an earlier watercolour by Walker depicting boys playing piggyback in a village street, and offered a rare opportunity to reconsider this outstanding artist.
William Etty's large watercolour of a female nude contrasted with a cast of the Venus de' Medici opens the exhibition's first section on the figure. As well as serving as an artistic exercise, Etty's image explores the real and the ideal in female beauty. This theme is raised in a different context by Dante Gabriel Rossetti's imposing Pre-Raphaelite portrait study for his celebrated painting Venus Verticordia. Rossetti is said to have used a cook whom he had encountered on the street as the model for this sensuous idealised image of 'Venus who turns hearts'.  A more intimate aspect of female portraiture is developed in the exhibition by Rossetti's small pencil sketch of Elizabeth Siddal, his wife and muse, seated at her easel; Whistler's portrait of the young Elinor Leyland, daughter of one of his major patrons; and George Frederic Watt's sensitive depiction of Emily Tennyson, wife of the great poet.
The exhibition features a splendid selection of landscapes, produced both abroad and at home. They include John Frederick Lewis's watercolour of a Cairo silk bazaar, J.M.W. Turner's late Swiss view of Brunnen on Lake Lucerne and The Quarries of Syracuse (Sicily) – Edward Lear's final design for one of the few oil paintings he exhibited at the Royal Academy. Lewis's portrait of a man in North African dress, possibly the artist himself, underscores Victorian taste for travel and the exotic. Also in this vein is David Wilkie's Madame Giuseppina, a depiction of a celebrated Greek beauty who was the landlady of an inn in Istanbul where Wilkie stayed in 1840 on his last trip abroad. By contrast, Samuel Palmer's naturalistic watercolour of the Surrey countryside near Dorking responds to the beauty of the English landscape. Views by Philip Wilson Steer and Whistler show the development of a more informal and Impressionistic approach to landscape painting around 1890.
Exhibition Supporters
International Music and Art Foundation
The Finnis Scott Foundation