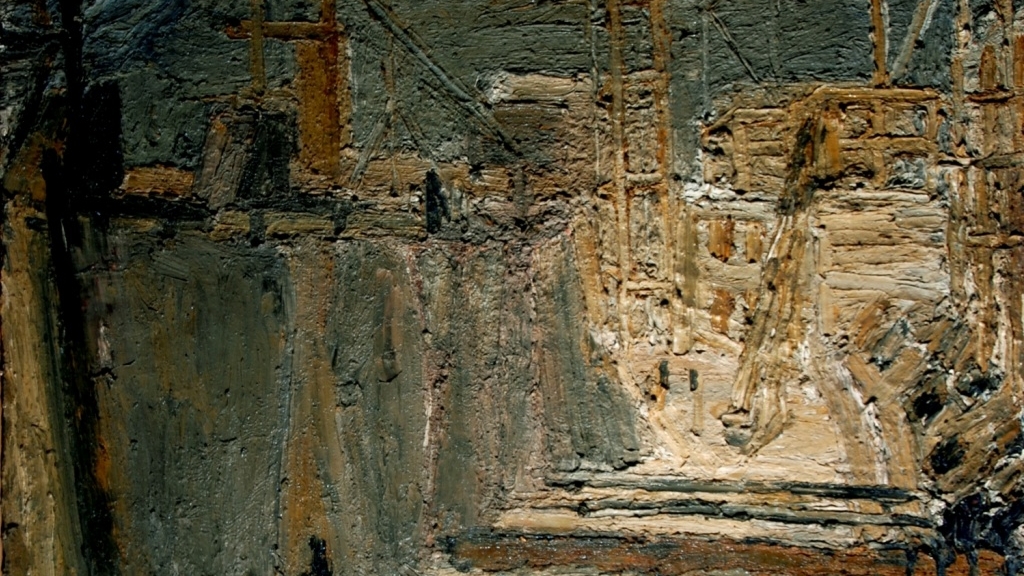 Frank Auerbach: London Building Sites 1952–62
16 October 2009 – 17 January 2010
Arresting and forceful… a compelling exhibition at The Courtauld Gallery… The Guardian
A pitch-perfect affair… The New York Times
This was the first exhibition to explore the extraordinary group of paintings of post-war London building sites by Frank Auerbach (born 1931), one of Britain's greatest living artists.
Fascinated by the rebuilding of London after the Second World War, Auerbach combed the city's numerous building sites with his sketchbook in hand. Back in his studio he worked and reworked each painting over many months resulting in thickly built up paint surfaces more than an inch.
The exhibition reunited the complete series of building site paintings together with rarely seen oil sketches and a number of recently rediscovered sketchbook drawings. These works are among the most important contributions to post-war painting in Britain, produced at a time when Auerbach emerged alongside Francis Bacon and Lucian Freud as part of a powerful new generation of British painters.
Two exceptionally powerful paintings, Maples Demolition, 1960, and Rebuilding the Empire Cinema, 1962, mark the end of Auerbach's building site series. The works' palettes of strong yellows and reds contrast with his earlier paintings in the group which were painted in earth tones, as they were the only colours he could afford in the large quantities he required.  These two paintings epitomise how Auerbach vividly translates chasms of mud and shored-up earth, cranes, scaffolding and the workmen of the building sites into paintings which capture a powerful sense of the destruction and reconstruction inherent in the redevelopment of London's bomb sites.  His heavily worked, thick surfaces express the material character of the sites; a painted equivalent of the mountains of earth and rubble being excavated and reshaped across the city.  His own labours with paint over many months approached the timescale of the buildings themselves.  In certain cases the buildings had been erected and opened by the time Auerbach had completed his paintings of their foundations.
The exhibition brings together all fourteen of Auerbach's building site paintings, drawing on public and private collections nationally and internationally.  It also displays a selection of Auerbach's few surviving pencil sketches (most of which he destroyed) together with oil studies to reveal the artist's complex creative process.  Research for the exhibition has been greatly enriched by interviews conducted with the artist especially for this project.