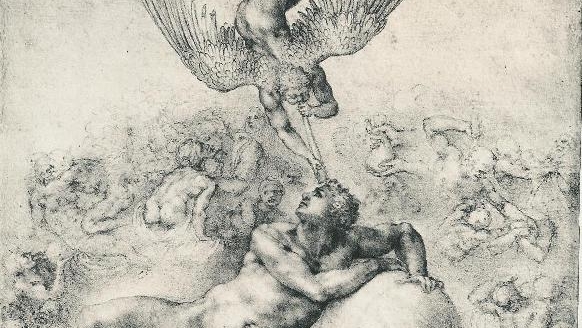 Michelangelo's Dream
18 February – 16 May 2010
"… a sensational exhibition in more ways than one."
The Guardian
"This show works like a trumpet blast, reawakening the viewer to [Michelangelo's] inspirational powers."
The Times
Michelangelo's masterpiece The Dream is one of the greatest of all Renaissance drawings. This complex work shows a nude youth being roused by a winged spirit from the vices that surround him.
The Dream was probably part of the celebrated group of drawings which Michelangelo made as gifts for Tommaso de' Cavalieri, a young Roman nobleman with whom he had fallen passionately in love. With loans from international collections, the exhibition unites The Dream for the first time with these extraordinary drawings.
Michelangelo's Dream also included a selection of previously unexhibited handwritten poems which the artist composed for Cavalieri. Further closely related drawings by Michelangelo as well as works by Albrecht Dürer and others shed light on the meaning of Michelangelo's enigmatic masterpiece.
Exhibition Supporters
Vermeer Associates Limited
The Samuel H. Kress Foundation
Tavolozza – Katrin Bellinger
The Doris Pacey Charitable Foundation
Mrs Elke von Brentano