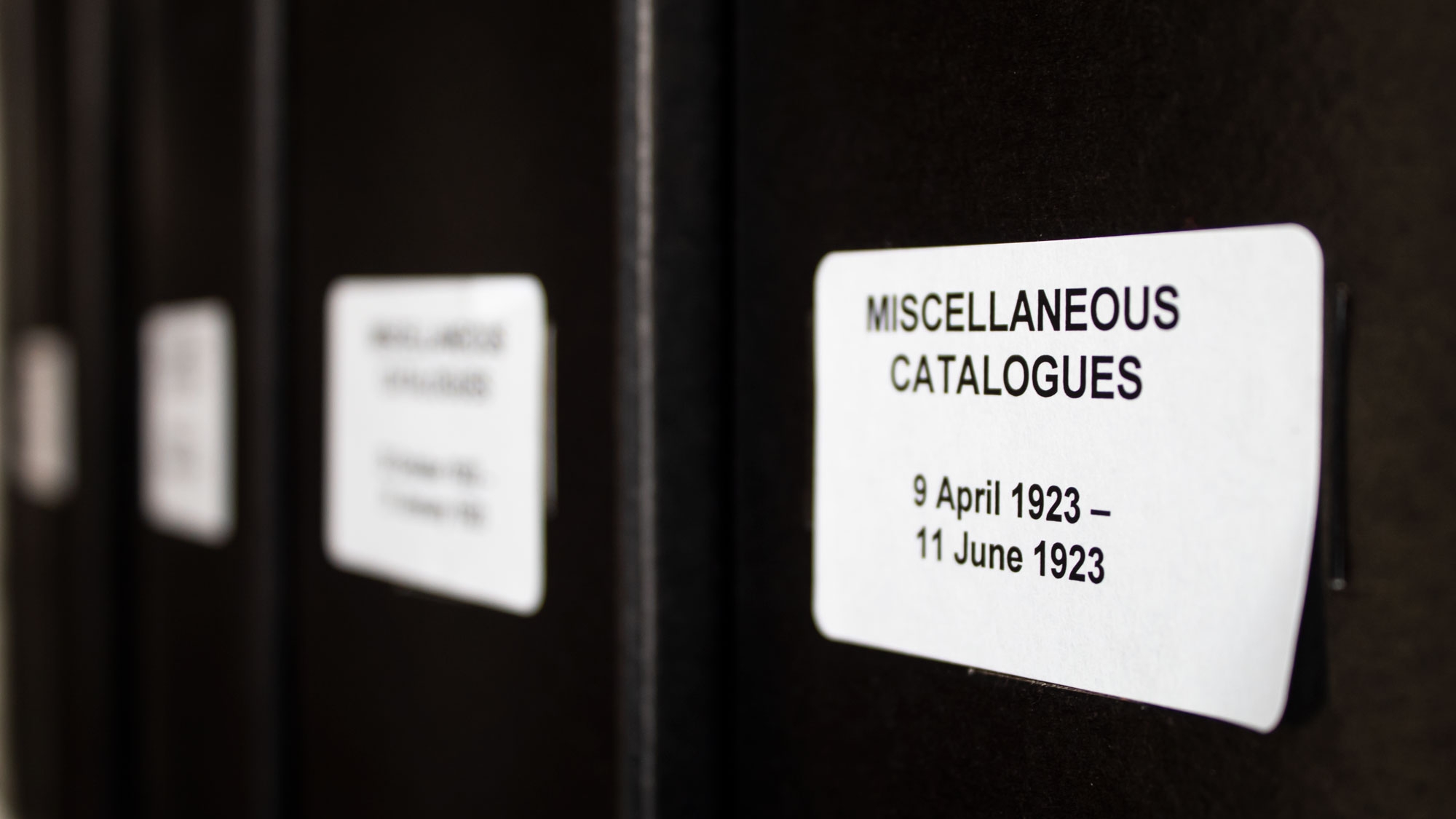 Sales Catalogues
From October 2022 onwards, the refurbishment of our Somerset House space will require our sales catalogues collection to be placed offsite in deep storage. This is a necessary action to preserve the long-term integrity of this collection. During this time, there will be no access at all to our hard copy sales catalogues.
The Library subscribes to Art Sales Catalogues Online (Brill). This provides access to scanned historical art sales catalogues from 1600 to 1925, based on Frits Lugt's Répertoire des Catalogues de Ventes Publiques intéressant. External visitors can access this resource within the Vernon Square Library. Prior booking is essential.
Other Libraries with Sales Catalogues Holdings
The National Art Library
The NAL has an extensive collection of sales catalogues (including jewellery and decorative arts) and accompanying reference works. A microfiche index of pre-1987 sales catalogues is available. Catalogues from 1987 onwards appear on the online catalogue. The NAL also holds an owners index and a subject index, both of which are invaluable aids to researchers
Art Sales catalogues 1600-1825 on microfiche. The NAL has a microfiche edition of art sales catalogues from 1600-1825, based on Fritz Lugt's Repertoire des catalogues de ventes. Published by IDC Leiden.
The British Library
The British Library has a large collection of sales catalogues. Most long runs are entered in the General Catalogue as series under the name of the auction house, e.g. Sotheby & Co. These have a shelfmark which incorporates the name of the auction house e.g. S C Sotheby. Annotated sets (prices, buyers) are held from Sotheby and Co., Phillips, Puttick and Simpson and others. There is also a sequence of single sales catalogues which are shelfmarked with numbers, e.g. S.C. 190, some of which are very early. Sales catalogues in long runs are not indexed as individual sales in the General Catalogue. Where single catalogues are held, they are entered separately in the General Catalogue under a heading dictated by the relevant catalogue rules; this is usually the owner or deceased owner, the building or estate where the collection was housed, or the name of the compiler of the catalogue. See also: List of English book sales 1676-1900 now in the British Museum (1915).
The Wallace Collection Library
The Wallace Collection is an Associate Member of Senate House Libraries. Records are currently being created for pre-2000 acquisitions. All acquisitions since 2000 may be found on the ULRLS/Wallace Collection OPAC, which also includes all their historic sales catalogues, listed in a document at the bottom of their library page.