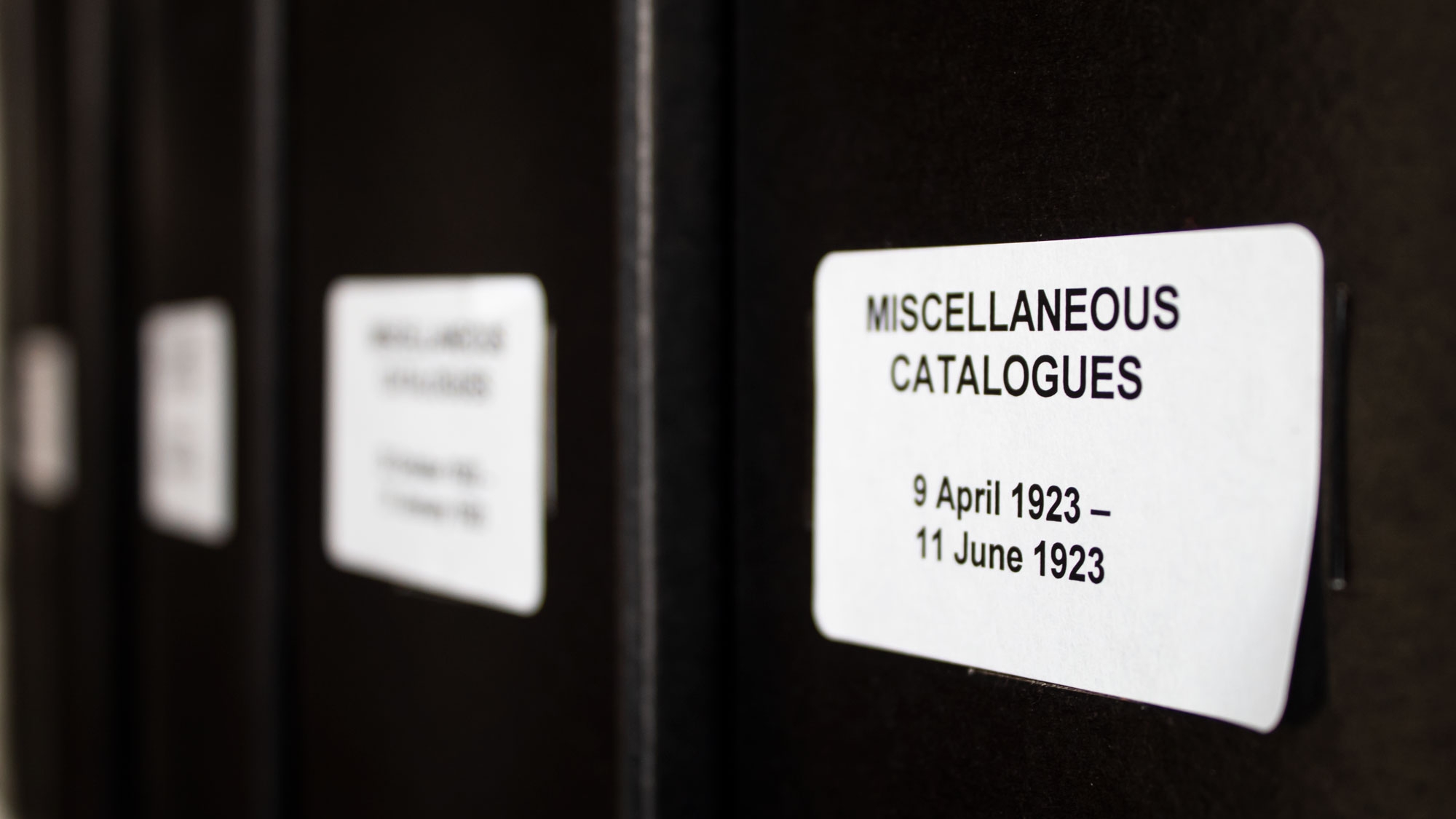 Sales Catalogues
The Book Library's sales catalogue collection dates from 1722 to the present day. Sales catalogues are stored at Somerset House.
Courtauld staff and students can book to view items from the collection using our Visit and View booking service.
Visitors can book to view items from the collection using our Courtauld Libraries at Somerset House booking form.
Introduction
We hold the following, but not complete:
Christie's sales catalogues (1890 to date); UK/London sales
Sotheby's sales catalogues (1935 to date); UK/London sales
Bonham's sales catalogues (1958-1985; 2002 to date)
Assorted sales catalogues (stored in pamphlet boxes): 1912-1975; 1984-1989
Most sales catalogues held in the Book Library at Somerset House are London sales of fine art (including illuminated manuscripts) or costume/dress (including jewellery). Catalogues of decorative art sales are not usually held.
The following are kept in the Closed Access Book Store (CABS):
Catalogues from 1722-1911. Due to their age and fragility only photocopies of those catalogues dating from 1722-1825 are normally available to readers. No copying of original catalogues dating from 1825-1911 is permissible. Please apply to serials Librarian if you wish to consult any item from this part of the collection.
Accessing the Sales Catalogues
Records of sales catalogues are not held on the computer catalogue nor in the card catalogue.
Art Sales Catalogues Online replaces the online edition of the Répertoire des Catalogues de Ventes Publiques by Frits Lugt. This online database can be accessed from any workstation or wi-fi enabled device within the institute. Visitors may access this resource within the Book Library.
A print copy of Repertoire des Catalogues de Ventes Publiques compiled by Fritz Lugt, lists sales catalogues between 1600-1925. A reference copy of Lugt, marked up to indicate Courtauld holdings (in the range L1-L10910), is available for consultation in the Library at the following location: Z8620 LUG. Note that this listing has not been updated for some years.
Other Useful Reference works
Index of paintings sold in the British Isles during the 19th century: provenance index of the Getty art history information programme, (ed. Burton Fredericksen) Santa Barbara, CA and London: ABC-Clio, 1988
Located at: Z8620 IND
Redford, George Art Sales: a history of sales of pictures and other works of art…. London: George Redford, 1888. 2 vols. ill.
Based on catalogues from the British Library, Christie's records, and other sources. Also includes substantial essays on some of the important collectors of the 18th and 19th centuries, along with a historical account of auction sales.
Located at: (CABS)Z8620RED – Apply to librarian
Graves, Algernon Art sales from early in the 18th century to early in the 20th century
London: Graves, 1918-21. 3 vols. ill.
Expands on the work of Redford, correcting errors and omissions which appear in Art Sales … described above. Arrangement: alphabetical by artist. Lists dates of sale, auctioneer, owner, lot number, title, and purchaser, where known. Mostly old masters and early English prints. Includes indexes.
Located at: Z8620 GRA
Price Lists
All sales catalogues from 1960 onwards include price lists.
When searching for retrospective sales prices, the following publication is useful:
Art Prices Current: a record of sale prices at the principal London, Continental and American Auction Rooms 1907/08-1915/16; 1920/21-1972/73. (The first few volumes dealt with Christie's sales only but coverage was expanded in later volumes). Please ask a member of library staff to consult.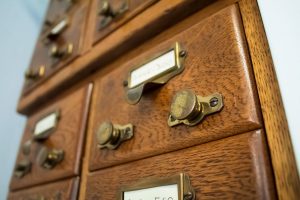 Owner Index
We have an alphabetical card index listing owner's for Sotheby's and Christie's Sales between c.1901 and c.1980.
The following information is listed on the cards:
Seller's name
Date of sale
Title of sale (as given on catalogue)
Place of sale
Name of auctioneer
N.B. The National Art Library (NAL) has a more complete owner index, which also includes a subject index.
Other Libraries with Sales Catalogues Holdings
The National Art Library
The NAL has an extensive collection of sales catalogues (including jewellery and decorative arts) and accompanying reference works. A microfiche index of pre-1987 sales catalogues is available. Catalogues from 1987 onwards appear on the online catalogue. The NAL also holds an owners index and a subject index, both of which are invaluable aids to researchers
Art Sales catalogues 1600-1825 on microfiche. The NAL has a microfiche edition of art sales catalogues from 1600-1825, based on Fritz Lugt's Repertoire des catalogues de ventes. Published by IDC Leiden.
The British Library
The British Library has a large collection of sales catalogues. Most long runs are entered in the General Catalogue as series under the name of the auction house, e.g. Sotheby & Co. These have a shelfmark which incorporates the name of the auction house e.g. S C Sotheby. Annotated sets (prices, buyers) are held from Sotheby and Co., Phillips, Puttick and Simpson and others. There is also a sequence of single sales catalogues which are shelfmarked with numbers, e.g. S.C. 190, some of which are very early. Sales catalogues in long runs are not indexed as individual sales in the General Catalogue. Where single catalogues are held, they are entered separately in the General Catalogue under a heading dictated by the relevant catalogue rules; this is usually the owner or deceased owner, the building or estate where the collection was housed, or the name of the compiler of the catalogue. See also: List of English book sales 1676-1900 now in the British Museum (1915).
The Wallace Collection Library
The Wallace Collection is an Associate Member of Senate House Libraries. Records are currently being created for pre-2000 acquisitions. All acquisitions since 2000 may be found on the ULRLS/Wallace Collection OPAC, which also includes all their historic sales catalogues, listed in a document at the bottom of their library page.