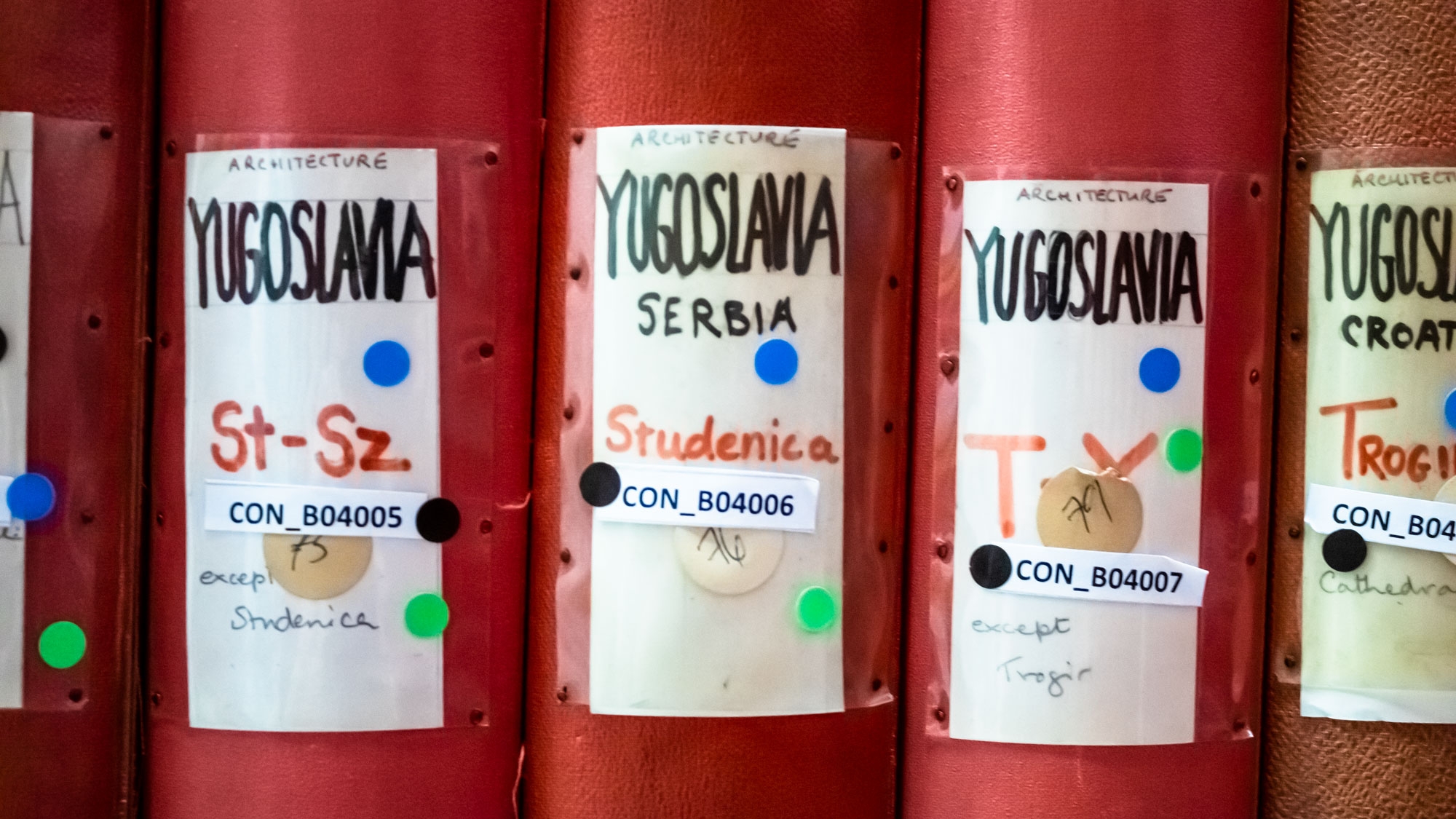 Conway Library
About
The heart of the Conway Library is the private collection of Lord Conway of Allington, which came to The Courtauld Institute of Art in 1932. Since then, the Library has been developed continuously as a teaching and research collection.
It now contains over one million images: photographs and cuttings of world architecture, architectural drawings and publications, sculpture, ivories, seals, metalwork, manuscript illumination, stained glass, wall paintings, panel paintings and textiles.
Courtauld staff and students can book in advance to visit the image libraries.
Please select the Visit and View option when making your booking.
Extrenal Visitors - Update 10th September 2021
The Courtauld Libraries at Somerset House and Vernon Square, including the Conway Library and the Witt Library, remain closed to external visitors until further notice. Ensuring everyone's safety is our priority and doing so in our unique spaces is challenging. This is particularly true as construction work continues at Somerset House ahead of the reopening of The Courtauld Gallery in November 2021. We are reviewing the situation weekly and will provide an update here as soon as it changes.
We share your disappointment that we are unable to reopen to external visitors and look forward to welcoming you back as soon as we can.
Conway Library history
Since it came to The Courtauld over 80 years ago, the Conway Library has been built up by various means. Its stock of original photographs has been increased by donation and by buying negatives, and the Library has also commissioned photography in Britain and abroad. A large number of the photographs are the work of graduate students from The Courtauld Institute of Art, whose informed insights make the Library an especially valuable research tool.
The Conway collection also includes two smaller collections. The archive of 22,000 glass plates known as the De Laszlo Collection of Paul Laib Negatives includes images of works by many of the major artists working in Britain between 1900 and 1945. The archive of renowned architectural photographer Anthony Kersting (1916-2008) consists of over 160,000 images documenting the architecture of almost every European country, Asia, New Zealand, the Middle and Far East.
Separate from the main Library sequence and accessible by arrangement are the Conway's holdings of historic photographs (mostly of architecture) and the late Edward B. Garrison's collection of photographs of pre-1300 Italian painting.
Digitising the Conway Library
As part of Courtauld Connects, we are digitising our photographic collections and making our full resolution digital images available online for the first time, enabling unprecedented public access. This has been possible with the incredible support of over 950 volunteers to date, who have generously contributed their time and enthusiasm. Our community of volunteers come from all walks of life and we provide an inclusive and positive space for people to learn new skills and meet new people.
If you're interested in supporting this project you can contribute by transcribing the collection on World Architecture Unlocked.
Read about insights and discoveries on the Digital Media Blog or find out more about future volunteering opportunities.