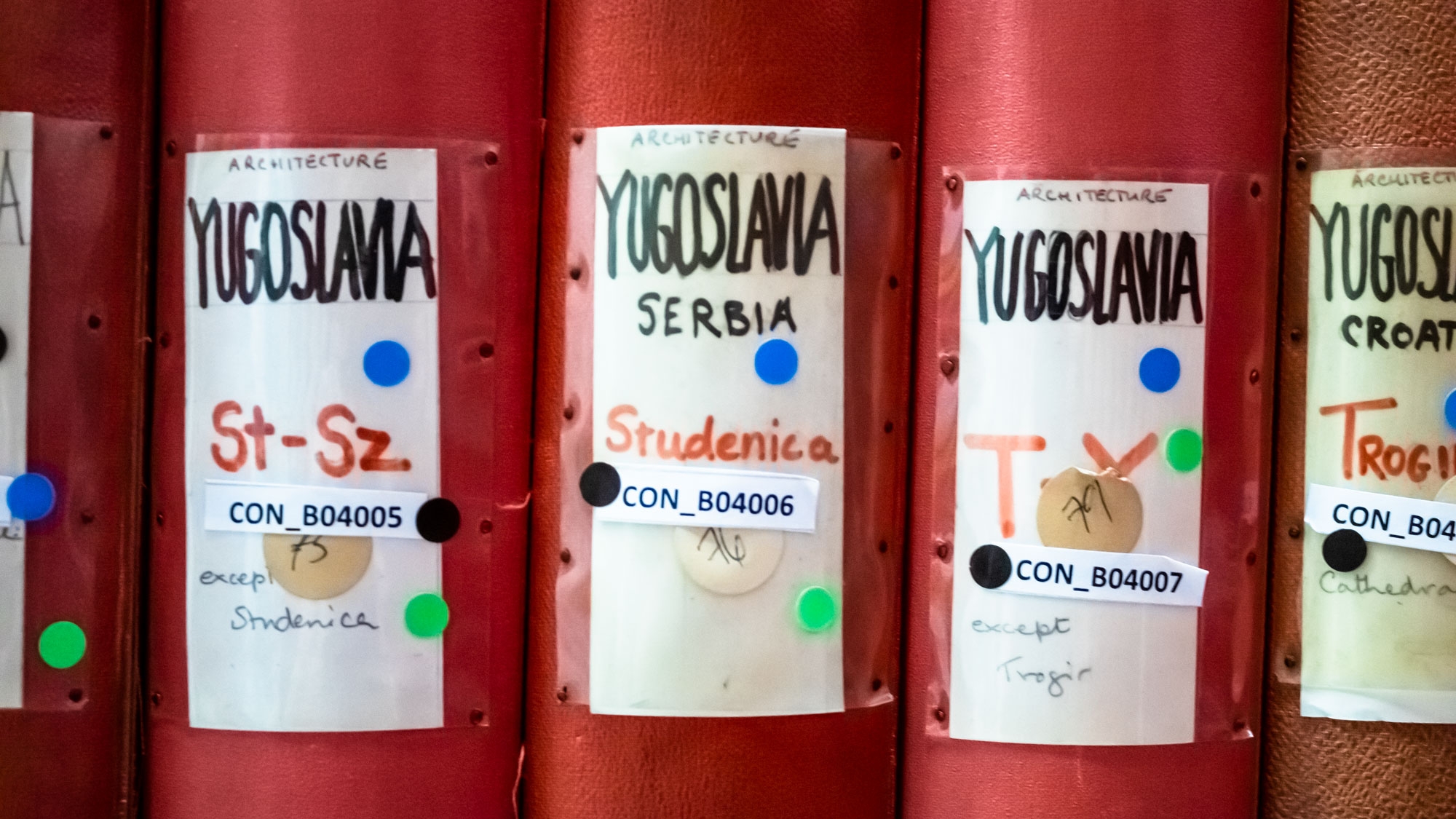 Conway Library
Update October 2022
Due to the refurbishment of our Somerset House space there is currently no access to the Conway Library.
Near completion of digitisation
Under Head of Digital Media Tom Bilson's careful oversight, The Conway Library is nearing the successful completion of its digitisation process and is expected to be available online within a few months. While this extraordinary project has taken place largely onsite, carried out by 1726 volunteers (donating some 13,847 hours since start), the digitisation of The Witt is planned as off-site work, requiring further significant investment. You can read more about the project (and the diverse community of volunteers involved) in our Digital Media blog.
Both projects are envisaged as resulting in bringing in new audiences with new insights in to use the collections as well as researchers — professional and private alike — from across the world being able to access to our extraordinary collections, at fingertip. Bringing Samuel Courtauld's founding vision to life is truly exciting!
As yet, we do not have an exact timeline for completion of the digitisation of The Witt Library, however content will be published as soon as each section is finished (for example, the British section should appear first, followed by the French, then The Netherlands etc.), with the entire content available in under two years. Other collections, such as our Special Collections and Archives material, will be split between our Vernon Square site and deep storage. Print periodicals and sales catalogues will also go into deep storage.
While the work is undertaken, we are unfortunately unable to offer a fetch and deliver service of special collection items as part of our storage plans. Our library staff will continue to provide the Courtauld's students and faculty with the books, art, and online resources they require for their research at our Vernon Square library, even as we also manage the refurbishment project. There isn't enough staff resource, or funding, to offer additional services.
However we believe that the end result — the complete digitisation of the Witt and Conway Libraries — is one that will enrich not only those researchers currently able to physically travel to our premises, but their peers across the globe, alongside an entire new set of diverse audiences.
About
The heart of the Conway Library is the private collection of Lord Conway of Allington, which came to The Courtauld Institute of Art in 1932. Since then, the Library has been developed continuously as a teaching and research collection.
It now contains over one million images: photographs and cuttings of world architecture, architectural drawings and publications, sculpture, ivories, seals, metalwork, manuscript illumination, stained glass, wall paintings, panel paintings and textiles.
Conway Library history
Since it came to The Courtauld over 80 years ago, the Conway Library has been built up by various means. Its stock of original photographs has been increased by donation and by buying negatives, and the Library has also commissioned photography in Britain and abroad. A large number of the photographs are the work of graduate students from The Courtauld Institute of Art, whose informed insights make the Library an especially valuable research tool.
The Conway collection also includes two smaller collections. The archive of 22,000 glass plates known as the De Laszlo Collection of Paul Laib Negatives includes images of works by many of the major artists working in Britain between 1900 and 1945. The archive of renowned architectural photographer Anthony Kersting (1916-2008) consists of over 160,000 images documenting the architecture of almost every European country, Asia, New Zealand, the Middle and Far East.
Separate from the main Library sequence and accessible by arrangement are the Conway's holdings of historic photographs (mostly of architecture) and the late Edward B. Garrison's collection of photographs of pre-1300 Italian painting.