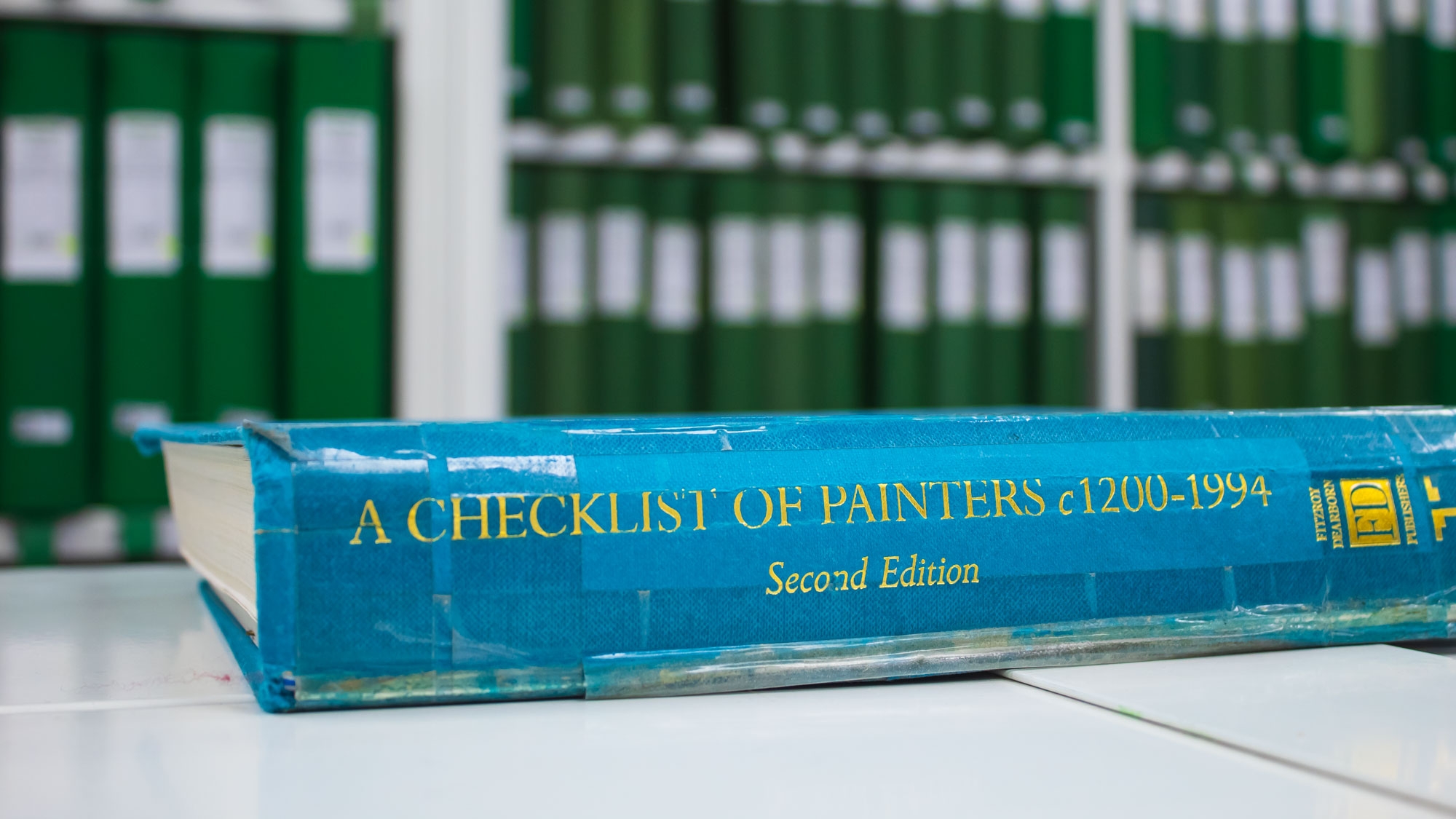 Witt Library
About
The Witt Library contains over two million reproductions of works by 70,000 artists. Archival boxes containing original photographs and cuttings from published material are organised alphabetically by artist within 'national schools'.
Each artist folder or box can contain images of paintings, drawings and prints, of western art covering the period 1200 to the present day.
All major artists are represented in-depth and one of the strengths of the library is its coverage of lesser-known artists, unparalleled elsewhere.
Courtauld staff and students can book in advance to visit the image libraries.
Please select the Visit and View option when making your booking.
External Visitors - Update 10th September 2021
The Courtauld Libraries at Somerset House and Vernon Square, including the Conway Library and the Witt Library, remain closed to external visitors until further notice. Ensuring everyone's safety is our priority and doing so in our unique spaces is challenging. This is particularly true as construction work continues at Somerset House ahead of the reopening of The Courtauld Gallery in November 2021. We are reviewing the situation weekly and will provide an update here as soon as it changes.
We share your disappointment that we are unable to reopen to external visitors and look forward to welcoming you back as soon as we can.
Why Digitise the Witt Library?
The Witt Library is an essential resource for the serious study of art history and an invaluable source for anyone seeking illustrative material for the study of a whole range of subjects. To make it available to a wider range of people the Courtauld intends to put the entire Witt Library collection online, as high-resolution images.
This will not only mean that researchers no longer need to visit Somerset House during fixed hours to access the Library, but will also make it easier to find the resources they need.
About the Digitisation Project
A pilot project, supported generously by a private benefactor and led by The Courtauld's Digital Media department, has already allowed us to digitise over 50% of the British School, a selection of over 260,000 mounted images covering artists born between 1200 and 1799. Although not yet public, this test site has helped us gain feedback from a range of Witt users during five open consultation sessions in 2019, as well as work through many of the complex issues involved in the online publishing of a database of this size.
Another generous private bequest will now enable most of the remaining two million images to be digitised. The collection will be digitised in order of popularity. Further information on this process will be made available once the timings and methodology has been agreed.
Our technique for digitising the Witt honours in every way possible the form and integrity of the physical collection. Each mount is given a unique identification accession number, photographed in high resolution and cropped a few millimetres outside its edge to ensure no information is lost. Backs of mounts are always included if they carry any inscriptions or text. The collection will be presented online in a browsable structure that resembles exactly the schools, boxes and folders as found on the shelves. It is further intended that the technology being used will have added benefits – for example, comparisons formerly made from image-by-image spreads across a tabletop will be possible on-screen.
This project will not only secure the long-term preservation of the Witt but allow it to resume its place as a world-class scholarly resource whilst reaching new national and international audiences beyond the formal sphere of academic art historical research.
At the same time, an innovative volunteer programme, part funded by the National Heritage Lottery Fund and managed by The Courtauld's Digital Media department, is supporting the digitisation of the Conway Library – find out more about this programme and read our blog.