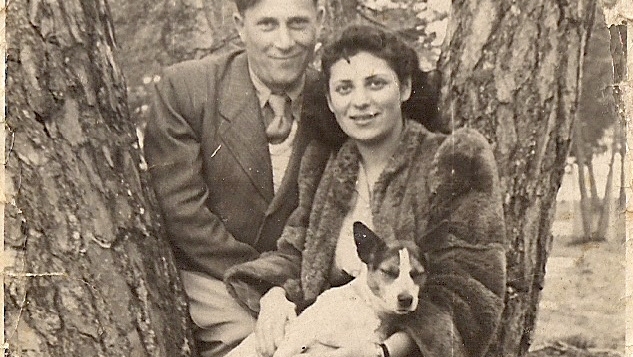 Featured Resources
Holocaust Memorial Day 2023
Ordinary People is the theme for Holocaust Memorial Day 2023.
"What is abnormal is that I am normal. That I survived the Holocaust and went on to love beautiful girls, to talk, to write, to have toast and tea and live my life – that is what is abnormal." Elie Wiesel, survivor of the Holocaust.
Between a glass case, and nothing, there is eternity
"Between a glass case, and nothing, there is eternity."
Crooked Mirror: a Memoir of Polish-Jewish Reconciliation by Louise Steinman
Radom, a one-time predominantly Jewish city in Poland, has commemorated the lives of its past Jewish inhabitants in their public landscape — monuments, vast areas for the reclamation of tombstones, and civic spaces to preserve the material culture that was once the life of Jewish people who lived there. There, in a functional room within the city hall, there is a glass case. A local historian had insisted on its location and display. A native of Radom, when he learned about the extent of Nazi casualties, and the history of his city, he committed himself to sifting through the ruins of Jewish places in Radom, to uncover and preserve the objects that remained. Writing about this glass case and its curator in A Crooked Mirror: a Memoir of Polish-Jewish Reconciliation, Louise Steinman comes to a poignant conclusion–  between a glass case, and nothing, there is eternity.  It could have been so easy, to have nothing.

Today, as Russia continues its invasion of Ukraine, we are confronted again, what it means to live in a world where unprovoked and unnecessary invasions of countries continues to destabilise our world.  This guide commemorates a time of much struggle and sorrow with a selection of media and study materials curated by the Book Library to help us remember the value of an individual story in a time of extreme hardship, and to validate the continued existence of art history and conservation in a time when those with an interest in its study must keep heart and remember the value of preservation and the recording of culture. We have a chance during Holocaust Memorial Day, to express the depth, ingenuity, and complexity of Jewish culture and its deep roots in Europe and the Global South. With that said, here is a selection of resources, gathered for you by library staff, that look at the struggle of Jewish life during this dark time, and to remind us of its continued flourishing beyond it.

Some suggested resources, selected by our team of staff
Films

National Holocaust Centre and Museum
Edek brings one woman's experience of the Holocaust in a very different way to a younger audience who might well be immune to the way this tragic event is traditionally presented

Kanopy
The Optimists tells the dramatic story of Christians and Muslims, who, at the eleventh hour, secured the safety of their Jewish neighbours.  
Jealous of the Birds
Some 15,000 Holocaust survivors remained in Germany after WWII. How could they stay? Filmmaker Jordan Bahat explores what it means for victims to live among perpetrators and for children of those perpetrators to live with the guilt borne of the crimes of their parents.


ARTFilms
Rachel Whiteread has created some of the most remarkable and resonant public sculptures of recent years. House (now demolished) cast in concrete the interior of a terraced house in London's East End. Holocaust Memorial is a moving memorial in Vienna to the victims of the holocaust in Austria. Yet she also frequently works on a domestic scale, casting in plaster and resin the spaces inside, around and beneath furniture, floors and staircases. Her art is a uniquely poetic response to the everyday, and to the haunting themes of memory and mortality.

Tovarisch, I Am Not Dead
For twenty-five years Dr. Urban has been on a constant mission to find out if anyone in his family survived the Holocaust, and the discovery that he had a brother living in Israel only served to fuel his hunger for more information. Now, as Dr. Urban comes face to face with the former fiancée who was imprisoned for nearly a decade due to being associated with him, the secretive shroud of the KGB finally begins to lift due to the efforts of a noted humanitarian who wasn't willing to let go of the past without putting up a struggle.

Holocaust 
A moving account of Hitler's attempt to destroy European Jewry, this program offers a rare personal perspective. Diaries and poems written by men, women and children in the concentration camps help viewers comprehend the horrors of Nazi Germany and enduring spirit of those who fought for human dignity throughout one of history's darkest chapters.


BFI Player (students can sign up for free account via King's College Access)
Shoah part 1 and Shoah Part 2 
Claude Lanzmann's monumental oral history of the Holocaust has been acclaimed by many as the greatest documentary ever made. The nine-hour film is divided into two Eras, chiefly focusing on events at the concentration camps in Chelmno, Auschwitz-Birkenau and Treblinka, as well as the uprising at the Warsaw ghetto. Lanzmann spent eleven years making the film, which is almost exclusively composed of testimonies from survivors, juxtaposed with contemporary footage of the Holocaust sites.  

Electronic Arts Intermix
SAY I'M A JEW – Pier Marton is a powerful manifesto on memory, loss, and self-denial, and an affirmation of Jewish identity. This collage of interviews with men and women whose parents were survivors of the Holocaust confronts the internalized anti-Semitism of post-war European Jews. Addressing the camera directly, these "witnesses," now living in the United States, speak with remarkable eloquence about their struggle to comprehend their legacy and their own identities. 
Culture and Memory
The "Grodzka Gate – NN Theatre" Centre in Lublin is a local government cultural institution. It works towards the preservation of cultural heritage and education. Its function is tied to the symbolic and historical meaning of the Centre's location in the Grodzka Gate, which used to divide Lublin into its respective Christian and Jewish quarters, as well as to Lublin as a meeting place of cultures, traditions and religions.
The Galicia Jewish Museum exists to commemorate the victims of the Holocaust and celebrate the Jewish culture of Polish Galicia, presenting Jewish history from a new perspective. An innovative and unique institution located in Kazimierz, the Jewish district of Kraków, Poland, the Museum is a registered charity in Poland.
The Skirball's core exhibition, Visions and Values: Jewish Life from Antiquity to America, traces the history, experiences and values of Jews over 4,000 years. Featuring changing displays of works from the Skirball's museum collection, the exhibition's galleries contain multimedia installations, rare artifacts, historical documents and photographs, works of fine art, interactive computer stations and sound recordings that lead visitors on the Jewish people's journey, culminating with their experiences in the United States.
Books, e-books and articles
Hannah Arendt – Eichmann in Jerusalem (print copy only)
Hannah Arendt's essay on trial of high-level Nazi war criminal. Synopsis from Amazon: 'Eichmann in Jerusalem: A Report on the Banality of Evil is a 1963 book by political thinker Hannah Arendt. Arendt, a Jew who fled Germany during Adolf Hitler's rise to power, reported on the trial of Adolf Eichmann, one of the major organizers of the Holocaust, for The New Yorker. A revised and enlarged edition was published in 1964.' 
Sue Vice – Shoah (ebook)
Claude Lanzmann's epic 1985 film 'Shoah' tells the story of the Holocaust through interviews with survivors of the extermination camps, bystanders who watched or participated in mass murder, and some of the perpetrators of genocide. Sue Vice addresses Lanzmann's central role in the film and the issue of representing the unrepresentable 
Holocaust mothers and daughters: family, history, and trauma (open access)
In this brave and original work, Federica Clementi focuses on the mother-daughter bond as depicted in six works by women who experienced the Holocaust, sometimes with their mothers, sometimes not. The daughters' memoirs, which record the "all-too-human" qualities of those who were persecuted and murdered by the Nazis, show that the Holocaust cannot be used to neatly segregate lives into the categories of before and after.  
Podcasts
Elizabeth Sears – Academic Refugees in the 1930s: In and Around the Warburg Circle
This event is part of the Director's Seminar Series, which brings leading scholars to the Institute to share new research and fresh perspectives on the key issues in their fields. The lecture also forms part of Insiders/ Outsiders, a nationwide arts festival taking place from March 2019 to March 2020 to celebrate refugees from Nazi Europe and their contribution to British culture. 
Exhibitions
The Vienna Model of Radicalisation: Austria and the Shoah
10 November 2022  –  13 February 2023
This new exhibition, on show for the first time in Britain, explores the significance of the Holocaust in Austria. Based on recent research, The Vienna Model of Radicalisation: Austria and the Shoah highlights the role of Vienna as gateway for the radicalisation of antisemitic policy in the Nazi State. 
Online Exhibition:
Ordinary Objects Extraordinary Journeys 
Upcoming exhibition:
Holocaust Letters
22 February 2023  –  16 June 2023
This exhibition examines Holocaust-era correspondence for evidence of how Jewish persecutees understood what was happening to them as events of the Holocaust unfolded.