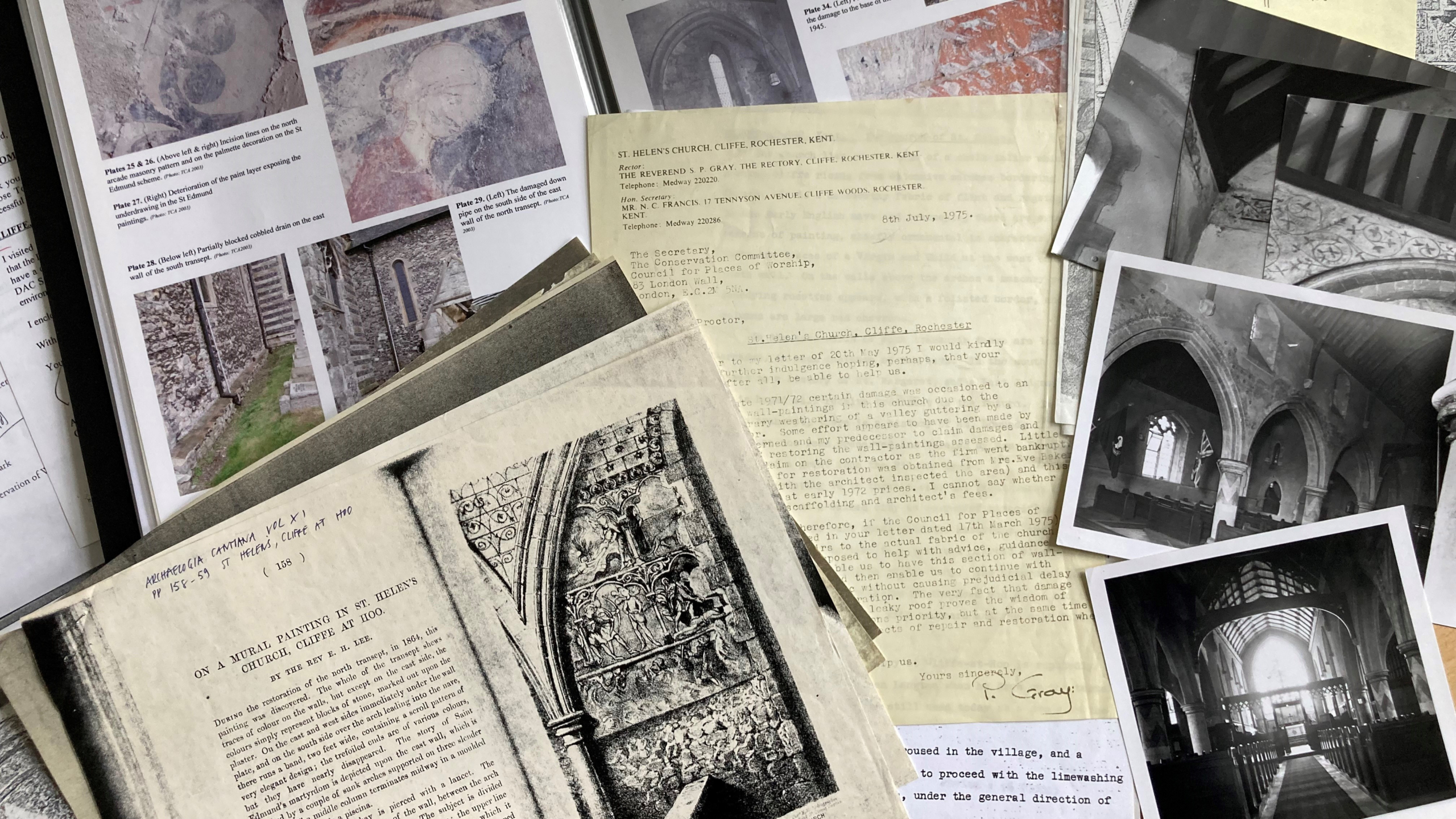 The National Wall Paintings Survey
The National Wall Paintings Survey is a vast and internationally important archive, comprising records of all known British medieval wall paintings as well as extensive material on post-medieval schemes of painted decoration. Set up by Professor David Park in the early 1980s, the Survey documents the nation's most lavish courtly and ecclesiastical murals alongside paintings in more humble contexts.
Encompassing photographic records, conservation reports and previously unpublished art-historical research, as well as some 2,500 original paint samples, the archive constitutes an exceptional record of the condition of our wall paintings and forms an essential point of reference, both for art-historical scholarship and for those charged with the ongoing care of these works. Of particular interest is material bequeathed from the records of such pioneering wall painting conservators as E. W. Tristram and Eve Baker, the exquisitely illustrated research notes of renowned antiquarian Edward Croft-Murray, as well as Muriel Carrick's comprehensive documentation of domestic decorative schemes.
Keen that this important resource be made more accessible to all those who work on wall paintings, The Courtauld has recently embarked upon a project to catalogue, digitise and make the Survey archive available online. Funded by grants from the Paul Mellon Centre, Pilgrim Trust and Marc Fitch Fund, this three-year initiative seeks to preserve the Survey archive and to disseminate research into the conservation of Britain's mural heritage. An initial project phase, undertaken over the past year, has seen the archive fully catalogued. Entries comprise basic 'tombstone' data including site location, building name, painting description and date, and an overview of the types of material held. For the first time, it is possible to search the Survey not only by site, but also by painting date and iconography.
Phase 2 of the project, which will run until 2025 and is being undertaken in partnership with The Courtauld's extraordinary community of volunteers, will see a representative selection of the Survey's content digitised for inclusion on the database. To ensure the archive's sustainability, the catalogue will then be migrated into the same collections management system that is being used to publish The Courtauld's wider photographic collections online. Our ambition is to make freely available those resources which are most valuable to our users across the academic and heritage sectors, and to attract new contributions which will ensure that the Survey remains a dynamic and up-to-date record of the nation's mural heritage.
During this time, the Survey archive remains available for consultation by all interested students, scholars, conservators and members of the public by emailing wallpaintingsurvey@courtauld.ac.uk. Those who are interested in becoming involved in the project as a volunteer can find out more here.