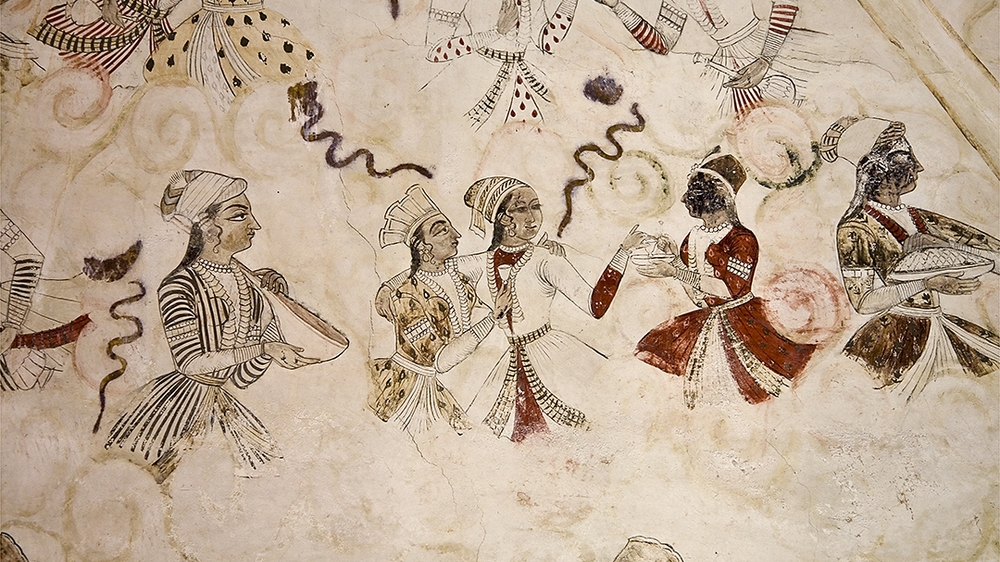 Wall Painting Conservation
The Courtauld is one of the foremost centres in the world for education and research in wall painting conservation. Established in partnership with the Getty Conservation Institute in 1985, and led for over 30 years by Professors David Park and Sharon Cather, the wall painting department has pioneered an interdisciplinary, preventive approach to conservation. Its research promotes the diagnosis and control of deterioration, underpinned by an improved understanding of wall painting materials and techniques. In addition to the research undertaken by faculty members and PhD candidates, a significant amount of original research is also realised by post-graduate students as part of Courtauld fieldwork projects both in the UK and across the globe.
Fieldwork Projects
The department is currently involved in two major fieldwork projects – a collaborative project with English Heritage to conserve the important medieval murals at Longthorpe Tower in Peterborough (UK), and another at Nagaur Fort in Rajasthan (India), undertaken in partnership with the Mehrangarh Museum Trust.
Longthorpe Tower, Peterborough
Hidden under layers of limewash until 1945, the wall paintings at Longthorpe Tower are an extraordinary survival of 14th-century wall painting and one of the most important mediaeval secular schemes in northern Europe. The paintings depict an exceptional array of scenes that mix religious and didactic themes with morality tales, heraldry, images of birds, animals, mythical creatures and a rare depiction of the Wheel of Five Senses. While the interpretation and meaning of the paintings are still debated, the scheme offers insights into the priorities and ambitions of a socially aspirational family, and a very personal view of the mediaeval world.
Unparalleled in their completeness, the survival of so much painting from this period within a secular context is remarkable. Working in collaboration with English Heritage, and building on investigations carried out by The Courtauld in the 1990s, the department has begun a new project to address the conservation and presentation of the paintings. Find out more about the project:
Nagaur Fort, Rajasthan (India)
Nagaur Fort in Rajasthan is one of the finest surviving examples of Rajput-Mughal architecture. Dating primarily from the 18th century, this large fortified palace complex had fallen into disrepair. With the help of a series of grants from the Getty Foundation, the Mehrangarh Trust embarked upon a major initiative for the conservation of the fort. In 2005, The Courtauld began its long-term involvement in conserving the site's important wall paintings.
Wall Painting Conservation Faculty
Current Faculty Research
Austin Nevin
Conservation and heritage science: applications of spectroscopy for the analysis of molecular materials in paintings and tracking degradation of pigments and polymers, from kermes lakes in Italian wall paintings to cadmium sulphide degradation in modern art
Pigment synthesis and chemistry: historical recipes and trace impurities
Digital humanities: linking conservation documentation and results from technical analysis for interdisciplinary research, from dispersed altarpieces to comparative technical study
Conservation practice: critical assessment of wall painting conservation in Sweden (funded by the Swedish National Heritage Board)
Sibylla Tringham
Consolidation of decohesive paint layers and plasters (in particular, methods for visualising consolidants in painted lime plaster)
Environmental causes of deterioration and passive approaches to their mitigation
Imaging techniques for conservation
Remedial approaches to wall painting conservation
Emily Howe
Non-invasive and sample-based analysis of wall painting materials and techniques (in particular polarised light microscopy and SEM-EDX)
English medieval wall paintings, their making and function in ritual and devotion
The history of wall painting conservation, with particular reference to the British Isles
Current PhD Candidates
Sanjay Dhar
Yeonjoo (Amanda) Hahn
Sreekumar Menon
Early period Buddhist wall paintings of Ladakh from the 11th to early 13th centuries: materials, techniques & conservation implications
Supervised by Prof Aviva Burnstock with Emily Howe
Funded by AkzoNobel Scholarship
Pu Lan
Connections in the making and meaning of the art of Bhutan and Tibet in the 17th and 18th centuries: a study of the wall paintings at Tango Monastery
Supervised by Dr Stephen Whiteman with Dr Christian Luczanits (SOAS)
Funded by The Robert H. N. Ho. Foundation
Amarilli Rava
Readhesion interventions on wall paintings: an assessment of organic, water-based adhesives
Supervised by Prof Aviva Burnstock with Dr Emma Richardson (National Physical Laboratory/UCL)
The National Wall Paintings Survey
The National Wall Paintings Survey is a vast and internationally important archive, comprising records of all known British medieval wall paintings as well as extensive material on post-medieval schemes of painted decoration, including polychrome sculpture and paintings on wood. Encompassing photographic records, conservation reports and art-historical research, the Survey documents the nation's most lavish courtly and ecclesiastical murals as well as paintings in more humble domestic contexts. Of particular importance are contributions from the archives of such pioneering wall painting conservators as E.W. Tristram, Clive E. Rouse and Eve Baker, and scholars including Edward Croft-Murray and Muriel Carrick, well-known for her research on English domestic wall paintings.
Curated by the Conservation Department at The Courtauld, the National Wall Paintings Survey is an invaluable resource both for The Courtauld's own students and a much wider community of scholars and heritage professionals.