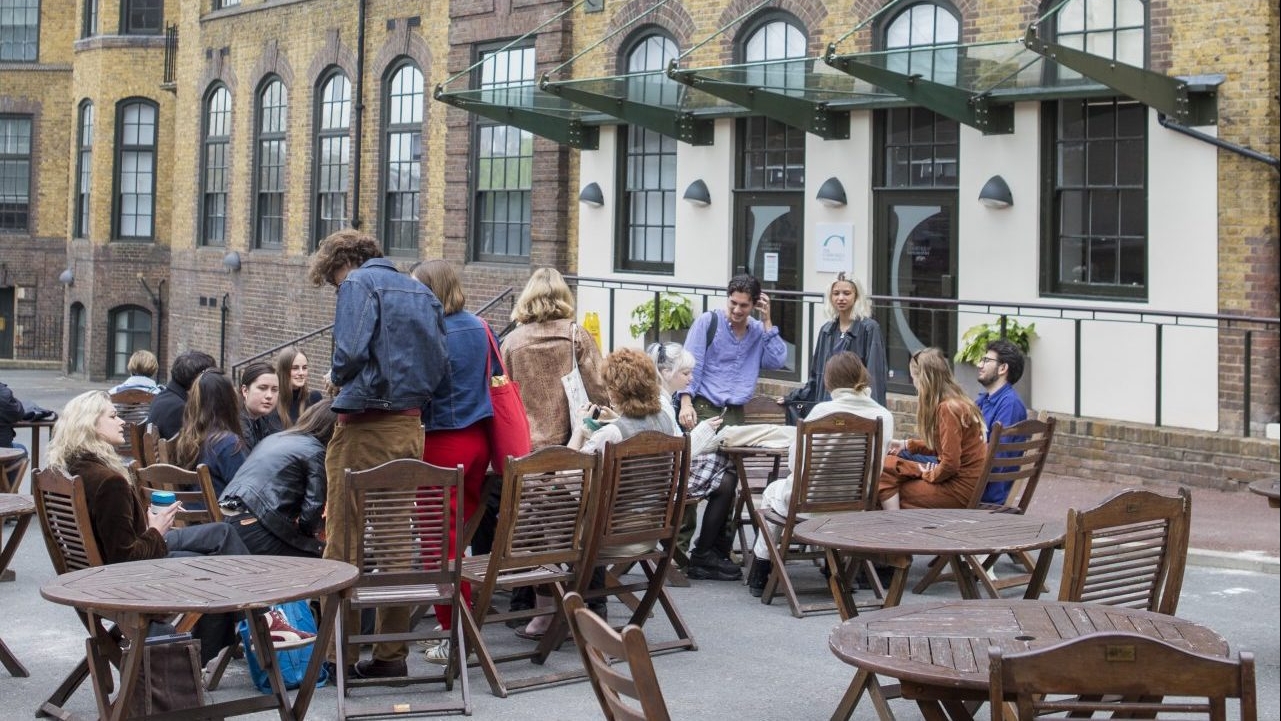 News Archive 2022
2021/22 academic highlights at The Courtauld 
The 2021/22 academic year at The Courtauld has seen promotions and publications, honours and awards new books, along with the successful completion of 11 PhDs.
We returned to regular in-person teaching at our Vernon Square campus, with students again able to take advantage of collection-based teaching at The Courtauld Gallery.  Reopening to acclaim in November 2021, the Gallery featured a new Object Study Room and a Prints and Drawing Room. We also held our graduation ceremony in-person for the first time since 2019.
The 2022 REF results recognised The Courtauld's exceptional Research Environment, tying 1st across all UK institutions, a remarkable accomplishment, and critical given that this supports and enables our world-leading research. 89% of The Courtauld's research was deemed world-leading or internationally excellent in terms of originality, significance and rigour.
Promotions and honours
Dr Tom Nickson (Medieval Art and Architecture) and Dr Stephen Whiteman (Art and Architecture of China) were promoted to Readers.
Following their retirements, Professor Caroline Arscott (Professor of 19th century British Art) and Professor Joanna Woodall (Professor in the History of Art) were conferred the title of Professor Emerita.
Accolades
Dr Jessica Barker received two awards for Stone Fidelity: Marriage and Emotion in Medieval Tomb Sculpture. Historians of British Art recognised her work as the best single-authored book on a subject before 1600, while the International Centre for Medieval Art awarded her its 2021 annual book prize. Dr Barker's book is the first full account of the "double tomb", positioning this rich tradition in a dialogue with the powerful discourses of gender, marriage, politics and emotion during the Middle Ages.
Books
The Courtauld Books Online series saw two new publications join its ranks:
Towards an Art History of the Parish Church, 1200–1399. The ten essays contained within this open-access volume explore the art and architecture of parish churches through a variety of lenses, methodologies, and perspectives. These range from (re)considerations of the very definition of the parish church to phenomenological explorations of their component parts, as well as case studies of their various decorative schemes.
Imagining the Apocalypse: Art and the End Times. This collection offers an exploration of the ways art and visual culture have imagined Armageddon from the eighteenth century to the present. Using an international perspective, the contributors consider the ways in which apocalypticism has been contested by social conservatives and progressives, drawn on to perpetuate or challenge structures of power. Essayists discuss homophobia and queer utopias, climate change and nuclear anxieties, folk monsters and fears of revolt, imperial violence and anti-colonial imagination, the staging of conflict and disaster, popular culture and fascism, faith and denial in church congregations.
PhDs
Congratulations to 11 doctoral candidates completing their PhDs this academic year!
Silvia Amato was awarded a PhD with the thesis title The contribution of reflectance imaging spectroscopy and macro X-ray fluorescence spectroscopy to the investigation of paintings by Édouard Manet from the Courtauld Gallery, supervised by Professor Aviva Burnstock.
JasmineChohan was awarded a PhD with the thesis title La Bienal de la Habana: The Rise of the Collaterals, supervised by Professor Julian Stallabrass.
Cathy Corbett was awarded a PhD with the thesis title A Russian sculptor abroad: Ossip Zadkine and his works in wood, 1908 – 1937, supervised by Professor Chris Green.
Ambra D'Antone was awarded a PhD with the thesis title Translating Modernity: Surrealism of the Levant, supervised by Professor Gavin Parkinson.
Sanjay Dhar was awarded a PhD with the thesis title Assessing and managing risk: towards a framework for preventive conservation of Buddhist wall paintings in the Leh Valley of Ladakh, supervised by Professor Aviva Burnstock.
Nicholas Flory was awarded a PhD with the thesis title 'pro æterna salute dominæ ducissæ' The Carthusian patronage of Isabella of Portugal and Margaret of York, Duchesses of Burgundy, 1430-1503, supervised by Professor Susie Nash.
Emma Merkling was awarded a PhD with the thesis title Imponderable: Physics, Mathematics, Psychical Research, and Evelyn De Morgan's Spiritualist Art, 1885–1910, supervised by Professor Caroline Arscott.
Janet O'Brien was awarded a PhD with the thesis title Nādir Shāh: The Emergence of Royal Portraiture and a New Body Politic in Eighteenth-Century Iran, supervised by Professor Sussan Babaie.
Patricia Smithen was awarded a PhD with the thesis title The Development and Impact of Artists' Acrylic Paint in the United Kingdom, supervised by Professor Aviva Burnstock.
Nadya Wang was awarded a PhD with the thesis title Accidental Career Girl to Working Mother of the Year: Her World, Women and the Fashion Industry in Singapore, 1974-1989, supervised by Dr Rebecca Arnold.