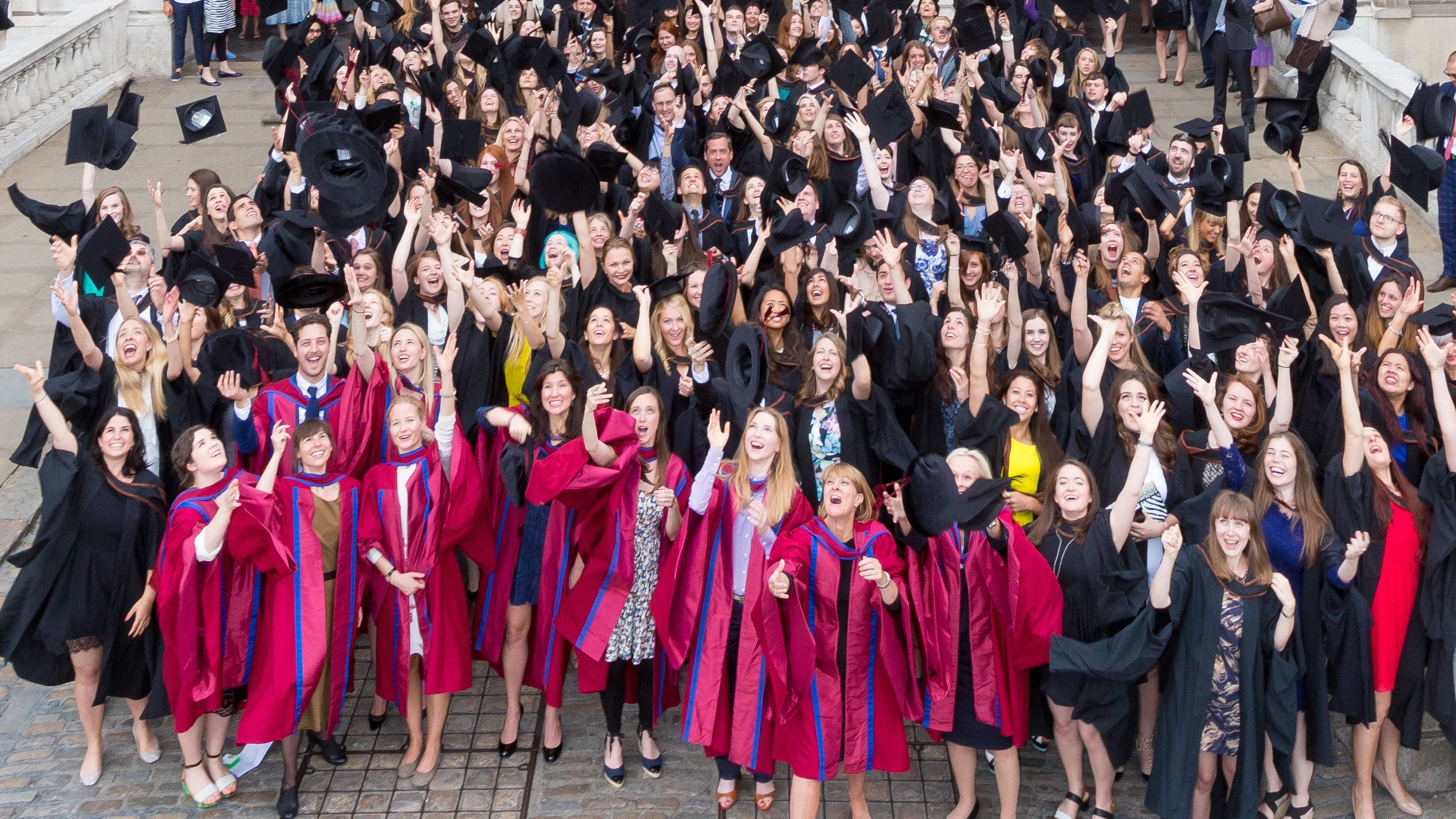 Graduation 2023
Degree Presentation Ceremony – Thursday July 13, 2023
The Ceremony will commence at 11.30hrs; graduands and their guests are encouraged to be in their seats by 11.15hrs latest.
We all hope that you, your peers, your family and friends together with Courtauld staff can truly celebrate your achievements and success while at The Courtauld.
The 13 July Degree Presentation Ceremony will be held in the Concert Hall at the Barbican Centre.
We selected the Barbican as our 2023 venue to ensure all graduands – from our BA History of Art programme, Graduate Diploma, all post graduate programmes (PG Diploma Easels, MA History of Art, MA Curating) and Research degrees – may attend the ceremony together.
Each student receives their ticket and may bring up to 4 guests, at a charge of £25 per person.
The ceremony is expected to last a maximum of one and half hours.
Students will be asked to confirm attendance and number of guests (an email will be sent out via eVision in mid May 2023).  Closing date for responses will be 17.00, Friday 16th June 2023.
If you are potentially eligible to graduate in July 2023, you should expect to receive a graduation invitation email. Please check that your contact details are up to date in eVision and amend if necessary to ensure you receive the invite.  If you have not received a Graduation 2023 invitation email by 31 May 2023 please email: graduation@courtauld.ac.uk
Please note that the graduation invitations are sent out before examinations results are known.  Therefore, do register for the Graduation ceremony by the deadline given in the email.
You are required to wear academic dress (cap, hood and gown).  Students are expected to hire and pay for their own academic dress directly through Ede & Ravenscroft (https://graduation-services.edeandravenscroft.com/academic/). Details of when the Ede & Ravenscroft's website will be open to accept details will be available to students nearer the time.
Graduation is a formal event and it is expected that you will wear smart clothing beneath your gown.  Smart but comfortable shoes are important, please no jeans or trainers.
Graduand Guests:
Each graduand may bring up to four guests to the Graduation ceremony.  Please note that a charge of £25 per person is made for guest tickets. When you register for the Graduation ceremony, you will be asked whether you would be interested in purchasing additional guest tickets, should they become available. You will be asked if you or your guests have any access requirements, to ensure that we provide the most appropriate seating at the ceremony for your guests.  Please note that as the ceremony is quite long, it is not advised that very young children attend the ceremony.  Unfortunately, we do not have crèche facilities for very young children.
Checklist for Graduation:
Required for all graduands
Register for the Graduation ceremony on Thursday, 13 July 2023 and up to four guests. Registration will close at

17.00,

Friday

16

th

June 202

3.
Check that your name is correctly spelt and you indicate on the Graduation Registration form how it should be pronounced.
Book your gown and hat with Ede and Ravenscroft.
You will be required to collect your own Graduation ticket nearer the date of the ceremony from Vernon Square.  Details on ticket collection will be provided nearer the time.
Guest tickets will be sent via email soon after purchase. Please note that you and your guests will be required to show tickets on entry to both the Graduation ceremony and Reception, so it is vital that you do collect your ticket prior to the ceremony.
On the day, you can collect your gown and hat at the Barbican from 9.00. Details of where to collect your academic dress, photography and cloakroom facilities will be advised closer to the date.
If you are unable to attend the Graduation ceremony, please notify graduation@courtauld.ac.uk giving your full name and student number.  It is vital that you inform us that you will not attend the ceremony if you have registered to do so.
Graduation Reception:
After the Graduation ceremony we invite graduates and their guests to join us at a drinks reception to be held in the Barbican Foyer from 13.00hrs hours. The event will be ticket only, so Graduates and their guests should ensure that they hold on to their tickets for entry to the reception.