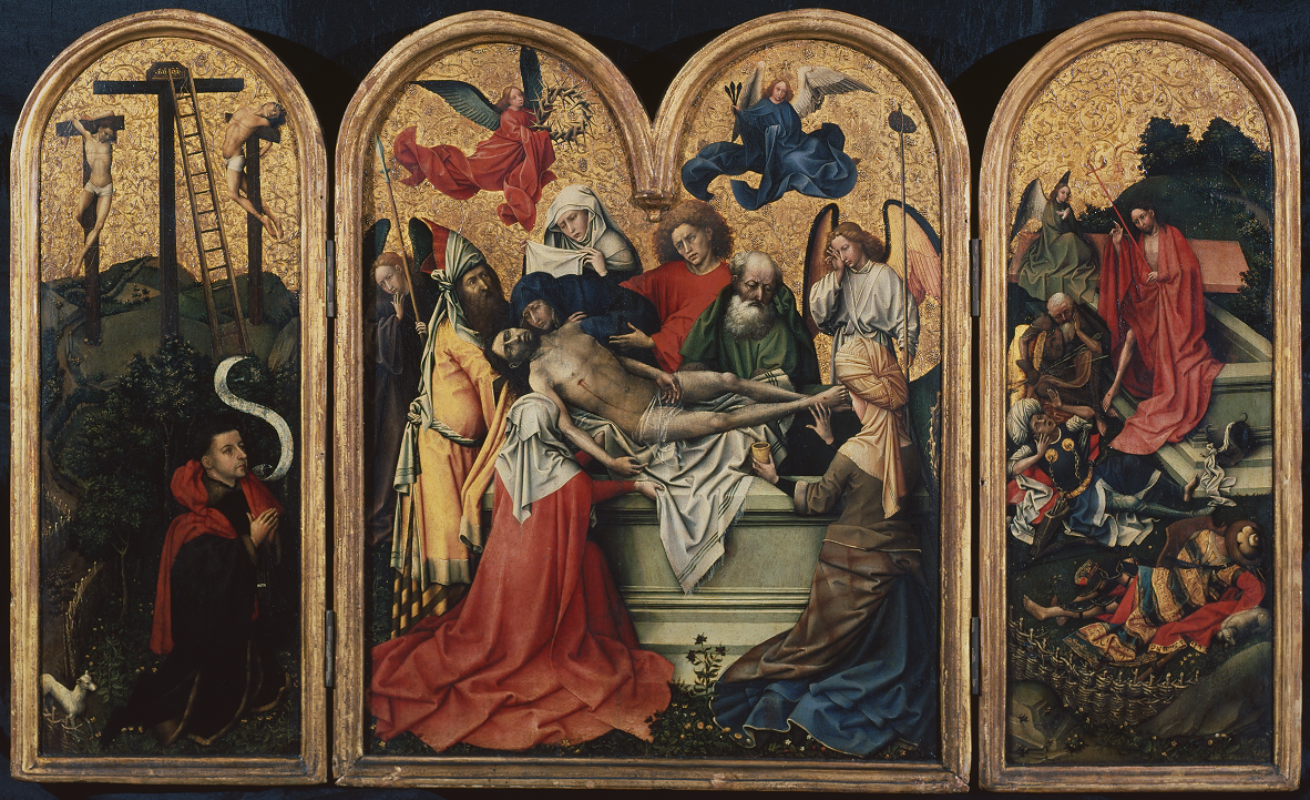 Robert Campin (1378/9–1444), The Entombment, known as 'The Seilern Triptych', around 1425, The Courtauld, London (Samuel Courtauld Trust) © The Courtauld   
The Entombment
Attributed to Robert Campin
This three-panel work, known as 'The Seilern Triptych', is one of the finest examples of Northern Renaissance painting. In addition to its careful design and meticulous execution, it is particularly remarkable for its exquisite details, drawing viewers into the scenes.
The central panel depicts Christ's burial, shortly after his body is taken down from the cross (seen in the left wing, where the two thieves executed with him remain). Christ is lowered into a stone tomb while four angels carry instruments associated with his suffering during the Crucifixion: the nails driven through his hands and feet, the crown of thorns placed on his head, the vinegar-soaked sponge Roman soldiers gave him to drink and the lance used to pierce his side. The right wing depicts Christ's triumphant Resurrection three days later, as he emerges from the same stone tomb and stuns the soldiers guarding it. The gold background across the entire triptych is decorated with raised motifs depicting symbolic plants such as redcurrants, grapes (both representing the blood of Christ) and gourds (associated with the Resurrection).
The man kneeling in prayer in the left wing likely commissioned the triptych and used it for private worship in his home. He has not been identified and technical study has shown that the scroll by his mouth has always been blank.
This work is an early instance of the use of oil in painting. In contrast with the traditional egg-based paint (called 'tempera'), oil paint enabled artists to create translucent effects and precise modelling, making figures and objects more lifelike and immediate. A leading painter in Tournai (present-day Belgium), Robert Campin was one of the first artists to adopt it, with stunning results. The triptych has been attributed to him on stylistic grounds. It is also often called 'The Seilern Triptych' after Count Antoine Seilern, the Anglo-Austrian collector who bequeathed it to The Courtauld.
Explore this painting in our virtual tour
This painting is on display in the Medieval & Early Renaissance Gallery, Level 1 of The Courtauld Gallery. You can view this room from the comforts of your home through our virtual tour.
Launch tour