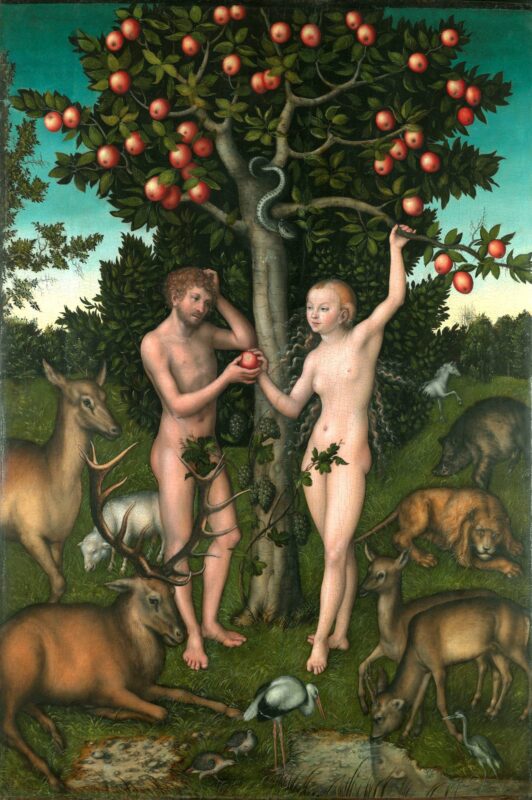 Lucas Cranach the Elder, (1472-1553), Adam and Eve, 1526, The Courtauld, London (Samuel Courtauld Trust) © The Courtauld
Adam and Eve
Lucas Cranach the Elder
Adam and Eve are depicted at the fateful moment when they disobey God and commit the first sin. The story is taken from the Bible: the Devil in the form of a serpent coiling down the branches encourages Eve to pick a fruit from the Tree of Knowledge, the only tree in the Garden of Eden that God has forbidden them to touch. Having bitten the fruit, Eve hands it to Adam. AlthoughL ucas Cranach has represented him hesitant and seemingly bewildered, Adam will soon also taste it and the couple will be banished in punishment. Cranach's carefully observed rendering of the peaceful animals creates a sense of serenity, soon to be lost. The placid lion and the lamb, on either side of the tree, will become natural enemies.
Cranach and his workshop made over 50 versions of this subject. This painting is one of the largest and most beautiful. Its seductive depiction of nude figures in a luxurious natural setting heightens the theme of temptation, central to this biblical story. However, the theme of redemption is also included. The vine, laden with grapes and spiralling up the tree, counters the serpent above. Wine is a traditional symbol of the blood shed by Christ, who will absolve humanity with his Crucifixion.
The person who commissioned this magnificent painting is unknown. Cranach worked for most of his career as painter to the court of Saxony in the city of Wittenberg (in modern-day Germany) and for members of the intellectual circles at the renowned university there.
Zoom in with Google Art Camera
Explore this painting in our virtual tour
This painting is on display in the Blavatnik Fine Rooms, Level 2 of The Courtauld Gallery. You can view this room from the comforts of your home through our virtual tour.
Launch tour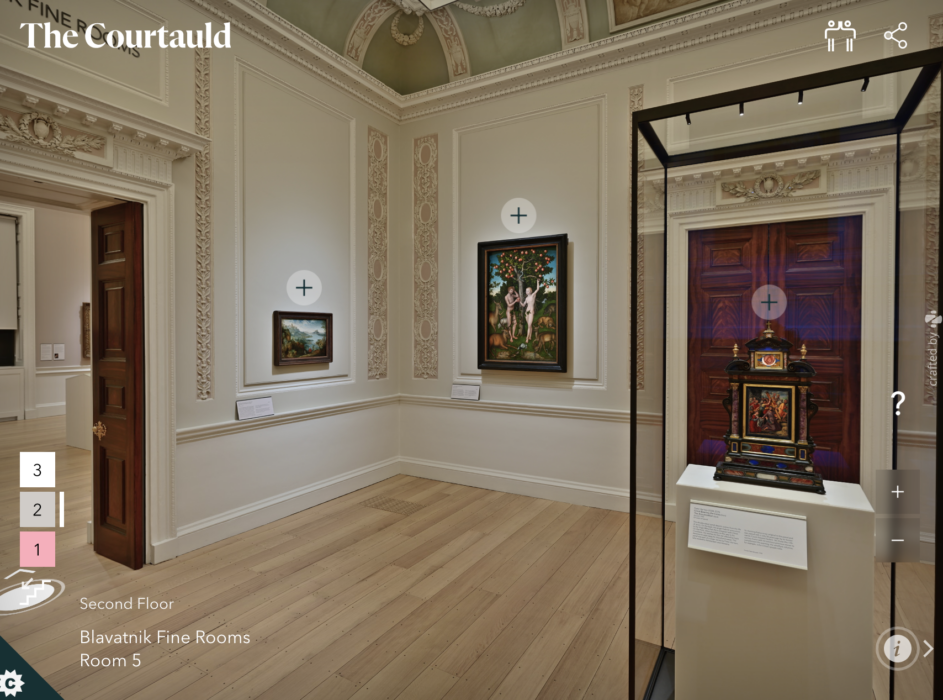 Create your own gallery
Bring home your favourite pieces from The Courtauld's collection with our exclusive prints and canvases to suit your space. Choose from art paper or canvas, and in a range of sizes and frames.
Explore all prints