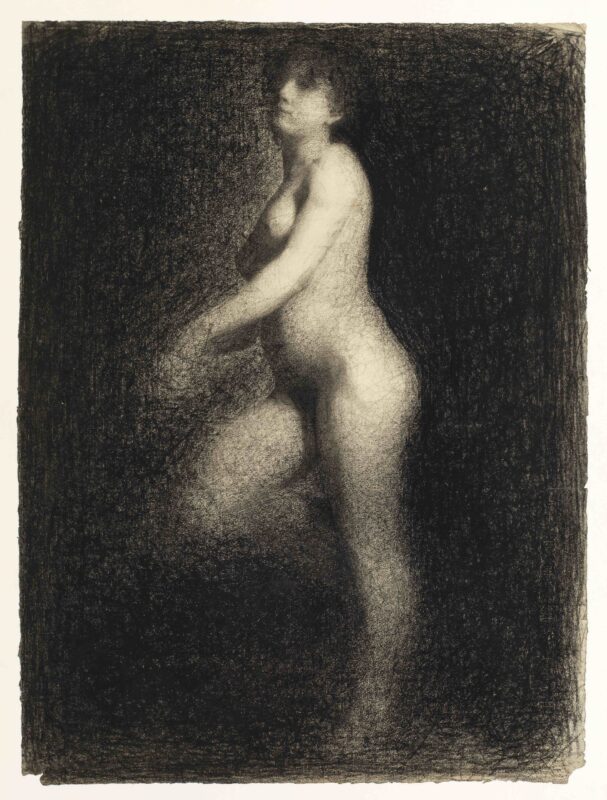 Georges Seurat (1859-1891), Female nude, circa 1879 - 1881, The Courtauld, London (Samuel Courtauld Trust) © The Courtauld
Female Nude
Georges Seurat
Likely executed during a life drawing class, this early work shows Seurat developing his distinctive drawing style. The figure, whose pose suggests she is leaning on a chair, emerges from the network of vigorous crayon marks that have been built up to form a subtle contrast between light and dark.
To achieve the rich blacks, Seurat used a coarsely textured paper that caught the oily Conté crayon as it was dragged across the surface. He avoided harsh outlines, instead shaping the volume of the figure from masses of light and shadow. It is the extraordinary atmosphere of this drawing that gives this work its power, with the stillness of the figure captured through dense layers of sinuous lines that almost vibrate with energy.  
Create your own gallery
Bring home your favourite pieces from The Courtauld's collection with our exclusive custom prints to suit your space. Choose from art paper or canvas, in a range of sizes and frames, and we will make your print and deliver it directly to your door.
View all prints