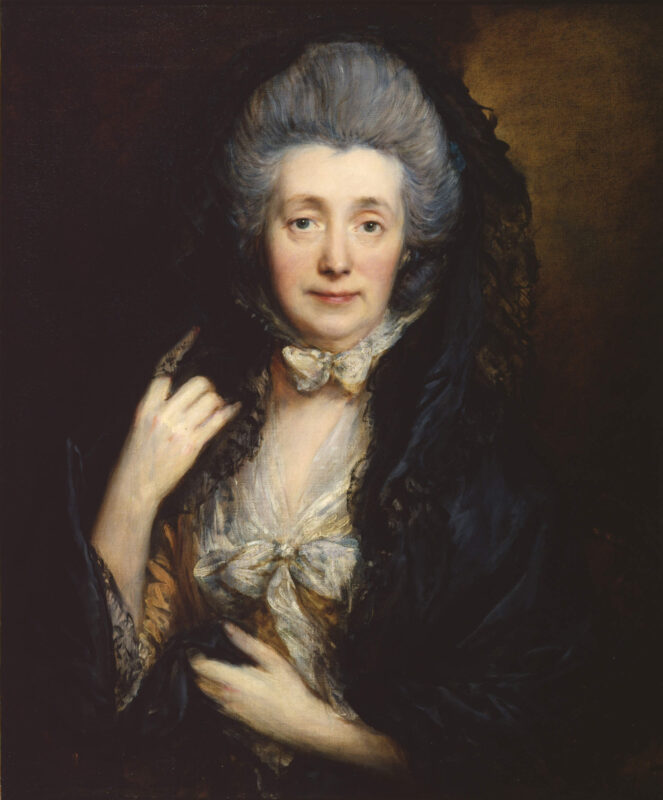 Thomas Gainsborough (1727 - 1788), Portrait of Margaret Gainsborough, around 1778, The Courtauld, London (Samuel Courtauld Trust)
Portrait of Margaret Gainsborough
Thomas Gainsborough
This intimate portrait may have been painted to celebrate the 50th birthday of Thomas Gainsborough's wife, Margaret (around 1728-1798). He portrayed her on various occasions throughout their 42-year marriage. Her direct gaze — an unusual feature in portraits of women at the time — suggests the close relationship between painter and sitter. Gainsborough creates a striking contrast between his meticulous observation of Margaret's face and his loose rendering of her dress and black shawl, vividly evoked with a few zigzags of paint.
Margaret Burr, the illegitimate and only daughter of Henry, third duke of Beaufort, married Gainsborough in 1746, when she was 18 and he, a year older. Margaret's income from her late father's estate helped establish her husband's artistic career and she played an important role in managing his business. This portrait may also have been made to advertise Gainsborough's talents as a portrait painter. Potential clients coming to his studio (and home) could easily compare the portrait with its model.
Zoom in with Google Art Camera
Explore this painting in our virtual tour
This painting is on display in the Blavatnik Fine Rooms, Level 2 of The Courtauld Gallery. You can view this room from the comforts of your home through our virtual tour.
Launch tour