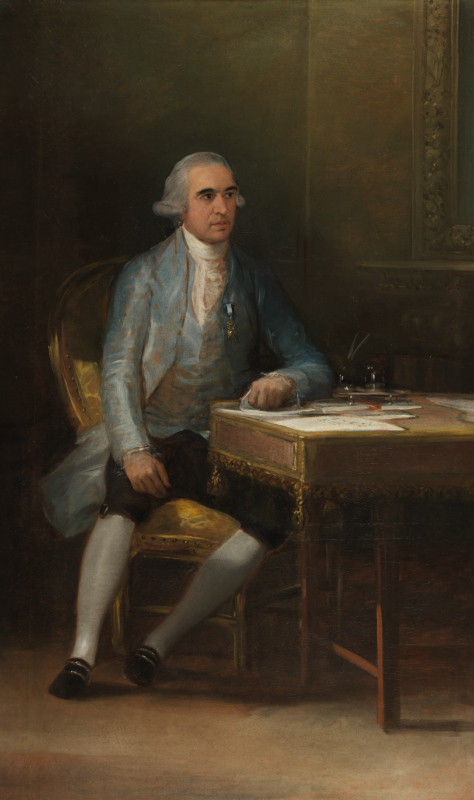 Francisco de Goya (1746–1828), Portrait of Francisco de Saavedra, 1798 , The Courtauld, London (Samuel Courtauld Trust) © The Courtauld   
Portrait of Francisco de Saavedra   
Francisco de Goya
The loose brushwork and speed of execution in this grand and imposing painting, Portrait of Francisco de Saavedra, set it apart from the usual formality and polish of full-length portraits at this time. With only a few strokes of paint, Francisco de Goya rendered the texture of the sitter's silk coat, as well as the papers and inkwells on the table. Only Francisco de Saavedra's face and hands have been carefully and thickly modelled.
When he posed for Goya, Saavedra (1746-1819) had recently been appointed Minister of Finance to King Charles IV of Spain. The painting was commissioned by his friend and then Minister of Justice, Gaspar Melchor de Jovellanos, perhaps to accompany his own portrait by Goya (now in the Prado museum, Madrid). The two political allies were eager to bring reform to the conservative Spanish government and embodied a new, but short-lived, moment of progressive thinking. They were dismissed within a year.
Explore this painting in our virtual tour
This painting is on display in the Blavatnik Fine Rooms, Level 2 of The Courtauld Gallery. You can view this room from the comforts of your home through our virtual tour.
Launch tour