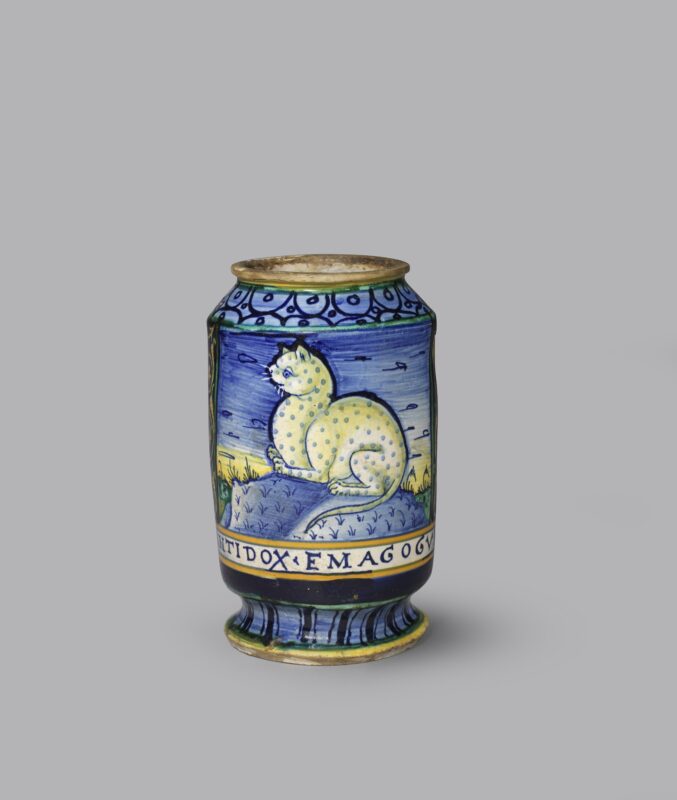 Pharmaceutical jar for root preparation, Castelli (Abruzzo), Italy, Around 1540–60, Tin-glazed earthenware, The Courtauld, London (Samuel Courtauld Trust) © The Courtauld
Pharmaceutical jar
Castelli (Abruzzo), Italy, Around 1540-60
Pharmacies in Renaissance Italy were attached to royal courts, hospitals or monasteries. Their shelves were lined with rows of beautifully painted pottery jars. The most common jar for solids was an albarello, first imported into Europe from Syria. Pinched-in at the waist for easier handling, such pots were also widely used in the home as flower vases or for storing food.
Images of felines are uncommon on such jars. This one could represent a leopard or possibly a lynx, which inhabited the mountains near Castelli in central Italy. Alternatively, it could be a type of domestic cat called Soriano ('from Syria' in Italian).
The jar's inscription refers to a root preparation that women used after birth and to induce menstruation.