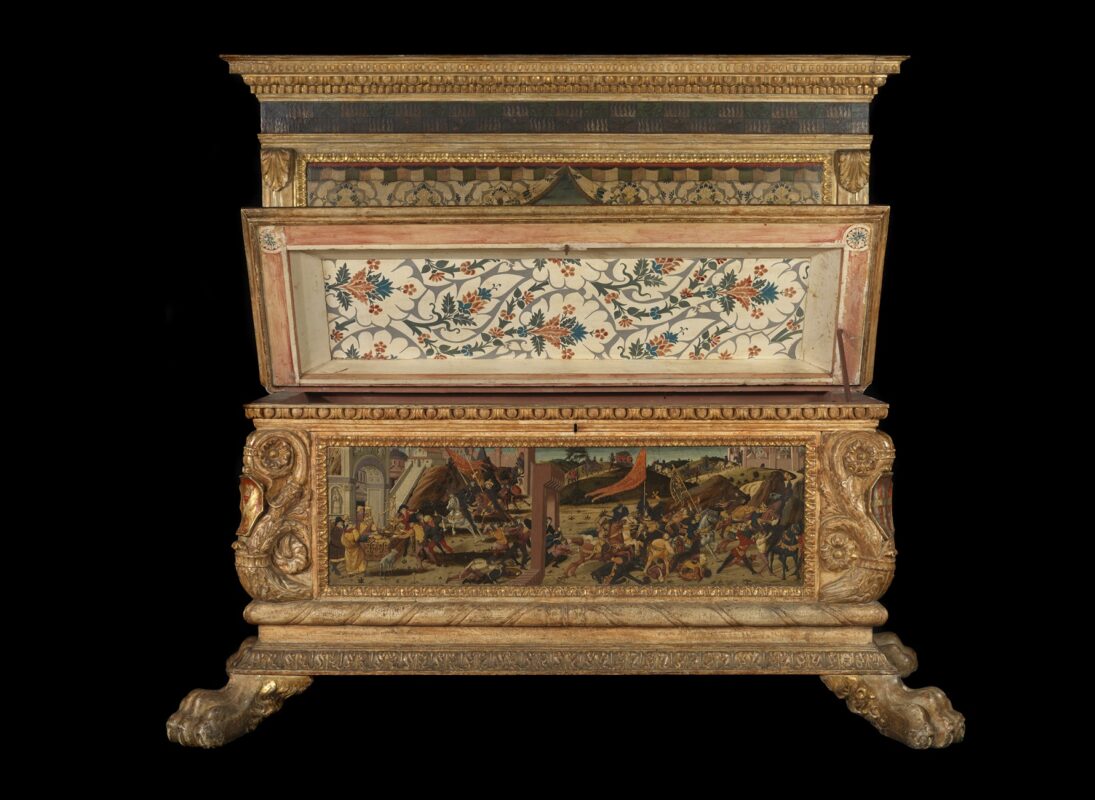 Pair of marriage chests: The Nerli Chest, Biagio di Antonio (1446–1516), Jacopo del Sellaio (1441–1493) and Zanobi di Domenico (active 1464–1474), 1472, Egg tempera and oil paint on wood with gold leaf, The Courtauld, London (Samuel Courtauld Trust) © The Courtauld
Pair of Marriage Chests: The Nerli Chest
Biagio di Antonio (1446-1516), Jacopo del Sellaio (1441-1493) and Zanobi di Domenico (active 1464-1474), 1472
Weddings have always been occasions for flamboyant spending. In elite Florentine society during the Renaissance, wealthy husbands-to-be commissioned pairs of sumptuously decorated marriage chests. The Italian name for these chests is cassoni.
Traditionally, the newlyweds and the groom's family accompanied the cassoni in the streets from the bride's family home to her new abode. Containing her dowry of linen and fine clothing, cassoni were then displayed in its most important and expensively furnished room.
This pair is known as the Morelli-Nerli cassoni. They celebrate the marriage of a rich Florentine merchant, Lorenzo Morelli, to an aristocratic young woman, Viaggia Nerli, in 1472. Both families' coats of arms are displayed on the corners of each chest.
These cassoni  are unique in having survived as a pair with their original painted back panels, displayed on the wall above. Painted curtains mimic the richly patterned silk imported into Florence from Syria and the Islamic Mediterranean. Such fabrics are also hinted at inside the lid — a reminder of the chest's original contents.
Explore this piece of furniture in our virtual tour
This pair of chests is on display in the Blavatnik Fine Rooms, Level 2 of The Courtauld Gallery. You can view this room from the comforts of your home through our virtual tour.
Launch tour