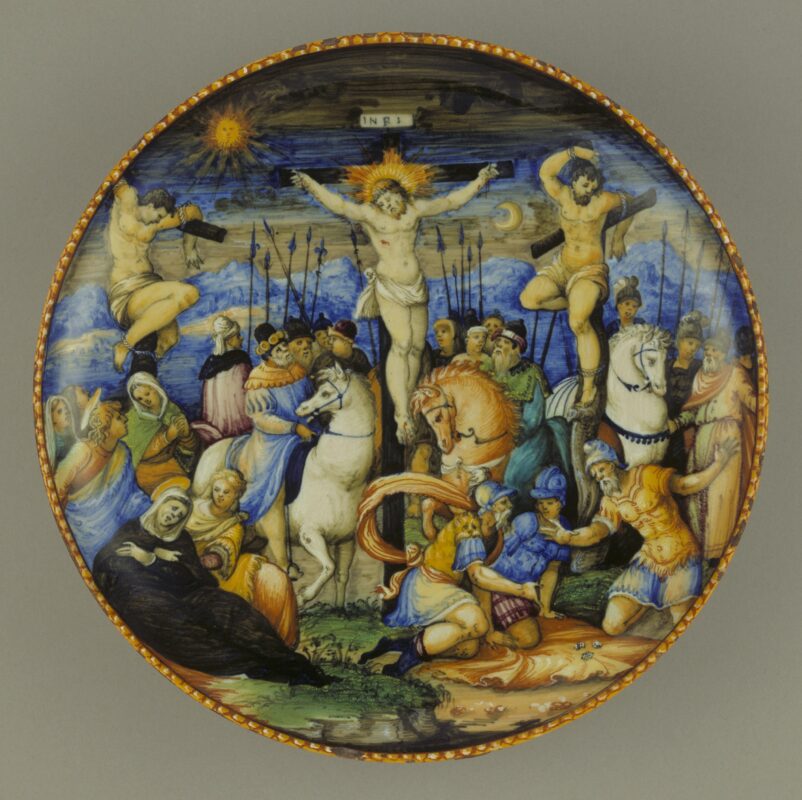 Footed bowl with the Crucifixion, Urbino, Italy, probably Workshop of Orazio Fontana (around 1510 –1571) or Antonio Patanazzi (1515 –1587), 1550 –70, Tin-glazed earthenware. The Courtauld, London (Samuel Courtauld Trust) © The Courtauld
Footed Bowl with the Crucifixion
Urbino, Italy, probably Workshop of Orazio Fontana (around 1510-1571) or Antonio Patanazzi (1515-1587), 1550-70
Maiolica is the Italian name for earthenware covered by a white tin glaze and painted with a range of pigments that become vivid when fired in the kiln.
The most prized pieces, created by pottery painters of great skill, were rarely used. Many depict scenes from Greek mythology, ancient Rome and the Bible. This style is known as  istoriato (Italian for 'with a story').
This dish is a painting in miniature, with an exceptional variety of colour, expressive figures, beautifully rendered textures and a dramatic crowd scene. The Christian imagery continues onto the back, with angels hovering in and out of clouds, carrying symbols of Christ's Passion (Death and Resurrection). This suggests that the bowl may have been used during Mass in a private chapel.