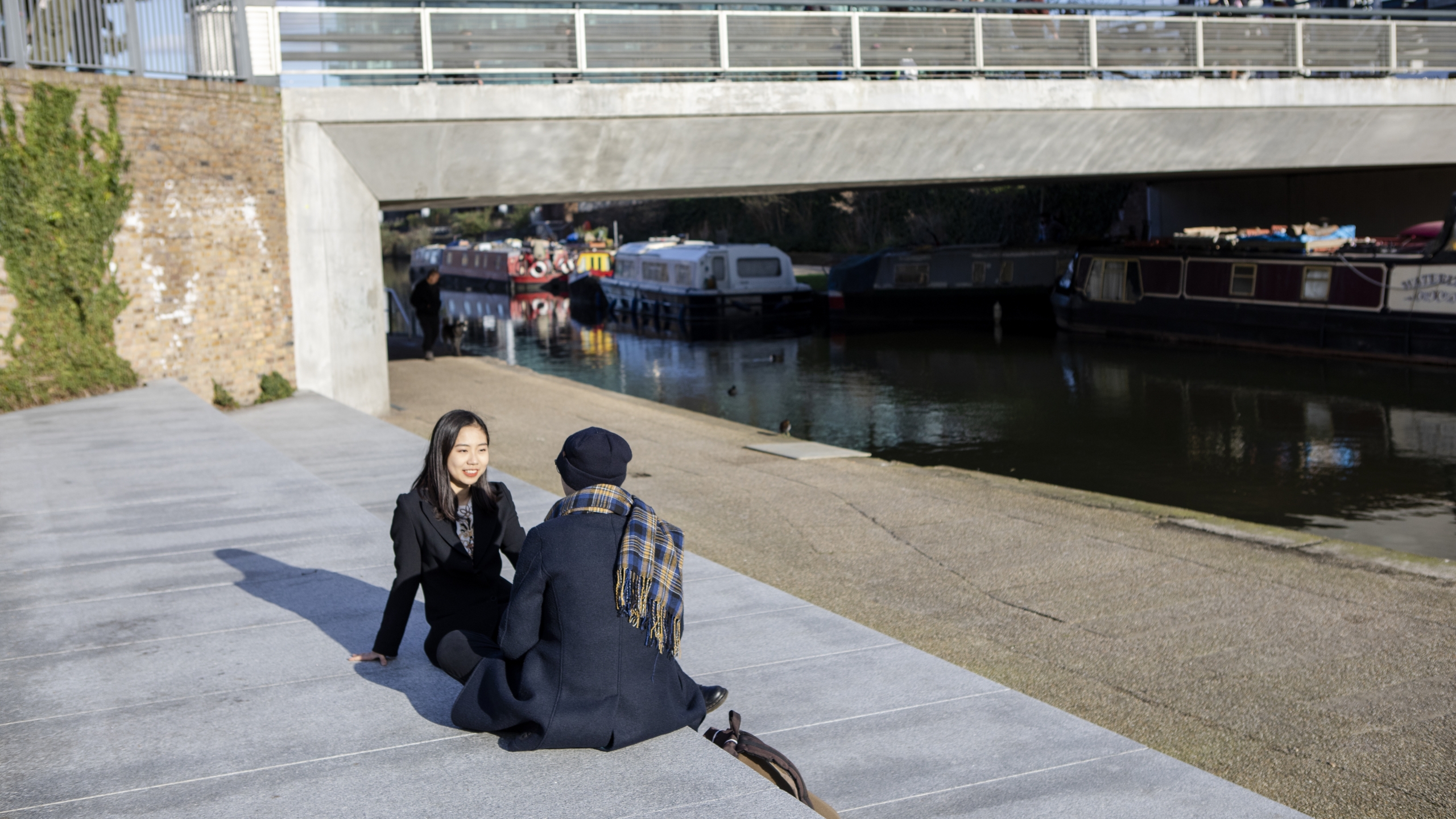 Wellbeing and Health
The Courtauld offers support to all students through the Wellbeing Team.
The team provides a proactive and professional service to all students, allowing them to reach their full potential. It promotes equality and inclusivity throughout the organisation.
Wellbeing can assist with a number of things including:
Accessibility and disability support
Mental health and emotional wellness
Support for personal and financial issues (including issues of a sensitive nature)
Signposting to external services
For further details on the type of support on offer, please read the 'FAQs and Guidance' section, below.
Please do not hesitate to contact the team at wellbeing@courtauld.ac.uk should you have any further questions.
FAQs and Guidance
1. Registering with a Doctor
It is important that you are registered with an NHS doctor in London, to ensure that you have access to medical services when you need them.
If you live within the postcodes listed below, you can register at Gower Street Practice, which has a longstanding association with The Courtauld. The practice is located a short walk from Vernon Square and offers a full range of medical services.
EC1, EC2, EC3, EC4, N1, N4, N5, N6, N7, N8, N10, N11*, N13, N15, N16, N17, N19, N22, NW1, NW3, NW5, NW6*, NW8, SW1, SW3, SW5, SW6*, SW7, SW10*, W1, W2, W8, W9, W10*, W11*, W14*, WC1, WC2.
*Parts of these postcode areas fall outside our area (there are also other limited exceptions).
If you do not live in the postcodes listed above, you can still attend the practice for emergencies.
Gowerstreetpractice.org.uk 
Gower Street Practice
20 Gower Street, London
WC1E 6DP
Tel: +44 (0)207 467 6800
Local emergencies
The nearest Accident and Emergency departments to The Courtauld are:
University College London Hospital, 235 Euston Road, Bloomsbury, London NW1 2BU
St Thomas' Hospital, Lambeth Palace Road, Bishop's London, SE1 7EH.
In an emergency, dial 999. This emergency number will get you the Police, the Fire Brigade, the Paramedics, the Coast Guard and Search and Rescue.
If you live outside of the above-listed postcode areas, you can still receive medical care. Use the below link to search for a GP close to where you live:
GPs: about GP services – find and register with a local GP.
Useful information/ links:
The NHS App – owned and run by the NHS, this app is a simple and secure way to access a range of NHS services on your smartphone or tablet.
Hospitals: about NHS hospitals – find out more about going to the hospital, staying in the hospital, and being discharged from the hospital.
2. Accessing other NHS services
3. Support with mental health
We know that experiencing mental health difficulties at university can feel overwhelming. However, we can support you while you are studying at The Courtauld. We will provide you with confidential, unbiased and non-judgemental services. We can also signpost students to appropriate support services outside of The Courtauld.
The WellbeingTeam (wellbeing@courtauld.ac.uk)  is the first point of call for students who are experiencing any form of personal, health, financial or welfare issues. We will provide guidance for students with a disability, mental or long-term health conditions and can help students apply for Disabled Students Allowance (DSA).
We can also arrange for reasonable adjustments such as:
Extra time for assessments and exams
Access to specialist equipment
Assistive software
Extended book loans
Assistance to locate and/or collect research materials
Access to course materials in an alternative format
Mental Health Support
Counselling – The Courtauld has 3 part-time Counsellors who can provide students with counselling on a range of matters. To book an appointment with the Counsellors, please email counselling@courtauld.ac.uk or wellbeing@courtauld.ac.uk.
Appointments are available on Monday, Wednesdays & Thursdays.
20 min drop-in sessions (no appointment necessary) are available on Monday, Wednesday and Thursday at 12.30. These will be offered on a first-come, first-served basis.
Student Mind offers a range of support programmes. One of these programmes is a new platform, Student Space, which was launched in July 2020. The 'Student Space' programme is designed to complement the mental health support already in place through universities, colleges and NHS services in England and Wales – filling potential gaps in provision and ensuring that all students have access to the support they need.
Student Space offers:
Immediate help for students in distress through therapeutic interventions – this may include text support, phone listening and guided cognitive behavioural therapy
Educational resources to help students manage stress and maintain good mental health and wellbeing in the context of the pandemic
A range of quality-assured online resources, such as guidance, apps, peer support platforms, and volunteering opportunities
The programme is still being developed in response to emerging student need, with services developed based on ongoing evaluation and assessment.
The Courtauld has a group of staff members trained as Mental Health First Aid Champions. While the Wellbeing Team are the first port of call for any wellbeing and welfare issues you may face, the following staff members can also provide staff and students with guidance and support:
Abdul Arush, Somerset House, Mezzanine
Keeley Bowtell, SAS Office, 2nd Floor Vernon Square
Thaddeus Bebb, Duchy House & Somerset House, Mezzanine
Yelena D'Attoma, SAS Office, 2nd Floor Vernon Sqaure
Vicky Falconer, Library, Vernon Square
Susan Horsfield, Reception, Vernon Square
Elara Shurety, Library, Vernon Square
Anjali Thakariya, Library Vernon Square
Online Mental Health Resources
Mental Health Foundation: offers an A-Z of information on mental health. Provides tips and advice on how to look after your own mental health.
Mind: offers information about various conditions, treatment options, and practical issues.
Papyrus: provides tips for students and information on talking about suicide.
Royal College of Psychiatrists: provides information on how to get help and about the various mental health conditions.
The Mix: discusses a range of services and information for young adults, including mental health, finance, housing and more.
Transitions: this is a great resource for students who are starting university.
Youth Access: is a directory providing information about local voluntary sector services for 15-25-year olds. Especially useful for students living outside the Borough of Westminster.
Samaritans: this is a charity that is open 24 hours a day, 365 days a year. Staff listen to anything that is upsetting you, including intrusive thoughts and difficult thoughts of suicide and self-harm. Their national freephone number is 116 123. Samaritans also offer a Welsh Language Line on 0300 123 3011 (from 7 pm–11 pm only, seven days a week).
SANEline offers emotional support and information from 6 pm–11 pm, 365 days a year. Their national number is 0300 304 7000.
If you are a man experiencing distressing thoughts and feelings, the Campaign Against Living Miserably (CALM) is there to support you. They're open from 5 pm-midnight, 365 days a year. Their national number is 0800 58 58 58.
Support Line provides a confidential telephone helpline offering emotional support to any individual on any issue.  Helpline: 01708 765 200
Switchboard, the LGBT+ helpline. If you identify as gay, lesbian, bisexual or transgender, Switchboard is available from 10 am–11 pm, 365 days a year, to listen to any problems you're having. Phone operators all identify as LGBT+. Their national number is 0300 330 0630.
4. Support with emotional difficulties
The Courtauld has 3 part-time Counsellors normally based in the Counselling Room (Meeting Room 2), next to the Careers Room in Vernon Square.
Currently, sessions are provided online via Zoom.
How counselling can help?
Counselling enables you to talk openly through your issues with a caring and supportive, but uninvolved professional. As such, you may find it helpful to talk to an experienced Counsellor in a confidential setting, without fear of being judged.
The Counsellor will provide you with an opportunity to:
Make sense of what is happening to you
Identify the cause of particular problems
Explore your thoughts and feelings
Enable a greater sense of self-awareness and insight
Explore destructive patterns of behaviour
Help you make better choices
Help you decide on the best course of action
Acceptance and respect for each individual is a vital part of the process. You can be confident that you will not be judged. The aim of counselling is to encourage you to find your own solutions.
Appointments
Appointments are available on Monday, Wednesdays & Thursdays.
You can make an appointment by emailing: counselling@courtauld.ac.uk.
Drop-in sessions
20-minute drop-in sessions (no appointment necessary) are available on Monday, Wednesday and Thursday at 12.30. These are offered on a first-come, first-served basis
Cancellations
If you are unable to keep an appointment please inform us at least 24 hours before your appointment by emailing counselling@courtauld.ac.uk.
In crisis?
Please note that the Courtauld Counselling service is not an emergency service
If you are in crisis, please contact your GP, NHS 111 or visit your nearest Accident and Emergency department at your local hospital. You can also call the Samaritans on 08457 90 90 90
5. Support with issues relating to your lifestyle choices
Drugs and Alcohol
Drug abuse and excessive alcohol intake can put your health and academic progress at risk. It could also lead to disciplinary issues. If you are concerned about drugs and/or alcohol, speak to your Personal Tutor or the Wellbeing Team. Below are some external organisations which can help students who are facing difficulties with drugs and alcohol.
Gambling
Gambling can put your academic progress at risk and could lead to financial issues. If you are concerned about gambling, speak to your Personal Tutor or the Wellbeing Team. You may find the following organisation useful should you need information and support on tackling a gambling addiction:
Gamblers Anonymous offers the hand of friendship to anyone who is looking to try and stop gambling.
6. Academic support
The Courtauld employs staff who can assist you with academic, organization, and time-management skills, for instance.
Royal Literary Fund Fellows
Students can enlist the support of our two Royal Literary Fellows, Lucasta Miller, and Lucy Lethbridge. Lucasta and Lucy are both professional writers and offer support to Courtauld students thanks to the Royal Literary Fund's Fellowship Scheme. The RLF website has a very useful guide to writing essays.
Students can book an appointment to see them by emailing lucasta.miller@rlfeducation.org.uk or lucy.lethbridge@rlfeducation.org.uk
Please don't contact both Fellows at once as they have independent booking systems.
The Royal Literary Fellows can help you to improve your academic writing skills, reading strategies, and organisation of material. If you would like to improve your style, clarity of argument, if you need help with structure, tone, or simply getting to grips with the writing process, please do get in touch with them. (Note: this is not an editing or proofreading service).
Ideally, they will look at some of your written work in advance and then discuss it with you in person at the meeting. Please state in your email the times you are not available so that they can allocate you a session that fits in with your schedule. It's best to book well in advance, if possible. If you leave it until the week your essay is due, you may find there are no free slots.
If you find you can't make the appointment, please email them as soon as possible so that they can use your time for someone else. Students can book one or two tutorials per term, and sessions are available for any Courtauld student, from BA to PhD.
Academic Skills Tutor
Anjali Thakariya offers advice on skills specific to Art History, including research, visual analysis, and presentation. She can also help you to understand essay feedback, develop revision strategies, or cope with last-minute essay panic. Any student can make an appointment with Anjali: please email her to book an appointment. Anjali is based in the library at Vernon Square. Email Anjali Thakariya for an appointment or advice:   anjali.thakariya@courtauld.ac.uk
The Courtauld also has a Specialist Study Skills tutor, who offers 1:1 study skills support to students with study skills recommended in their diagnostic report and/or medical evidence. This includes students with specific learning differences, mental health concerns, and autistic spectrum conditions.
How can the Specialist Study Skills Tutor help?
The support offered by the Specialist Study Skills Tutor is student-centred, designed around individual academic needs, and complies with the social model of disability.
Specialist study skills can help with:
Understanding: how you approach challenges, how you learn best, and how you can succeed
Strategies: techniques to be effective in reading, writing, planning, and all other aspects of study
Assistive technology: how you can make the most of technology designed to make you an independent and effective student
Communication: develop the confidence to ask the right questions, stay in touch with people who can help you, and respond when you need to
Organisation and planning: learn to organize your time well so you have time for studying, writing, and wellbeing
Support for Specific Learning Difficulties (SpLD)
If you have (or suspect that you have) a specific learning difficulty (Spld), such as autism, ADHD, dyslexia or dyspraxia, or if your diagnostic assessment is more than five years old, you can contact wellbeing@courtauld.ac.ukor janet.harper@courtauld.ac.uk  for advice about assessment and support. If appropriate, we can refer students to a partner organization for assessment and the cost of the test will be covered by the Courtauld.
Disabled Students' Allowance
You can apply for Disabled Students' Allowances and more information about the application process and the evidence you need to submit is available here.
7. Carrying over support from school to university
If you received support during your time at school, you can arrange for the support to carry over into university. You need to provide us with evidence that details what kind of support you received and why. This might be:
A report or Form 8 from school
A full diagnostic assessment
Medical evidence
Once the evidence has been received and processed, a member of the Wellbeing team will contact you about implementing a 'Summary of Reasonable Adjustments (SORA)'. They will get you to look over your SORA and agree to it/request changes, then request your consent to share the information with relevant staff members so they can support you, accordingly.
If you don't have evidence, contact your school or college and ask them to send you something. If they can't help, email the Wellbeing team and they will assist you. Wellbeing can be contacted at wellbeing@courtauld.ac.uk 
8. I am unable to meet my deadlines because of a disability-related issue. What do I do?
If you are unable to meet a deadline, please speak to the relevant Programme Administrator for your course so they can explain the process of getting an extension, to you. These staff members will liaise with the Wellbeing team on your behalf.
If you are a BA/GD/Study Abroad student, please speak to Yelena D'Attoma.
If you are an MA student, please speak to Fahid Hussain.
If you are a PhD student, please speak to Rachel Shaw.
All of the above-named staff members can be contacted at SAS@courtauld.ac.uk
9. I am unable to take my exam because of a disability-related issue. What do I do?
Students who are unable to sit an exam should request a re-sit through the Extenuating Circumstances process as detailed in the Extenuating Circumstances policy.
Please speak with the relevant Programme Administrator for your course so they can explain the Extenuating Circumstances policy/ process, to you. These staff members will liaise with the Wellbeing team on your behalf.
If you are a BA/GD/Study Abroad student, please speak to Yelena D'Attoma.
If you are an MA student, please speak to Fahid Hussain.
If you are a PhD student, please speak to Rachel Shaw.
All of the above-named staff members can be contacted at SAS@courtauld.ac.uk
10. Out of hours services
If you are in crisis or just need someone to talk to for advice, guidance and support outside of normal office hours, consider the following organisations:
Samaritans
If you are experiencing emotional distress, including thoughts of suicide, the Samaritans provide a 24-hour confidential listening service.
Website: www.samaritans.org
Email: jo@samaritans.org
Telephone: 116 123
Nightline
Run for and by students, Nightline provides the opportunity to talk to or instant message someone about anything you like. It is an independent, non-judgmental listening, support, and information service with no political, religious or moral bias.
Confidentiality is assured and you do not have to give your name.
Website: http://nightline.org.uk/
Email: listening@nightline.org.uk
T: +44 (0)207 631 0101
11. Emergency/ crisis contacts
Immediate risk – Yourself
If you are feeling suicidal or are considering hurting yourself or others, please speak to your local NHS crisis team by dialing 111 or by calling the Samaritans on 116 123.
You can also call the Police on 999. Emergency services staff will be sent to help you.
All numbers are free to dial and can be accessed on a landline or mobile device. The numbers should be typed as is without any dialing code.
If on-campus, please speak to a staff member immediately.
Immediate risk – Someone else
Q: What should you do if someone you know is at immediate risk of suicide or of harming themselves or others?
A: If this person or others are in immediate danger, call an ambulance and the Police on 999. You can do this whether you are with them in person or not. You will need to be able to give a location so that emergency services can locate and assist the person.
If on-campus, you/ anyone else that you're with should alert a staff member immediately. Please also contact the Wellbeing Team who will coordinate a response.
Not an immediate risk – You or someone else
Q: What should you do if you or someone you know is at risk of suicide but unlikely to act right away? What should you do if or someone you know is at risk of harming themselves or others but unlikely to act right away?
A: While on campus, speak to a member of staff and also contact the Wellbeing Team who will coordinate support.
You may also consider speaking to any of the following organisations:
Your local NHS crisis team. The crisis team supports people who are in a mental health crisis and need urgent help.  You can find details of your local crisis team by putting the following into an internet search engine, "[Name of county, city, town or London borough] crisis team." You can also call NHS 111
Your GP. GPs usually keep some appointments free for urgent cases. Your GP can make a referral to the local crisis team if necessary
"Shout" text service: You can text "Shout" to 85258 to connect to a trained person to help you. See giveusashout.org  for more information
12. Help if you feel in danger in your personal life or on campus
If you are in immediate danger, please dial 999 and ask for the Police and other emergency services, if you can.
If you are on campus and are in danger, speak to a member of staff immediately. You can also dial 999 and ask for the Police if you can.
If you are not in immediate danger but you feel threatened in any way, please speak to a member of staff and do contact the Wellbeing Team. Staff will coordinate support for you.
Harassment and Bullying
The Courtauld is committed to ensuring an environment in which the dignity of individuals is respected. It ensures that there is a working and learning environment in which harassment and bullying are known to be unacceptable and where individuals have the confidence to complain about such behaviour, if it should arise.
Every person working for The Courtauld and studying at The Courtauld will be accountable for the operation of its Harassment and Bullying Policy as they carry responsibility for their own behaviour and actions, on and off-site. Should you have been a victim of harassment and/or bullying and wish to submit a complaint, please find more details here.
Your complaint will be dealt with confidentially and you will not be at risk of any retribution for making your voice heard.
Domestic Violence
Domestic violence can put your mental health and academic progress at risk and could lead to other personal issues. If you are concerned about domestic violence, please do speak to your Personal Tutor or the Wellbeing Team.
Below is a list of external organisations that can help students who are facing difficulties with domestic violence.
National Domestic Violence Helpline – The 24hr freephone National Domestic Violence Helpline (run in partnership between Women's Aid and Refuge) is available on 0808 2000 247 24 hours a day, 7 days a week. It is answered by fully trained female helpline support workers and volunteers who will answer your call in confidence. All calls to the helpline are free from mobiles and landlines. www.womensaid.org.uk
We understand that domestic violence is not just a women's issue and there are organisations that aim to assist no matter which gender you identify with:
mankind.org.uk  – This charity has a confidential helpline available for male victims of domestic abuse and domestic violence across the UK as well as their friends, family, neighbours, work colleagues and employers. They can be contacted, confidentially, on 01823 334244.
lgbtdap.org.uk – The London LGBT Domestic Abuse Partnership (DAP) is a way for LGBT  people who have experienced domestic abuse to get the maximum amount of help with a minimum amount of hassle. The DAP is open to any LGBT person experiencing domestic violence who is living or working in London. Find out more on the DAP and what we provide. Refer yourself to the DAP.
stonewall.org.uk – This charity was founded in 1989. It empowers LGBT people to be their authentic selves, enabling them to realise and achieve their full potential. The charity can be contacted for guidance, help and support.
Galop is trans-inclusive and is welcoming of anyone from the LGBT+ community (including those who are questioning their identity). Contact them to receive support if you are a victim of sexual violence, hate crime or domestic abuse. The national LGBT domestic violence helpline is 0800 999 5428 and their email is: help@galop.org.uk
The Bi-survivors network supports bi women and non-binary people. They provide a space where bi survivors of sexual and/or domestic violence can talk and find solidarity.
Women's Aid provides practical support and information for women experiencing domestic abuse, with simple guidance on every aspect of support. They have a Survivor Handbook. The website has a button that allows you to exit it at any time. Refuge's 24-hour National Domestic Violence Freephone Helpline is 0808 2000 247.
13. Students with difficulties attending class
The Courtauld places a strong emphasis on enhancing the student experience by providing a supportive and inclusive learning environment.
To maximise the student experience and promote success, attendance and engagement are considered key.  Lack of engagement with a programme of study allows staff to identify students who require additional support or may be at risk of academic failure or interruption of their studies.
To benefit fully from your programme, you are expected to attend all timetabled activities, including lectures, tutorials, academic skills sessions, Personal Tutor meetings, study trips and language classes at the LSE.
The Attendance and Engagement Policy is accessible here. It specifies that you should attend all your timetabled activities. If your attendance falls below 80%, you will be contacted by the Wellbeing team to establish how they can offer you support.
We have an online (app-based) attendance system, SEAtS, which allows you to confirm attendance at teaching activities and to request approval for an authorised absence.  If you cannot attend a lecture due to ill health or other issues, please log on to the SEAtS system to inform us you cannot attend and the reasons for this. SEAtS will automatically inform the relevant staff.
You will be required to download the attendance monitoring app to your phone, and we will show you how to do this during 'Welcome Week' or at your course induction sessions. You can also access the SEAtS Student Guide and video from the VLE (to be uploaded shortly).
If you are absent from lectures or other teaching activities then you will be emailed about your non-attendance and asked to meet with either your Personal Tutor, the Wellbeing Manager or the Associate Dean for Students.
If you have a disability, mental health or long-term medical condition, which may affect your attendance, do let the Wellbeing Manager know at the start of the academic year.
Tier 4 Visa – International Student Engagement
All universities are required by the government to have 10 (ten) contact points, evenly distributed throughout the academic year, to ensure that all students on a Tier 4 visa are both attending and engaged with their programme of study.  The 10 (ten) contact points are a mixture of face-to-face and remote meetings.
Contact points for the purposes of Tier 4 monitoring are:
Submission of coursework and attendance at examinations
Attendance at meetings with your Personal Tutor
Use of the Virtual Learning Environment – Moodle and Library activity
Attendance at teaching and learning events, such as lectures and seminars
14. Personal tutors
Personal Tutors
Every student at The Courtauld is allocated a Personal Tutor for the duration of their studies. If for any reason, you do not feel able to talk to your Personal Tutor, you should speak to the Associate Dean for Students.
BA students: Your Personal Tutor is allocated at the start of your degree
Graduate Diploma students: Your Personal Tutor is the Graduate Diploma Coordinator
Post Graduate Diploma – Conservation of Easel Paintings students: Your Personal Tutor is given to you in your first year
MA History of Art students: Your Personal Tutor is your course tutor
MA Curating students: Your Personal Tutor is the Head of Curating
MPhil/PhD students: Your Personal Tutor is your supervisor. If you prefer not to speak to your supervisor, you can speak to the Head of Research Degrees
The responsibilities of the Personal Tutor include:
(a)       Maintaining regular contact. For BA and Diploma students this means meeting students at the beginning of the first term, and then during the second week of subsequent terms and during office hours or by appointment at the student's request
(b)       Following up unexplained absences from classes.  Personal Tutors are notified of all your absences.  Two unexplained absences may lead to a formal meeting with your Personal Tutor
(c)       Giving guidance on course selections for future BA2 and BA3 students
(d)       Discussing progress reports submitted by BA course tutors
(e)       Giving guidance on assessment procedures, and advice on improving examination performance
(f)        Signposting you to appropriate advice for personal or medical support. Personal Tutors are not trained to provide financial, medical, or mental health advice, but they should be able to direct you to professionals who can provide this advice
The responsibilities of students include:
Attending meetings arranged by the Personal Tutor, whether you have matters of your own to raise, and responding to what is discussed
Informing your course tutors in writing, in advance if you must be absent Please inform Student Services by emailing seats@courtauld.ac.uk, copying in your class teachers
Taking the initiative in raising with the Personal Tutor any problems or difficulties affecting your academic work
Giving the Personal Tutor enough information about course preferences and general academic aims
Responding promptly to messages from your Personal Tutor
15. Support when experiencing financial difficulties
The Courtauld Hardship Fund
The Courtauld Hardship Fund provides short-term emergency funds to meet the immediate financial needs of students registered at The Courtauld Institute of Art.  It is intended to provide support for short-term urgent needs, such as living costs and rent, and cannot be used in payment of tuition fees.  Undergraduate students who require regular, long-term funding are advised to consider applying for a Courtauld Bursary.
Eligibility criteria
To be eligible you must meet all the criteria below:
You must be enrolled as a student at The Courtauld (either full-time or part-time)
You must have applied for all other eligible sources of funding before applying to The Courtauld Hardship Fund. This could include means-tested maintenance student loans and grants, Child Tax Credits, Housing Benefit, Parents Learning Allowance, Childcare Grant, Council Tax Reduction
You must be able to demonstrate that you have made reasonable provisions to cover your tuition fees and living expenses, for which supporting evidence is required. This will require submitting financial information, such as your bank statements
No financial support can be provided towards payment of tuition fees under any circumstances
You can only apply once during the academic year for hardship funding
If your financial difficulties are Covid-19 related, you do not need to have applied for other sources of funding.  You can apply directly to The Courtauld Hardship Fund for support, stating how Covid-19 has impacted your financial situation.
Assessment and notification
Applications can only be assessed once your application form and all required supporting documents have been submitted.  Supporting documents include bank statements for the three months up to the date of your application, Student Loan letters, and other relevant evidence to support your claim.
Applications are assessed in the order of receipt.  The assessment will be made based on your income and outgoings, and your personal circumstances.
We will normally make our assessment within 48 hours.  If your financial situation is desperate, immediate payment of £50 (in cash) will be made to you on the day of your application.
You do not have to repay any money obtained from the Hardship Fund.
The maximum award for a full-time student is £500.  Payments will normally be made by bank transfer to your account.
The Hardship Fund is limited, so once all the funds have been allocated to students, the Hardship Fund will close for the academic year.
We will contact you via your Courtauld email address to notify you of the outcome of your application.
16. Support when faced with circumstances beyond your control
The Extenuating Circumstances Policy sets out what should be done when you go through an unexpected non-academic incident (extenuating circumstance) that could have an impact on your studies. 
Extenuating circumstances are defined as events that are unexpected, significantly disruptive, and beyond your control. This definition also includes sudden, unexpected changes in family circumstances, which might affect your ability to make academic progress because of a demonstrable emotional impact upon you.
The Courtauld is aware that it may be difficult to disclose personal details in these circumstances. We are committed to supporting students through difficult or sensitive circumstances and ensure that information remains confidential.
Fit to Sit
The Courtauld has a Fit to Sit policy.  This means that if you sit an exam or submit an assessment you are declaring yourself well enough to do so.
If you believe that you are unlikely to perform to the best of your ability in an assessment/examination, you are strongly advised not to take the assessment and to submit a claim for extenuating circumstances, instead.
However, claims must not be submitted as insurance against poor performance in assessment/examinations.
By submitting a claim for extenuating circumstances, you are confirming that your circumstances are severe and have impacted your assessment.
Submitting false claims or evidence is a serious matter and will be dealt with under The Courtauld's disciplinary procedures.
17. Support if you are dissatisfied with your experience at The Courtauld
Q: I'm unhappy with the grade I received on an assignment. Can I have my work remarked?
A: No. We do not have work re-marked. Our academic staff receive regular teacher training and are experienced examiners/markers. We also have processes in place to ensure that marks are awarded according to marking criteria that have been agreed upon via the Teaching and Learning Committee (TLC). Moreover, each year we hire External Examiners to look through how and what we have taught during the academic year; part of the External Examiners' role is to look at the marks and feedback that we provide to students and establish whether what we are doing is accurate, consistent and fair. Upon receiving our External Examiners' reports, the institution then has a Quality Assurance Meeting to ensure that all our processes and procedures are of a high standard and that we make any improvements to how we work, based on the recommendations and best practice suggested by the External Examiners. As we have a number of safeguards in place, students should rest assured that their work is marked fairly and their marks are indicative of their level of academic achievement.
Q: I don't like the class I've been assigned to. Can I change?
A: No. We don't allow students to change classes.
In BA1, students are assigned classes by the relevant Programme Administrator for their cohort. Students cannot switch classes as this has implications on student numbers and on the timetable. Moreover, we need to ensure that class sizes are relatively equal, especially while social distancing measures are mandated by the UK government. As some classes are more popular than others (typically the Modern and Contemporary classes), we can't have the majority of students taking the popular ones and minimal numbers of students in the others.
In BA2, BA3 and at GD, students are permitted to state a preference for the classes they would like to take. However, no student is guaranteed to be allocated to any of their preferred classes.
The MA course works differently. If an MA student is unhappy with what they are studying, they should speak to their Programme Administrator for guidance in the first instance.
Q: I have an issue with something in one of the classes I'm taking. What do I do?
A: Any concerns a student has with their class should be discussed, informally, with the class teacher in the first instance. In the event that a student would like to escalate their concerns, they should then speak to their Personal Tutor and Programme Administrator. If a further escalation is required, their Personal Tutor and Programme Administrator will advise the student of the complaints process.
Q: I would like to make a formal complaint. How do I go about doing this?
A: In all cases, we ask that students try to resolve any issues they may have, informally. A student can speak to any number of staff for guidance when dealing with any issues they may have (Personal Tutor/ Programme Administrator/ Students Union). If the issue cannot be informally resolved, then a student may make a formal complaint, in writing, to the Academic Registrar, Elizabeth Harris (the Head of Student and Academic Services) via Academic.Registry@courtauld.ac.uk.
Kindly note that students may be asked to try and informally resolve their issue before the Academic Registrar is able to respond to their complaint. Students should not write to the Dean or the Director without first speaking to their Personal Tutor/ Programme Administrator/ Student Union. SAS staff will escalate complaints on behalf of a student. Any complaints brought directly to the Dean or Director will be re-directed to the Academic Registrar, first. The Full Student Complaints Policy is on The Courtauld website under Student Policies and this gives full details of the steps to resolve any complaint.  Students are asked to complete a form (on the website) detailing their complaint in full and what action they would like to see as a resolution.