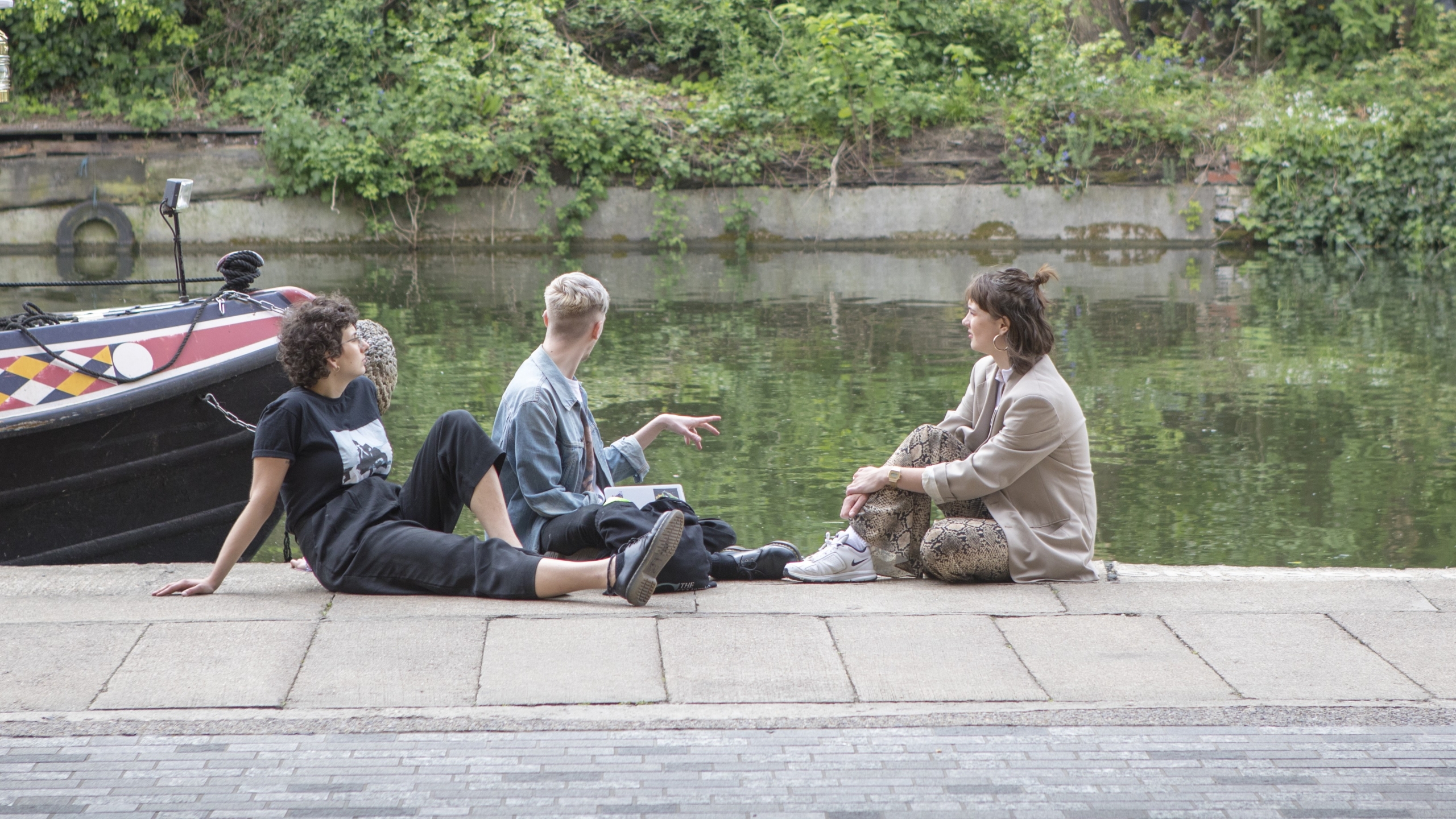 Living in London
Our neighbourhood
Since January 2019, teaching and learning, including our faculty staff and book library, has been housed in a spacious, purpose-built educational facility at Vernon Square, located in King's Cross, London. This is while our permanent home at Somerset House is being transformed as part of our major project, Courtauld Connects, to open up our teaching facilities and Gallery to even more people, and create exciting new study facilities.
King's Cross is home to one of the biggest and most exciting redevelopment projects in London. The 67-acre site is being transformed into a new vibrant part of the city with the likes of Google HQ, UAL Central St Martins Campus, and many new homes, shops, offices, galleries, bars, restaurants and schools, moving into the area.
The location has excellent transport links throughout London via buses and tubes (including the 24-hour night tube on the Victoria Line). You can even go directly into central Paris, using the Eurostar at St Pancras train station, which is only a short walk away from the campus.
Our campus at Vernon Square will also ensure we remain by London's Museum Mile. This central location will offer students easy access to a wealth of museums, galleries and libraries, including the British Library, the British Museum and The National Gallery.
There is a strong sense of community in King's Cross, brought together by the canal side setting, an exciting cultural scene, and a thriving business community. It is modern, it is innovative, and we think it is a great location for our students and academics to study and thrive during our temporary move from Somerset House.
Cost of living
Living in London, one of the most exciting, global cities in the world, means you have access to all manner of cuisines, cultural activities and shopping, and whilst London can be expensive, as a student you'll have access to discounts on everything from public transport to theatre tickets. It is important to budget to ensure that you have enough money to live on while you complete your studies, and your cost of living as a student will depend largely upon your lifestyle choices. Even on a limited budget you can make the most out of your time in the city.
There are a variety of resources available to help you plan your budget and make the most out of the money you spend. Many retailers and entertainment venues will offer discounts or concession prices when you present your student ID and there are also multiple apps and websites dedicated to student discounts.
Here are a few resources suggested by our students:
Please note that we have no affiliation with these providers, and there are alternatives.
Budgeting
Accommodation – recommend budget: £220 per week
This amount is based on the average cost of rent at Duchy House and Intercollegiate Halls. Privately rented accommodation varies considerably but will often not include the cost of utilities and will sometimes require a more extensive transport budget.
See our Student Accommodation page for more information
Utilities – recommended budget: £150.50 per year
If you are living in student accommodation and plan to have a TV in your room, you will need to purchase a TV licence (however, if you are living in a shared property with a communal TV, then the cost of the TV licence can be shared). If you do not have a TV licence, you risk legal action and a fine of up to £1,000. More information.
Food – recommended budget £50 per week
There are many things you can do to help reduce your food budget; shop locally, buying your groceries in a group with flatmates, and preparing your lunch yourself rather than eating out.
Music Events / Entertainment – recommended budget £20-50 per week
Books: You will not need to purchase the majority of books needed for your study. Any required reading as part of your course / modules will either be available in the Courtauld Library or downloadable as PDF from the VLE. However, when conducting wider research you may need books that are not available at the Courtauld. First, take a look at Jisc Library Hub to see if any of the books are available in other University of London library, the British Library or those attached to the V&A and Tate – all of which you can get access to for free. It is also possible to ask the Courtauld Book Library team to see into purchasing the book for the library, see here for more information and guidance on how to obtain books from our library staff.
Transport
Whilst most halls of residence and teaching facilities are within walking distance, London is a large city, and you will often find yourself needing to travel around quickly. As a student, you are eligible to receive 30% off the cost of public transportation throughout London. Purchasing a Travelcard means that you can travel as often as you like within the zones for which you have purchased your Travelcard. If you do not plan to travel afield often, it may be more cost-effective to pay as you go and top up when travel is necessary.
There is more general information on the TfL website.
Please note that student Oyster cards cannot be obtained until after you enrol at The Courtauld, as your application is checked by the institution.
Cross-UK Travel
If you think you may be travelling outside of London frequently too – to see family etc. then it may be worthwhile purchasing a 16-25 Railcard or a 26-30 Railcard, which costs £30/year and offers 30% discount on train travel across the UK. There are also often offers on restaurants, hotels and other experiences, which can be sought with the card.
If you are over 30 and a full-time student, you are still eligible for a railcard, but you will need to bring a hard copy of the application form to us for certification.
Other useful information
International students: International students requiring a visa to study in the UK are required to demonstrate sufficient funds to cover expenses before you arrive. Further information can be found on the UKCISA website.You may also find it useful to take a look at the Study UK website, which provides a plethora of information for international and EU students, specifically the Moving to the UK sections.
Student bank account: If you wish to open a student bank account, you will need a letter from us to confirm your student status.  You may request this letter only at enrolment or later.
Council tax exemption: If you do not live in student accommodation, in order to claim your Council Tax exemption you will need to provide a letter to your local council stating that you are a full-time student. If you fail to provide this letter to your local authority, you may face legal action. You may request this letter only at enrolment or later.