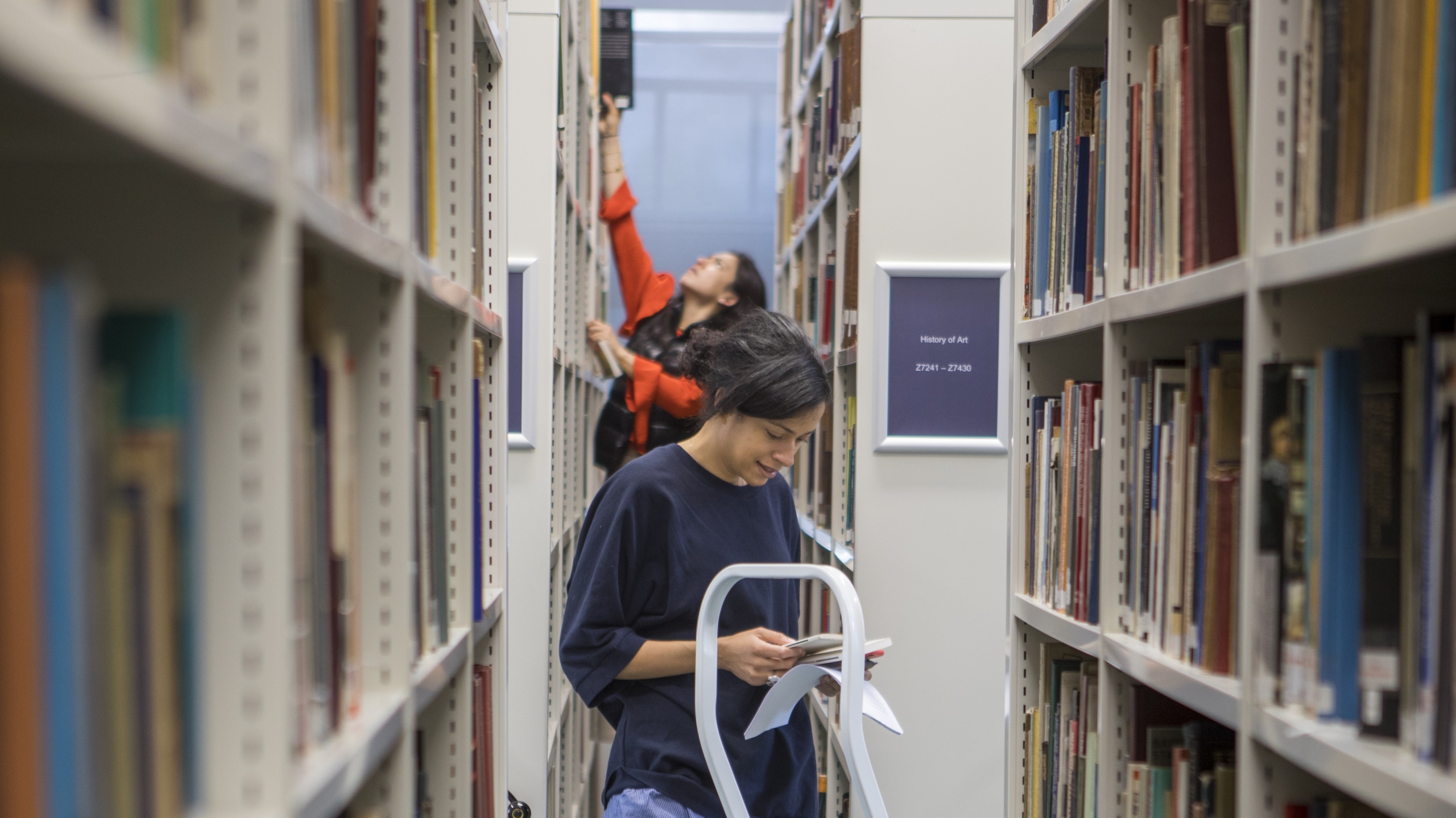 Careers & alumni
A degree in Art History makes you highly employable, and opens paths to careers in all sectors of the economy, not just the arts. As a humanities subject, it gives you skills in critical thinking and writing, and the ability to express yourself succinctly and persuasively.
Uniquely, however, it also gives you the ability to understand the visual world around you and the ways in which images, buildings and objects have an effect on society. This has a strong vocational element, particularly if you are interested in a career in the arts.
Career prospects
The Courtauld's graduates continue to fill prestigious positions around the world as:
• Heads of major museums and galleries
• Curators
• Conservators
• Art dealers and auction house experts
• Lawyers
• Entrepreneurs
• Publishers
• Media professionals
• Academics
• Teachers
• Banking and Finance professionals
• Business professionals
• Marketing and Communications professionals
Individual careers support
All students can access bespoke, one-to-one careers guidance throughout their studies. The Courtauld Careers Service offers advice and support on exploring career and further study options, finding internships, enhancing employability, understanding and navigating the jobs and self-employment market, and making successful applications. The Careers Service also offers a tailored interview practice service, with detailed feedback, enabling students to prepare effectively for interviews.
The Courtauld Careers Programme
The Courtauld Careers Programme is a comprehensive careers education programme designed to help students to explore their career options, receive practical tips from and network with alumni and employers, and develop their employability skills. The programme consists of a wide variety of events, including:
• Panel sessions led by alumni in a range of careers
• Talks by recruitment and careers professionals
• Employability skills workshops on a range of topics, including career management, interview techniques and networking
Students who demonstrate commitment to their personal and professional development by either attending five one-to-one careers guidance appointments/ five careers events or through a combination of one-to-one sessions and careers events are invited to an exclusive alumni networking event. This gives them the opportunity to meet a wide range of alumni and build valuable professional contacts. Each year, students are able to secure work opportunities through attending this event. Other events offered outside of the programme include workshops with employers or sector leaders or access to events offered by other university career services in London, for example, on self-employment.
Working while studying
Many students work part-time to gain valuable work experience and supplement their income. They may also embark on full-time internships during the holiday periods. Some find jobs in Galleries, Museums, Auction Houses and other arts institutions to complement their studies, while others gain internships to explore sectors outside of the arts. The Courtauld Association is a membership organisation for all current and former staff, students and alumni.
The Courtauld also has various opportunities internally, such as assisting in the Prints and Drawings Study Room and providing general services in the libraries. In addition, a carefully selected listing from the University of London's jobs board is posted online each week which offers a range of vacancies across various industries. The Careers Service provides support and guidance in finding and applying for work experience opportunities, using all or any of these and other sources.
Alumni careers
BA History of Art alumni
Charlie Casely-Hayford (BA 2009) – Fashion
Charlie Casely-Hayford is a fashion designer and founder of the internationally renowned menswear brand Casely-Hayford, which he co-founded at the age of just 22. Clients have included Benedict Cumberbatch, Sam Smith, Drake, John Legend and David Beckham.
---
Jennifer Scott (BA 2001) – Public Galleries
Jennifer Scott is the first female Director of the Dulwich Picture Gallery, a vibrant cultural hub hosting some of the UK's leading exhibitions alongside its Permanent Collection of Baroque masterpieces. Under Jennifer's creative leadership the gallery has seen a bold programme of events and collaborations, as well as sold-out exhibitions such as Rembrandt's Light in 2019.
---
Atticus Ross (BA 1989) – Music and Film
Atticus Ross is a musician and composer, who won both an Oscar and an Academy Award for Best Original Score for the film The Social Network in 2010. He also won the 2021 Golden Globe Award for his soundtrack for the Disney film Soul. He has recently received two BAFTA nominations, two Oscar nominations and received an Emmy for Watchmen in 2020. When not composing award-winning scores for films, Atticus is also a member of the rock band Nine Inch Nails, which in 2020 was accepted into the Rock and Roll Hall of Fame.
---
Rachel Chudley (BA 2008) – Interior Design
Rachel Chudley is a highly acclaimed interior designer, best known for her distinctive use of colour, texture and artwork in her interiors. She has been featured in House & Garden, ELLE Decoration, Vogue, Marie Claire Maison, and The Sunday Times Style Magazine. In 2020 Rachel won the 'Rising Star' award in House & Garden's 'Top 100 Interior Designers'.
---
Harry Hutchison (BA 2006) – Commercial Arts
Harry Hutchison is the Director of Aicon Gallery in New York, which specializes in modern and contemporary non-Western art, with a particular focus on emerging and established artists from South Asia. In addition to producing solo shows by the gallery's artists, Aicon exhibits curated group shows that help to pave the way for serious discussion around non-Western art in the U.S. His show Readymade: Contemporary Art from Bangladesh, was the first-ever extensive survey exhibition of contemporary Bangladeshi art held in New York.
MA History of Art alumni
Naomi Beckwith (MA 1999) – Public Museums
Naomi Beckwith is Deputy Director and Chief Curator at the Guggenheim Museum, New York. She was previously Senior Curator at the Museum of Contemporary Art Chicago (MCA) and was featured in Chicago Magazine's '50 Most Powerful Women in Chicago' list in 2020. She curated some of the most innovative exhibitions in the history of MCA Chicago, including the Howardena Pindell retrospective, The Freedom Principle: Experiments in Art and Music, 1965 to Now (2015), Color Blind: The MCA Collection in Black and White (2013), and the Duro Olowu: Seeing Chicago exhibition in 2020. Naomi has also worked at the Institute of Contemporary Art, Philadelphia, and the Whitney Museum of American Art, New York. Her curatorial work focuses on the deficit of people of colour and women in the western art-historical canon, multi-disciplinary art practices and respecting cultural differences in an age of globalisation.
---
Chloe Vaitsou (MA 2003) – Art Fairs
Chloe Vaitsou is the International Director of Art Dubai. She has been seminal in overseeing the expansion of Art Dubai, developing the fair's global profile and positioning. Mirroring Dubai's role as a meeting place of cultures, Art Dubai offers exciting new global perspectives and broader conversations about art beyond traditional, western-led geographical scopes and narratives. It showcases the rich cultural heritage and contemporary art practices of the Middle East, South Asia and North Africa, extending into territories across the broader Asian continent, Sub-Saharan territories, Latin America and Oceania. Before taking on this role, Chloe was Head of Audience Development at Frieze Fairs.
---
Ashitha Nagesh (MA 2013) – Journalism
Ashitha Nagesh is an award-winning journalist at BBC News. She has also produced pieces for BBC World Service Radio and BBC Radio 4 and has discussed her work on BBC Outside Source on World Service Radio, BBC Radio 2's Jeremy Vine Show, BBC Scotland's Podlitical and BBC Asian Network, amongst other radio shows. She previously worked as a Senior News Reporter for Metro and was a freelance art journalist for several years, writing articles for Apollo, Artforum, Art Press and many other arts publications.
---
Jeremy Epstein (MA 2009) – Commercial arts
Jeremy Epstein is the co-founder and director of Edel Assanti, a London-based gallery and project space established in 2010. Edel Assanti represents contemporary, interdisciplinary artists whose practices engage with social, cultural and political themes. Jeremy had previously worked at Gagosian in London, managing high-profile artists such as Mark Grotjahn, Anselm Kiefer and Paul Noble. Prior to this he gained valuable experience working at Fondation Cartier in Paris and Tate Modern in London. He also sat on Tate's Acquisitions Committee until 2016.
---
Sorrel Hershberg (MA 1993) – Charity & Non-Profit
Sorrel Hershberg is Co-Director of CREATE London, a charity that works with artists and creative practitioners to benefit the lives of people in cities. Over the past decade, CREATE London has helped to establish ten new organisations that include an adventure playground, an artist-led drinks company, a community art school, and London's leading employability programme for young people in the creative sector. It has also commissioned and produced award-winning projects with artists such as Anthea Hamilton, Grayson Perry and Jeremy Deller. Before joining CREATE, Sorrel was Director of the Saturday Club Trust and the Sorrell Foundation. Between 2008 and 2012 she was senior project manager for Frieze Projects, and prior to this she worked as a curator and project manager in the British Council's Design & Architecture team and the V&A's Contemporary team.
PhD alumni
Adele Tan (MA 2003, PhD 2009), Senior Curator, National Gallery Singapore
After studying English Literature at the National University of Singapore, Adele completed both her MA and PhD at The Courtauld.
As a curator, Adele's research focuses on contemporary Southeast Asian and Chinese art, with a special interest in performative practices, photography, and new media. Some of her major exhibitions include Yayoi Kusama: Life is the Heart of a Rainbow (2017) and Awakenings: Art in Society in Asia 1960s-1990s.
Before joining the National Gallery Singapore, she was assistant editor at the British Journal Third Text and her articles have appeared in numerous other scholarly publications, exhibition catalogues and journals such as PAJ, Broadsheet, Yishu and Eyeline. Adele was part of the curatorial panel for the 4th Singapore International Photography Festival and is a member of the International Association of Art Critics.
In addition to her curatorial role, Adele also lectures at the National University of Singapore.
---
Jack Hartnell (BA 2008, MA 2009, PhD 2014), Art History Lecturer, University of East Anglia, Norwich
Jack received his PhD in 2014, after which he held fellowships at the Victoria and Albert Museum in London, Columbia University in New York and the Max-Planck-Institut für Wissenschaftsgeschite in Berlin, as well as a position as the Andrew W. Mellon Foundation Postdoctoral Fellow at The Courtauld. He joined the UEA faculty in 2017.
Jack's research and teaching focuses on the visual culture of late medieval and early renaissance medicine, cartography, and mathematics. His most recent book, Medieval Bodies: Life, Death and Art in the Middle Ages, was the Sunday Times History Book of the Year in 2018.
Jack was also heavily involved in launching Courtauld Books Online – an important academic resource where users can find high-quality, peer-reviewed art history monographs, available to read online for free.
---
Nancy Ireson (PhD 2005), Deputy Director for Collections and Exhibitions, Barnes Foundation, Philadelphia
Nancy Ireson completed her BA, MA and PhD at The Courtauld, finishing her PhD in 2005 with a thesis on Making Images: The Work and Early Critical Reception of Henri Rousseau. After her time at The Courtauld she took up positions at some of the world's leading art institutions, including Tate Modern, The National Gallery, The Courtauld, the Leverhulme Trust and the Victoria and Albert Museum in London, as well as the Art Institute of Chicago and the Morgan Library and Museum in New York.
At Tate Modern, where Nancy was Curator of International Art between 2015 and 2018, she curated several blockbuster exhibitions, including the world-famous Picasso 1932: Love, Fame, Tragedy exhibition (2018) and the memorable Modigliani exhibition (2017-2018).
---
Nicholas Cullinan (BA 2002, MA 2003, PhD 2010), Director, National Portrait Gallery, London
Nicholas Cullinan is an art historian, curator and current Director of the National Portrait Gallery, London. He completed his BA, MA and PhD at The Courtauld and his PhD thesis, The Archeology of Knowledge: Excavating Arte Povera, was supervised by Professor Sarah Wilson. During his student days Nicholas worked as a visitor services assistant at the National Portrait Gallery, little knowing that he would later become its director, aged just 37. Nicholas has been responsible for leading a £35.5m transformation of the gallery, with the aim of making it "more relevant, more open and more accessible."
Prior to taking the helm at the National Portrait Gallery, Nicholas worked in some of the most prestigious museums and galleries in the world, including the Guggenheim museums in Bilbao, New York and Venice, and curatorial roles at Tate Modern and The Metropolitan Museum of Art in New York.
Virtual Open Day recording: 'What can I do with a degree in Art History?'
Alumni Conversations
Students from Ashton Six Form College have been working with a range of Courtauld alumni to find out more about the career and employment opportunities created by studying Art History in law, banking, fundraising, and more.