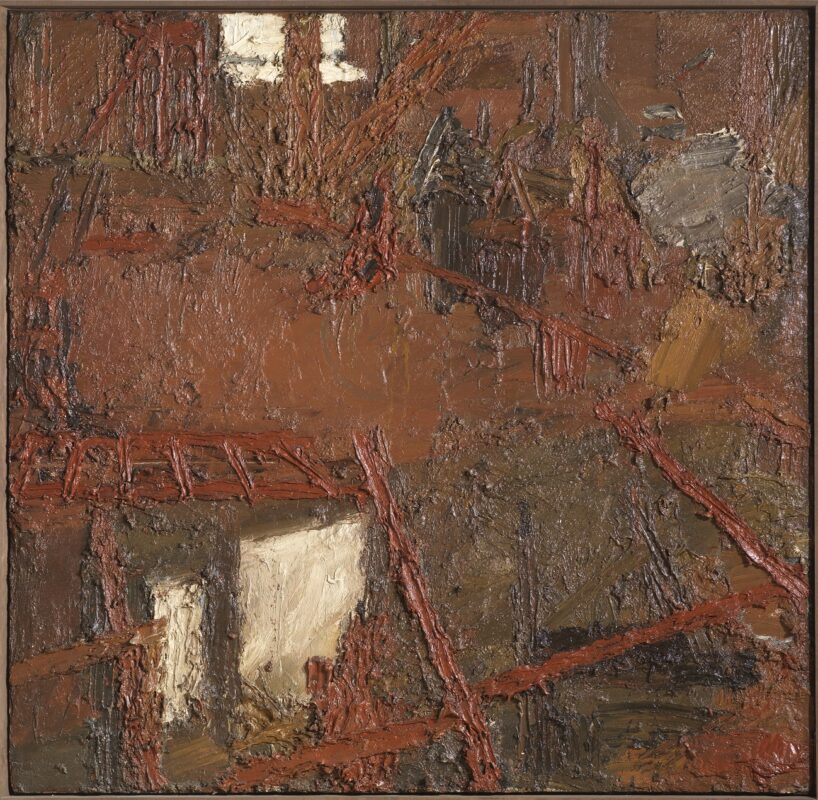 Frank Auerbach (born 1931), Rebuilding the Empire Cinema, Leicester Square , 1962, Accepted by HM Government in Lieu of Inheritance Tax and allocated to The Samuel Courtauld Trust, The Courtauld Gallery in 2015. © Frank Auerbach, courtesy Marlborough Fine Art, London.
Rebuilding the Empire Cinema, Leicester Square
Frank Auerbach
Frank Auerbach established his reputation as a leading modern painter in London during the 1950s and 1960s. One of his main subjects during that period was the bomb-scarred landscape of London and especially the numerous building sites that emerged across the city as reconstruction work got underway. Auerbach made repeated visits to different building sites, dodging workmen to find a spot to make swift sketches of the construction activity. Back in his studio, he used these sketches as the basis of his paintings, each of which typically took many months to produce, the paint building up into an encrusted and richly textured surface.
Auerbach made thirteen major building-site paintings between 1952 and 1962: Rebuilding the Empire Cinema, Leicester Square proved to be the last of the series. The artist recalled passing the outside of the cinema and looking in to discover a scene of frenetic activity, which he sketched immediately: "I did the drawing with a very considerable feeling of urgency… I knew what I saw there would no longer be there perhaps a fortnight later… The composition in a way was a gift… you looked through and saw something marvellous."
His sketch of the scene resulted in this dramatic painting. The thick red lines that structure the composition are beams or scaffolding spanning a gaping chasm in the foreground. As viewers, we stand at the very edge of this dark void, the confined space as a whole lit by a few patches of light towards the bottom and top of the picture. The painting offers a disorienting scene of partially constructed floor levels, jutting beams and extremes of light and dark. Auerbach's use of red throughout the work gives fiery intensity to the painting, as if we are witness to an intense, almost hellish, vision.
The painting was formerly in the collection of the artist Lucian Freud, who was a close friend of Auerbach and owned a significant number of his paintings.