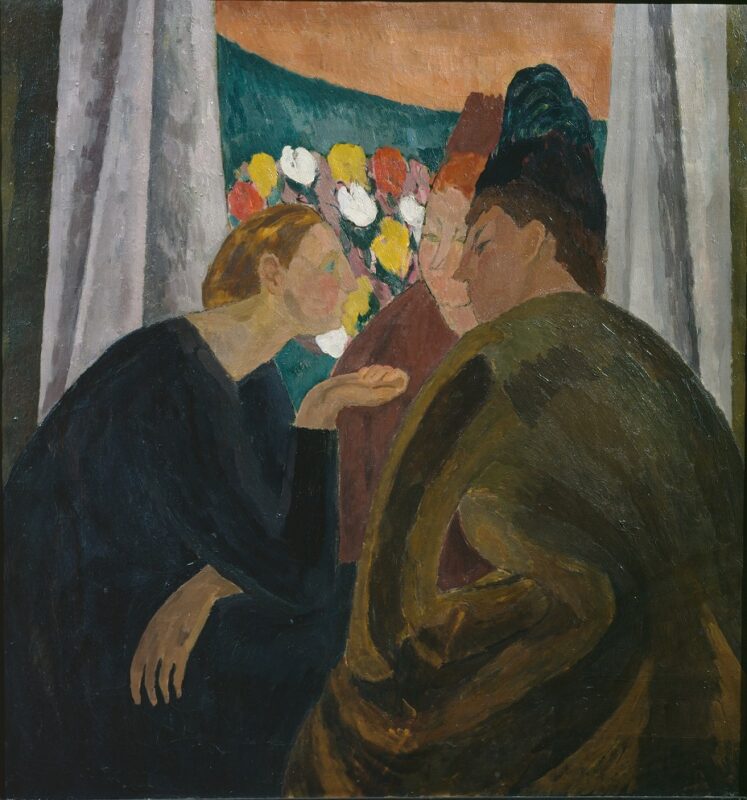 Vanessa Bell (1879 - 1961), A Conversation, 1913-16 © Estate of Vanessa Bell. All rights reserved, DACS 2021
A Conversation
Vanessa Bell
Vanessa Bell was one of the most distinctive and innovative modern painters in Britain before and during the First World War.
 A Conversation  is one of her major achievements, which she worked on at various points over several years. Bell used bold colours and simplified forms to depict three women in deep discussion. The arrangement of the figures and the close grouping of the women's heads give the gathering a sense of drama and a conspiratorial air. The painting's scale and strong visual impact suggests the conversation is of great significance, although we are left to imagine what is being discussed.  Bell was a major figure among the avant-garde artists and writers known as the Bloomsbury Group. Perhaps with this work she was paying tribute to the values of friendship and enlightened debate that characterised the group. The work retains its original frame, which was also painted by the artist.
Explore this painting in our virtual tour
This painting is on display in the Bloomsbury Group Room, Level 3 of The Courtauld Gallery. You can view this room from the comforts of your home through our virtual tour.
Launch tour