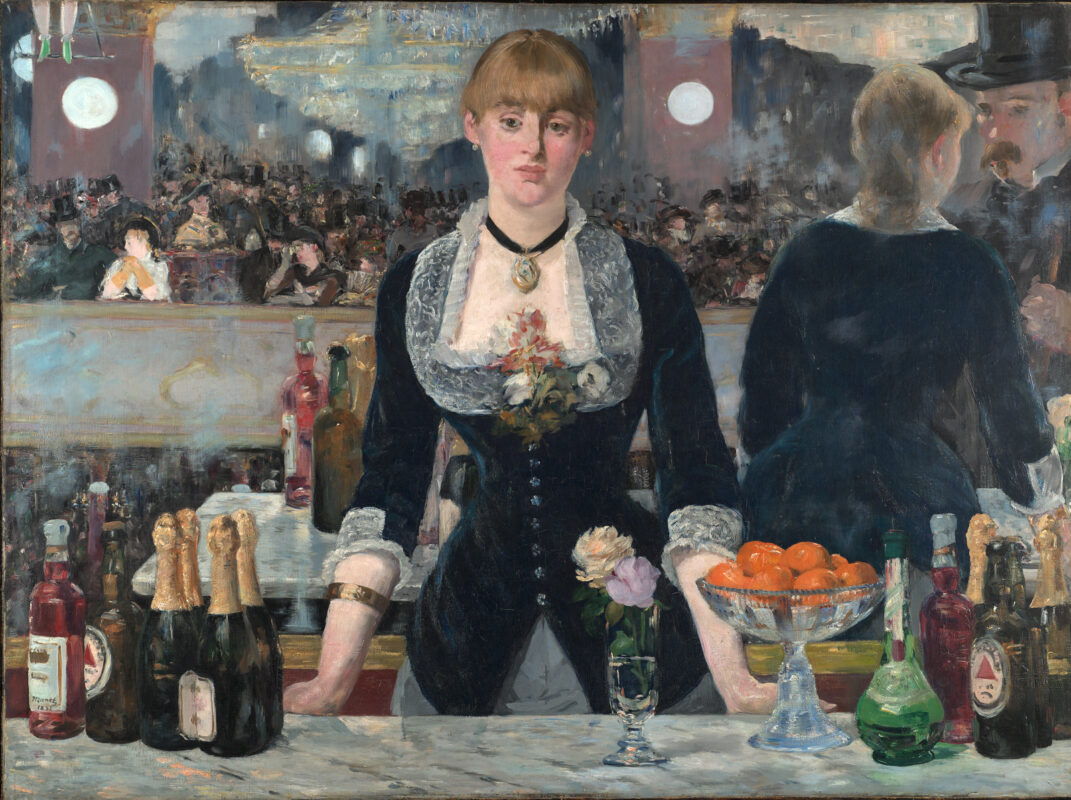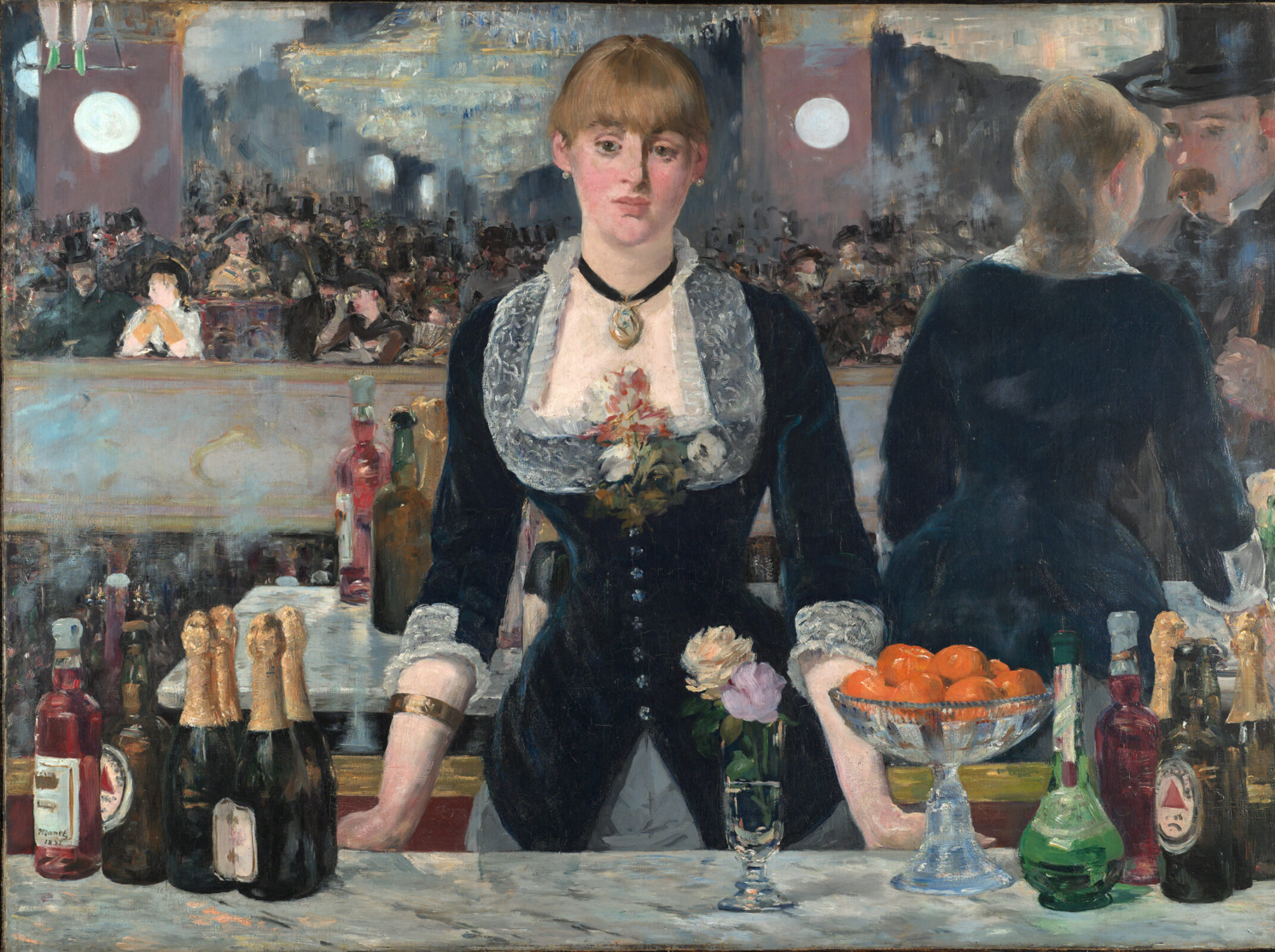 A Bar at the Folies-Bergère
Édouard Manet
This celebrated work is Édouard Manet's last major painting, completed a year before he died, and exhibited in 1882 at the Salon (the official annual exhibition of the French Academy of Fine Arts). This would have been a startling painting for Salon visitors in many ways, not least because it seems to follow the traditional format of portraiture but does not name its subject. Indeed, the barmaid appears as just another item in the enticing array on offer in the foreground: wine, champagne, peppermint liqueur and British Bass beer, with its iconic red triangle logo.
The background shows a fashionable crowd mingling on the balcony, entertained by musical and circus acts below. In the top left, a trapeze artist in green boots adds to the excitement. This animated scene is in fact a reflection in the large gold-framed mirror, which projects it into the viewer's own space.
Opened a decade or so earlier, the Folies-Bergère had rapidly become one of most popular music halls and places of entertainment in Paris. Manet frequented it with friends and made sketches on site. However, the final work was painted entirely in his studio, where a barmaid named Suzon came to pose. She is the painting's still centre. Her enigmatic expression is unsettling, especially as she appears to be interacting with a male customer who is shown in the mirror. Ignoring normal perspective, Manet has shifted their reflection to the right. The bottles on the left are similarly misaligned in the mirror. This play of reflections emphasises the disorientating atmosphere of the bustling Folies-Bergère. In A Bar at the Folies-Bergère, Manet created a complex, absorbing composition and one of the iconic paintings of modern life.
Zoom in with Google Art Camera
Explore this painting in our virtual tour
This painting is on display in the LVMH Great Room, Level 3 of The Courtauld Gallery. You can view this room from the comforts of your home through our virtual tour.
Launch tour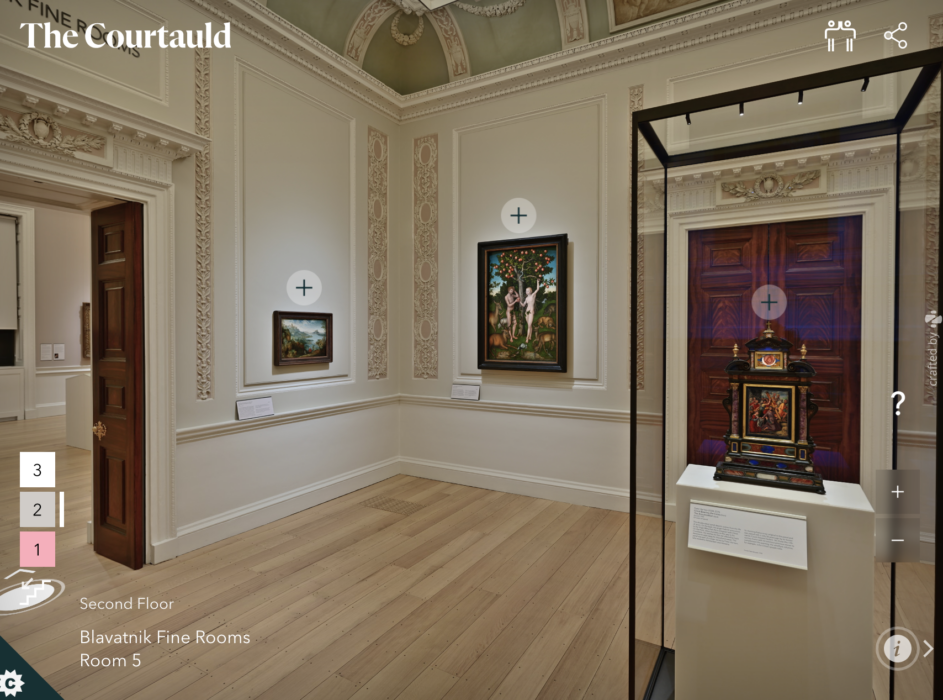 Create your own gallery
Bring home your favourite pieces from The Courtauld's collection with our exclusive custom prints to suit your space. Choose from art paper or canvas, in a range of sizes and frames, and we will make your print and deliver it directly to your door.
View all prints