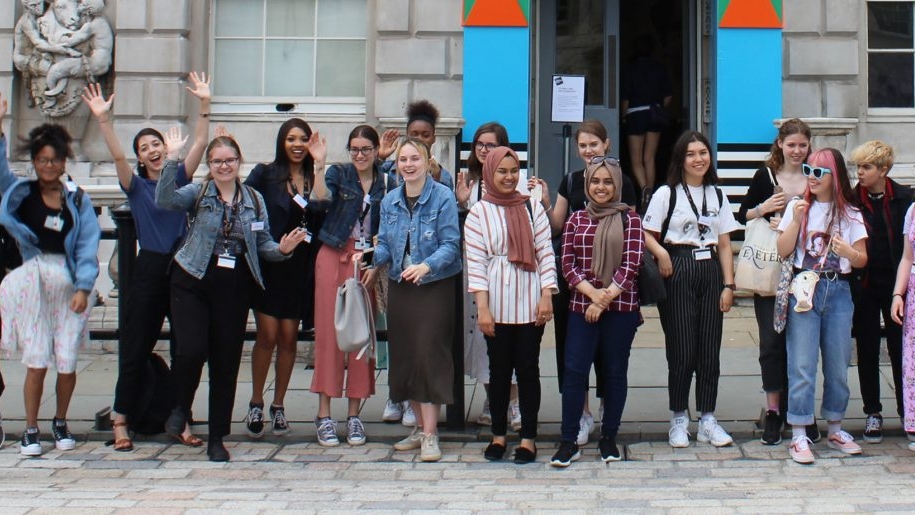 Summer University
Summer University at The Courtauld provides the perfect opportunity for Year 12, state school or college students to explore the exciting and dynamic subject, History of Art.
Whether you've never engaged with the subject before, or have always been curious about art history, Summer University enables attendees to engage with art collections, academics and current History of Art topics, to enrich their understanding of this exciting discipline.
For 2023, The Courtauld will be running two Summer Universities, one in-person (Art and London) and one online (Art and Identity). You can find more information about each of these Summer University programmes below.
Summer University – Art and Identity (online)
Dates: Monday 3rd – Friday 7th July 2023
Location: All sessions will be online and run over MS Teams. Attendees will be given a personal Courtauld e-mail address for the duration of the programme, so they can access online resources, recordings and live sessions.
Times: Each day will feature the following. Sessions are designed to fit in and around your school/college schedule. Exact timings and durations will be confirmed closer to the time.
Morning: Welcome to the day (30 minutes). An introduction to the day's theme, alongside various guest speakers from across the university.
Lunchtime: Lunchtime lecture (55 minutes). A detailed look into various departments from across the institution such as, Curating, Conservation and Prints & Drawings.
Evening: Live Discussion Class (60 minutes). A daily seminar allowing students to discuss the pre-recorded material and lunchtime lectures.
Theme: Art and Identity
This years theme is Art and Identity, questioning how identity can be examined, interpreted and explained through art.
Supported by online resources, each day, attendees will explore a different Art History theme, from Portraiture, and Identity, to Architecture, and Public Art. Attendees will further their knowledge by attending the lunchtime lecture series lead by various representatives from The Courtauld Institute and Gallery such as Curating, Conservation and Prints & Drawings.
During our daily Live Discussion Classes attendees will explore each theme with their Summer University peers, supported by current PhD students at The Courtauld. This will provide attending students with a perfect opportunity to experience what it is like to study History of Art at University and a seminar format.
Summer University – Art and London (in-person)
Dates: Tuesday 11th – Thursday 13th July 2023
Location: The Art and London Summer University will be based at The Courtauld Institute of Art (Somerset House, Strand, London WC2R 0RN). Some activities will take on location, either a short walk from The Courtauld or by public transport. All transport to and from activities will be paid for.
Times: 10:00am – 15:30pm, each day.
Theme: Art and London
Wherever you look while in London, you see Art, from public art, street graffiti and statues, to architecture. Art and London will explore the history and art that forms part of the unique identity of London.
Over the course of the programme, we will look at artists who have captured and been inspired by London such as Leon Kossoff and Claude Monet. Attendees will also get the chance to explore and debate which History and Art is selected and displayed in London, concentrating on public monuments and Trafalgar Square's 4th plinth. We will also be discovering and learning about the patchwork architecture styles which can be viewed across London.
Additionally, the programme will provide students with sessions exploring what it is like to be an undergraduate student at The Courtauld studying History of Art.
Who can apply?
To be eligible students must:
Live in the UK

Be in Year 12 (or equivalent) as of September 2022
Attending a state school or college
Have an interest and desire to explore History of Art
We welcome applications from Year 12 students who meets the above criteria. We are particularly keen to welcome applications from students who meet our widening participation criteria. This includes, but is not limited to:
Students with care experience
Student currently in, or who have been in care
Students with a disability
Students who identify with being Gypsy, Roma and Traveller
Applications
Applications will open on Wednesday 15th March and will initially close midday on Monday 24th April.
You are welcome to apply to one or both summer universities.
If you apply by the deadline , you will hear if you have been successful in gaining a place on the programme no later than Wednesday 3rd May.
Why attend?
This course is designed to give you:
A better understanding of Art History as a subject
The opportunity to meet university lecturers, museum professionals and current undergraduate students
The opportunity to find out about The Courtauld from current students and alumni, and what it's like to study in London
Space to think about whether this might be the right option for you
The confidence and support to apply to The Courtauld Institute of Art for your BA should you wish to do so
Students who participate will be eligible to attend a series of online Study Skills Workshops delivered by The Courtauld during Autumn Term.
Need more information?
For more information please contact Jonathan Bridges, Widening Access Schools Officer.
E-mail: education@courtauld.ac.uk
The Art History Summer University is part of The Courtauld Institute of Art's Access Agreement.
'I really enjoyed the programme. It was an enriching opportunity, which has ignited my quest of studying Art History at university.'
Summer University attendee 2022.