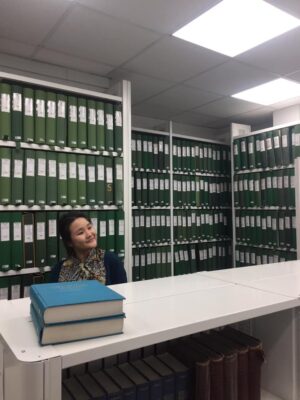 Finding voluntary and paid work as an art history student
Hi there!
I am Ashleigh, and I am just about to enter my third year as a History of Art BA student at The Courtauld. I am so glad that you are considering applying to The Courtauld and I am so excited to share about my experiences here.
First off I'd like to share a little about myself:
I am originally from Hong Kong but I grew up in Singapore, where I completed my A-Levels in Maths, Physics, Geography, and Art. Whilst at school I had intended to study architecture (hence the sciences!) but it was after completing an EPQ in architectural history that I decided to jump boats to do art history. After this 'crisis' I ended up taking a gap year, spending more time with my family (who are scattered around Hong Kong, Singapore and London) to reconsider my options and to reapply to university.
Finding voluntary and paid work as an art history student
On my gap year, I started working at a Korean restaurant in central London to earn my living expenses, whilst living with family. Doing this meant that by the time I started university I already had a part-time job lined up for me. I continued working around 10 hours per week in my first term of university. Lots of part time jobs (whether in hospitality, babysitting or retail) are available in London, especially for students! For those who are worried about working whilst studying – I can assure you – it is definitely manageable, but I would recommend not working more than 10 hours for the sake of a social life. I ended up having time to volunteer with the Courtauld Digitisation Project with my friends after our LSE language lessons too, which was always really relaxing but exciting at the same time! As art historians, we seem to find the greatest but simplest joy in working hands-on with old photographs, in the knowledge that we are playing a small role in writing our history.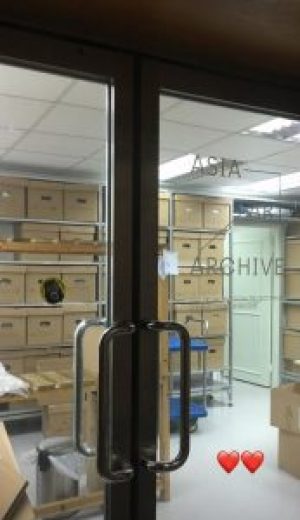 Following the end of my first year, I decided to apply for an internship in Hong Kong. Despite having little knowledge of contemporary Asian art histories, I was offered the role of a research intern at Asia Art Archive, based on my previous experiences volunteering at the Witt and Conway Library through the Courtauld Digistisation Project. However, instead of focusing on archiving architectural images, I was now archiving the personal collection of the late Singaporean performance artist Lee Wen. Whilst working on building the Lee Wen Archive, I became really involved in researching Lee Wen's artistic oeuvre, which sparked a self-reflexive interest in the political issues he raises in his work – during this period I began reading up on issues such as Singapore's performance art censorship, issues of Yellow Peril that the artist himself experienced in London, and discourses around multi-culturalism and cultural hybridity. These emerging interests led me to opt to study Contemporary Asian Art in my BA2 Autumn Term (a course unique to the Courtauld), which in turn sparked a greater research interest – and I even ended up writing my Assessed Essay on Lee Wen's performances.
In my second year, I also started working at the Research Forum at The Courtauld. Besides hosting evening talks several times a week, the Research Forum also holds conferences where academics from different areas of art history come together and share their new research findings. I work alongside other students here, helping academics and visitors check in to conferences, providing refreshments and ensuring that everything runs as smoothly as they can. Whilst working I often find myself listening in to the talks too, and they can be surprisingly diverse:  one week I could be working at a talk discussing the history of cotton and contemporary art in America, and the next I could be working at a talk investigating gender identities in a Renaissance baptistery in Italy.
One of the greatest benefits that come with studying at The Courtauld are its opportunities, which often bring unexpected results – the transferable skills from my weekly volunteering activities gave me an edge when applying for internships, which then led me to investigating new issues in my own art historical research. A door leads to another here.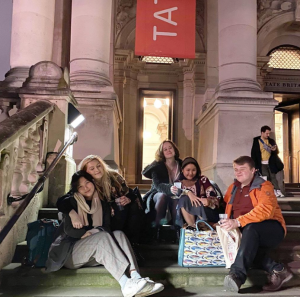 Extra-curriculars
Although classes are often held in museums/galleries/archives, as art historians we are always on the search for new exhibitions. Beyond the classroom, there is always something on for us in London! With the Student Art Pass, students are eligible for highly discounted tickets to special art exhibitions and installations. Within walking distance from Vernon Square there is the British Library, British Museum, The Wellcome Collection and even the Foundling Museum.
For me and my friends, we often found ourselves going to exhibitions after lectures or seminars, and sometimes even attending talks in the evenings. London and its art institutions present great opportunities, and there is an endless array of art-related fun. For some who feel strongly about exhibitions they've visited, they have the chance to publish art reviews on The Courtauld's student newspaper, The Courtauldian. Whilst I have never written a review, my friends and I often examine our own reception and thoughts from exhibitions and we always find such discussions stimulating.
Though museums may be closed due to the ongoing pandemic, virtual museum tours have been made available to the public.
Beyond art and work, students are encouraged to take part in societies or other extra-curriculars. Throughout my second year I was involved in the Student's Union, serving as the Vice President for Student Environment. We attended weekly meetings and a termly staff-student parliament raising issues and concerns that students had. During this time I helped organise several film screenings and pub quizzes to encourage tighter bonds in our small community. Outside of university I am also active in church, where unlike the single-subject nature of The Courtauld, I have made friends from different universities around London studying vastly different subjects. Similarly, as a University of London institution, Courtauld students are able to join other UoL sports and recreational societies where we can meet other students.
Whatever your interests may be – in art or outside of it – London always seems to have an answer. The Courtauld also provides different volunteering/working/leadership opportunities for students, which if taken on, may end up providing even more opportunities.
Please note: if you are an international student with a Tier 4 visa, read about the guidelines about working while studying here.