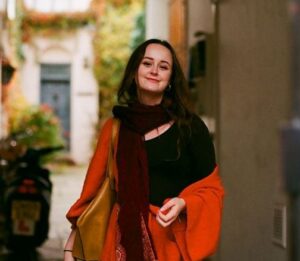 Hi, my name is Rosie and I'm a second year student at The Courtauld.
I applied to The Courtauld after I'd completed my A-levels, taking a gap year simply because I could not decide on which degree to do. To be honest, even after I'd sent in my applications for art history, I wasn't sure about it – I liked art, and I liked history, so I took a gamble. The Courtauld seemed to have an amazing network of alumni and a reputation among the arts industries, which seemed beneficial when thinking about getting a job after graduation. Thankfully, my gamble paid off, and so far, excluding coronavirus chaos, I've had a brilliant time.
I hadn't studied art history before, and had only visited about three art galleries. My art historical education at that point had come from my A-levels, which were History, Spanish and Art. These were certainly useful in writing a personal statement, but I would definitely say that they were not essential – an ability to demonstrate an interest in Art History does not just have to come from what you learn at school. Reading a book or some online articles and essays, looking through virtual gallery collections and exhibitions, and thinking about what is you'd like to learn through studying Art History are all good starting points. I'd recommend Art History: A Very Short Introduction by Dana Arnold to get you started, if you, like me a few years ago, have very little idea of what the study of Art History entails.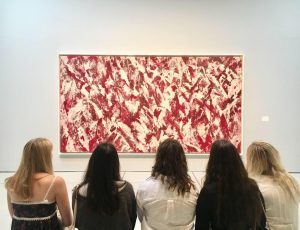 Being a confident person, and very keen to escape a tiny town, I had very few fears when I started classes. However, I understand that it may be very daunting to have never studied Art History before. Yet I soon found that the staff at the Courtauld never expected a vast depth of knowledge of artworks, and that they were much more interested in a student's original ideas and questions rather than what they could remember from their Art History A-level (in fact, during discussion classes the established art historical narrative that students had previously learned was frequently called into question). Meanwhile, the Foundations lecture series which runs throughout first year gives you a globally and chronologically varied background of knowledge, much of which is new to everyone. It helps in encouraging consideration of your areas of interest without narrowing down the syllabus. If you do get stuck at any point, there are a few routes to help, such as seeking advice from your personal tutor. There are also the Royal Literary Fellows, writers who can help with essays, and a study skills tutor, who is equipped to help with everything from referencing to the use of specific art historical terms.
Obviously, at some point it becomes important that you can separate your Van Gogh from your Seurat, but this becomes a natural learning process when you're surrounded by so many galleries. Lecturers actively encourage you to go to galleries in your free time, while also taking you to them for classes. During first year I visited the National Portrait Gallery, the Tate Modern, the British Museum and the V&A, but also smaller places such as the Docklands Museum, Hampton Court Palace and the Foundling museum. The ability to identify works and artists develops alongside a greater understanding of their contexts, impacts and theoretical frameworks.