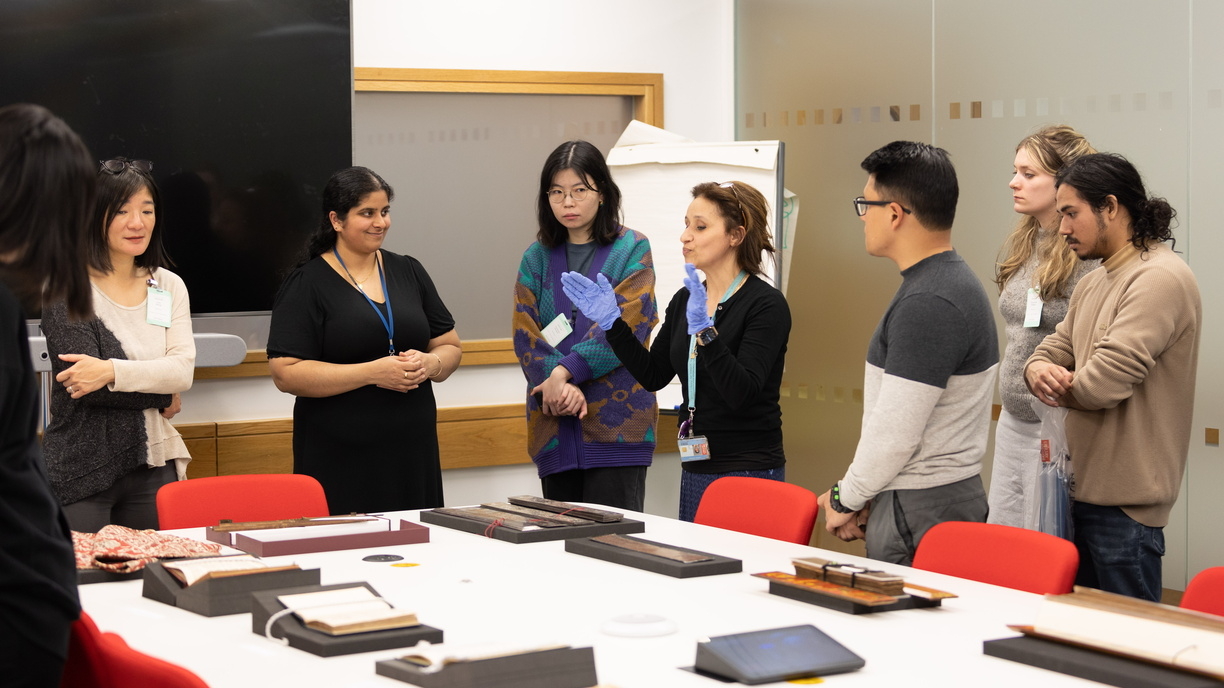 Our visit to the British Library
In this blog post, two of our MA Art History and Conservation of Buddhist Heritage students discuss their class visit to the British Library.
Dorothy: In March 2023, we visited the British Library to meet Dr Arani Ilankuberan, Head of South Asian Collections, and explore a collection of over two thousand Sinhalese manuscripts, most of which were brought from Sri Lanka by a British colonial officer Hugh Nevill (1847-1897). The collection consists of palm-leaf manuscripts, some of which have beautifully illustrated wooden covers and manuscripts made of paper, copper and silver plates. In addition to manuscripts, Dr Arani Ilankuberan showed us traditional cotton cloth in which manuscripts are wrapped and a sharp metal stylus used to do the writing on palm leaves. A closer look at this collection revealed that the production of each manuscript was a complex and time-consuming process. It required different types of raw materials and a wide range of skills.
Apart from the technical aspects, the production of Buddhist manuscripts was a sacred activity, accompanied by rituals and bringing religious merit. As the collection of Sinhalese Buddhist manuscripts at the British Library was physically displaced from the place of their origin and taken out of its original context, this led me to wonder which actions should be taken to re-establish the context in which the manuscripts would fulfil their original functions. As the primary purpose of producing manuscripts was to preserve knowledge, an open access to Buddhist manuscripts for study and learning is essential, as well as appropriate respect and special care. In short, a visit to the British Library revealed not only the rich world of Buddhist manuscripts but also prompted reflection on the use of collections of religious significance.
Irina: While I had visited conservation labs before, this was my first time into the realm of book and manuscript preservation! Our visit was divided into two sections, each offering a unique perspective on the fascinating world of conservation: 1) a close study of some Sri Lankan manuscripts from the Hugh Nevill's collection with Dr. Arani Ilankuberan, head of South Asian Collection at the British Library; 2) an opportunity to learn from three conservators about their ongoing conservation projects.
Having previously worked on the virtual exhibition with Hugh Nevill's collection from the British Museum, we were already quite familiar with his object collections. His object collection spans from indigenous to religious works, providing valuable insights into the mindset of collectors during the colonial period. However, this visit to the British Library reignited our appreciation for Nevill's curiosity in understanding Sri Lankan literature. Guided by Dr. Arani Ilankuberan, we closely examined some remarkable pages and discussed some traces and marks that could hold stories of their past usages. Dr. Ilankuberan also shared the ongoing digitisation project for these manuscripts, offering us a glimpse into the most advanced digitisation techniques and the ethical considerations that our class had previously discussed.
The second section of our visit took us into the British Library's conservation lab, where we had the privilege of meeting three conservators who were experts in different manuscript materials. We observed their working techniques and materials, which involves the utilisation of conservation science and history knowledge. I was captivated by their dedication on giving individualised condition report and treatment plan on each work. Meanwhile, we were also able to learn about their educational backgrounds and career paths. Drawing from my previous internships in art conservation labs in China, I found myself comparing the working cultures, environments, and tasks. I was able to capture some universal principles of conservation and the unique nuances that shape different conservation practices around the world.
Thank you, Lori and Sujatha, for taking us here. Standing in this world-esteemed conservation lab on manuscript have not only been eye-opening but bringing our class learnings into the reality!