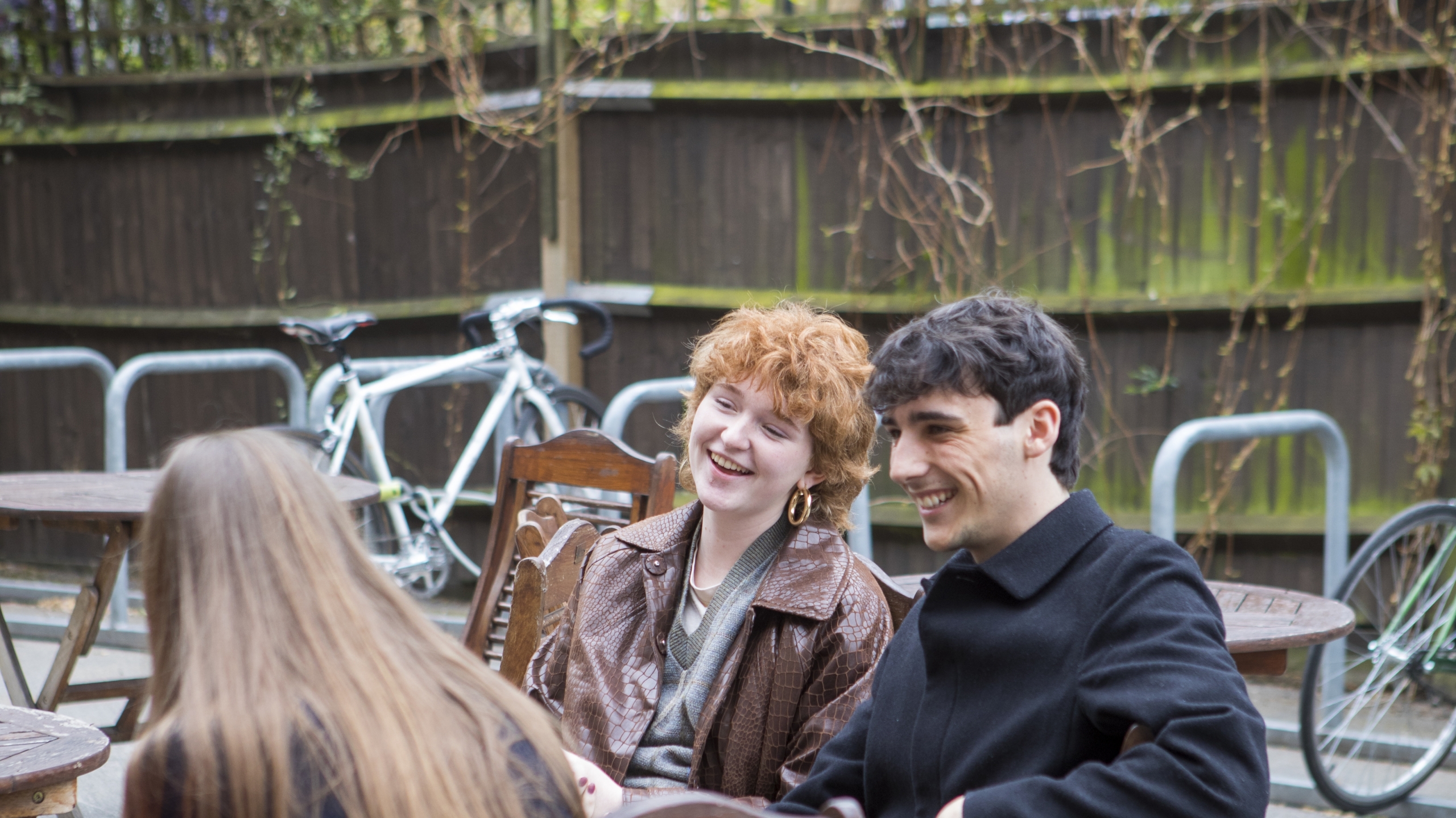 Meet our students
Undergraduate
Kanon, BA History of Art
My three years at The Courtauld have been such a precious learning and growing experience. The academic faculty counts the most exceptional professors, highly specialised in their fields, delivering an outstanding quality of teaching. Thanks to the great variety of offered modules, I was able to find my specific area of interest – 20th/21st century modern and contemporary art across Europe and Asia. The well-rounded teaching style, typical of The Courtauld, allowed me to deepen my knowledge on the topics through Research Forum talks, individual and group research, funded trips, and numerous museum visits. Outside the classrooms, I had the chance to chair the Business of Art Society, the largest society at The Courtauld, organising weekly lecture series with professionals working in different sectors within the art world (From Auctions, Galleries, Museums, Curation, Art and Tech, Art and Law, to Art and Finance). The society, together with The Courtauld career support, provided me with the opportunity to expand my network within the art world and work in different leading art institutions such as the Guggenheim Museum, Venice Biennale, and Phillips alongside my studies.
The association with the newly reopened Courtauld Gallery gave us students not only free and easy access to the exceptional museum collection but allowed us to get involved in its development through voluntary and paid opportunities such as the Digitalisation Project at Somerset House, the Student Ambassador scheme, or assisting the Gallery's special openings or events.
For me, The Courtauld is the place where my career in the art world really kicked off and I genuinely cannot imagine myself studying anywhere else.
---
Elliot, BA History of Art
After spending a few years abroad focusing on my career, I returned to the UK to study as I feel I had missed out. I can happily say that it was soon clear to me that I made the right decision. The Courtauld has crafted an academic programme which inspires me and challenges me beyond my expectations. The combination of different courses with different set criteria has enabled me to extend my art history knowledge and methodological practices, as well as finding my academic voice.
I found the range of perspectives and expertise of such an acclaimed body of staff something that has pushed me to explore different topics that I may not have considered a match before. For example, before I started at The Courtauld I was particularly fond of 20th century art. By chance, my topic course focused on Techniques and Meaning in 20th Century Art, which gave me a whole new layered insight into many artists and movements. In stark comparison to this, my other topic course Graphic Arts in The Italian Renaissance contributed a bodied comprehension of artistic practices in this particularly exciting period and enabled me to explore how I can discuss and interpret the materiality of different kinds of art.
I have worked as a Digital Assistant for The Research Forum. That in particular has been so fulfilling as I have been able to engage with a plenitude of different academic lectures, as well as the different organisations that The Courtauld is related to. I keep finding myself always so inspired and encouraged by the environment of like-minded, engaged individuals. I also thoroughly enjoyed the different societies, which have enabled more integration with students in the other years. It is always an enlightening opportunity to hear about others' experiences and insights. Being in London at a world-leading art history institution is really incomparable and a privilege I am utterly grateful for. I would recommend studying here to anyone with a passion for culture and curiosity to achieve excellence.
---
Rosie, BA History of Art
For me, coming to The Courtauld has changed my life, and definitely for the better. I had never studied History of Art before and had only been to three art galleries before arriving to study in London. I had also been working in a supermarket on a not so glamorous gap year, so felt incredibly detached from any hint of academic life, but none of this was a problem when it came to engaging with the degree.
Teaching here introduces everyone to varied, global and thought-provoking material while diving into the depths of the theory behind it. The first year allows you to construct essays creatively, unpressured by your final year grade, so you have all year to work out your writing style and the technicalities of academic essays. Your seminar leaders and lecturers encourage maximum engagement with all the galleries and museums that London has to offer, hundreds of thousands of artworks that can't be seen in person in any other city.
My biggest worries when applying to The Courtauld were undoubtedly money related. Coming from very rural countryside, London was considered more of a holiday destination than an affordable or plausible place to live. However, the higher amount of student loan you receive in London, coupled with the Courtauld bursary, meant that I ended up with more than enough to live on, and funds leftover to engage with all that the city had to offer.
---
Morgan, BA History of Art
For me, the primary benefits of studying at The Courtauld are the opportunities offered by being in the middle of one of the world's cultural centres. When studying the History of Art, the advantages of being able to see great works on your doorstep are immeasurable – I can't imagine doing it another way. With its collection of world-class galleries and museums, London allows you to see art from around the world through a vibrant programme of exhibitions and shows throughout the year. But London offers so much more for a student than just galleries and museums. Great institutions like the British Library and the University of London's own Senate House Library allow you access to some of the best research resources in the country.
Outside academic work, there is always something interesting and exciting happening in London. No matter your interests there will be something for you, from the London Jazz Festival to the Lord Mayor's Show, the BFI Film Festival to the Royal Opera House. The city is home to hundreds of different musical venues offering world-class performances of every genre and type. Even just walking the city itself can be entertainment enough, from its winding Victorian passages and grand Georgian streets to the enchanting medieval corners seemingly untouched by the advancing years – to explore London is to explore history. And, if you want to escape the urban sprawl, London has excellent transport connections to help you escape to green spaces, whether that's as nearby as Hampstead Heath and Richmond Park or further afield like Brighton or St Albans.
Studying in London is an education in itself.
---
Hannuri, BA History of Art
The Courtauld has opened my eyes to a broad range of art historical discussions. From Medieval Reliquaries to Contemporary Asian photography, I have developed an interest in diverse forms of art and how they could express reoccurring ideas beyond time and space. From the beginning of my first year, I have noticed that The Courtauld was being very vocal about the decentering of the Eurocentric canon of Art History, striving to incorporate multiple sociocultural narratives into the discussion. The lectures and researches reflect the progressive aims, acknowledging the marginalised voices and highlighting the dominant frameworks at work in the writing of Art History.
As an international student, coming to London was a big transitional moment in my life. Whilst the city offers immediate access to museums, galleries, and historical sites, the course enriches such moments of encounter. Even outside of academics, The Courtauld community has been very supportive and caring such as through regular meetings with tutors and professors and the Student Union's social events. As a small community, it was a huge benefit that I have got to know everyone in my grade and have made friends who share similar interests yet diverse ideas. I believe that the greatest strength of The Courtauld is the people who are here. For me, the people I have met at The Courtauld are not only great because of their intellectual abilities, but also their kindness in sharing such ideas and experiences with others, which ensures me lifelong friendships to cherish.
---
Jacob, BA History of Art
One of my favourite things about studying Art History at The Courtauld has been attending the many Research Forum events. These lectures and seminars were ideal as I had not studied Art History before coming to The Courtauld and I was keen to engage with as much material and as many topics as possible. These events allow for an insight into specialist topics that would not ordinarily be featured in taught lectures and seminars, as well as encourage engagement with materials that cover several different disciplines all at once. The frequency of the Research Forum seminars and lectures has meant that I have had the opportunity to learn about everything from Mozarabic choral manuscripts to the politics of university architecture.
During my first year I had the opportunity to live in central London. Being sandwiched between the Houses of Parliament and St. Paul's Cathedral, and in walking distance of the National Gallery, the British Museum, the British Library and Somerset House made me feel as if I was living in the best possible place to study our chosen subject. While living and studying in London did seem daunting, the close-knit community fostered at The Courtauld allayed any fears I might have had.
Postgraduate
Yu, MA History of Art
Studying at the Courtauld is an exciting journey of discovery. It is my first time living in the centre of art institutions and libraries, and I had enjoyed spending all weekends exploring the British Museum, National Gallery, Tate Modern, and V&A nicely and slowly before they closed due to the pandemic. The lockdown has been frustrating for everyone and has greatly limited the resources accessible for our research. But it is still possible to find things we need thanks to the generous help of the teaching cohort and the librarians of The Courtauld and other institutions. Our tutor, Thomas, is kind, polite, and helpful, and did his best in answering our questions and finding digital materials for us.
The study at The Courtauld is intense but fruitful at the same time. I studied Economics as an undergraduate and approached the world from very different perspectives. At the Courtauld, I have started learning Dutch and Latin and acquired completely new ways to explore art, history, and culture. I have realized art is a very complicated concept that is intertwined with many others, and that the interpretation of artworks should be based on the reconstruction of their specific social, political, and historical context. Surprisingly, studying Netherlandish art has also offered me new lenses to examine the culture that I come from. The Courtauld has turned what was invisible to me into exciting discoveries – I would say this is a life-changing experience.
---
Flora, MA History of Art
The intensive approach of the MA History of Art course has rewarded me with a far deeper understanding of my specialist subject, German Modernism, and enabled me to pursue fields of inquiry that I had previously touched on in my undergraduate dissertation in English and German. The balanced MA programme at The Courtauld offers invaluable hands-on experience and independent study, with its courses driven by current research trends. I have attended conferences and seminars at the Research Forum and benefitted from an invaluable study trip to Berlin, where I visited Bauhaus Centenary exhibitions and participated in private gallery tours led by experts in Modernist design.
The MA course has challenged me to persevere with lines of research in specific topics, and given me the experience to make a more practical, visual response to themes and artworks studied in the Special Option through the Virtual Exhibition project. With its focus on inventive design and audience engagement techniques, the project enabled me to develop new curatorial skills and respond directly to the vibrant collections I visited throughout the year at London's Tate Britain, V&A and Design Museums.
I have enjoyed becoming part of the Courtauld community and working closely with students across year groups whilst writing and editing articles for The Courtauldian. As well as compiling reviews for the bi-annual publication, I have been able to liaise with institutions such as the Migration Museum and Tate Britain to conduct interviews and write exhibition reviews. The Academic Writing and Careers services at The Courtauld have been invaluable in supporting my studies and helping me shape my future career path in the art world. I have appreciated the 'buzz', unique to a small institute, and look forward to remaining part of The Courtauld's close network of students and academics through the Alumni programme.
---
Guillaume, MA Curating the Art Museum
Studying at The Courtauld was an exceptional opportunity and the 12-months course was beyond my expectations. It started with theory, research and writing, and slowly shifted to one of the most important experience in my life, creating an exhibition with my class. This group project was the opportunity to apply everything I had learned in my prior higher education and work experiences, with the most important aspect being the teamwork. Moreover, every other aspect of this course – writing essays, meeting artists and curators, discovering the backstage of national museums – were all incredible opportunities and challenges. The Courtauld is demanding and very formative, and I cannot think of a better place to learn and practice. As a Frenchman who studied Art History in Paris before moving to London, the British academic system felt unfamiliar. But everyone at The Courtauld, including classmates, teachers, librarians, even the administrative staff, helped and supported me to ensure that everything went smoothly.
London is an astounding and exciting city, full of inspiring cultural institutions. Twelve months in London were not enough to do everything I wanted, because so many things are happening, everywhere and everyday – but do not be overwhelmed and enjoy this ever-moving capital as much as you can.
---
Nina, MA History of Art
The MA History of Art course at The Courtauld was the only Masters programme that I applied for. I instantly knew that the Italian Renaissance specialism was exactly what I wanted to study. The chance to go to University in London, with access to the fantastic libraries and artworks here, meanwhile working alongside leading scholars in the field, was a chance I did not want to miss. Initially I was worried about finances and the practicality of commuting into London, as I live about an hour's train journey outside of the city. However, all of these worries were so small compared to the excitement of receiving my offer. On my first day at The Courtauld, the arrival at Vernon Square was warm and welcoming.
One of my favourite things about the course is that, although you specialise in your period, there are evenings talks that cover a range of topics. I found the careers programme particularly useful. The alumni networking event gave us an opportunity to talk to successful Courtauld graduates and discuss the the next step in our career. Looking back over the year fondly, the study trip to Rome in January was a personal highlight. A travel fund from the University made the trip accessible for everyone.
In London, there are so many galleries and museums amidst the fast-paced and exciting atmosphere. During a visit to the Prints and Drawing room at The British Museum, we were able to study a Raphael drawing up close. It is experiences like this, and the friends and tutors that I have met in the process, that I will not forget. There is an overall friendly and inviting mood at the Vernon Square campus. Just around the corner, Exmouth Market is full of little independent shops and delicious places to eat. The location of the University is very close to Kings Cross station, making my commute very easy and offering quick access to tube connections across the city. I am so glad I made the decision to study here at The Courtauld.
---
Lan,  PhD
Connections in the Making and Meaning of the Art of Bhutan and Tibet in the 17th and 18th Centuries: a Study of the Wall Paintings at Tango Monastery
I joined Courtauld in 2013 as an MA student of the Conservation of Wall Painting Department. The teaching staff were dedicated in their task of training us – the next generation of wall painting conservators. The outlook was fundamentally international with an emphasis on being at the cutting edge of conservation practice. The course was intense; days filled with lectures, site visits, and practical work and evenings for preparation and assignments. Teaching took advantage of the large professional networks associated with the department, allowing us to benefit from the first-hand experience of expert practitioners and researchers.
My cohort had seven women that came from different parts of the world with diverse academic backgrounds. We spent three years together in the lab, studio, and on-site, sharing accommodation during fieldwork and discussing wall paintings all the time. These shared experiences and interests naturally form the basis of friendships as well as a long-lasting network of colleagues.
One of the most precious and unique aspects of being at The Courtauld was the opportunity to do hands-on work during fieldwork campaigns every year. In fieldwork campaigns students function as full-team members rather than interns, sharing responsibility for planning and managing the programme of work. Crucially, we participate in discussion and decision-making with supervisors helping us to develop a critical approach to conservation. Each fieldwork experience was different but importantly they all involved an intimate engagement with the site and an expansion of my understanding of the roles and responsibilities of a conservator.
My primary academic interest has been always in Himalayan wall paintings. It was grateful to find a research topic that I really passionate about during my MA dissertation, and with support from professors and foundation I was able to continue the research as a PhD student. This research was structured to complement and support conservation projects within the department. Since then, I have been fortunate to dedicate my study to this subject that I love. My internal and external supervisors have kindly provided support throughout the time, as well as other senior colleagues in the broader Courtauld network. The environment here in the department was truly like a family where we learned from, and supported, each other.
---
Natasha, PhD
The Masculine Image in Qajar Iran (1789 – 1925)
I guess you could say I have enjoyed my time at The Courtauld, given that I'm still here nearly ten years after starting my BA! When I attended my undergraduate interview all those years ago, the student ambassador was posed with a question by a very eager parent: "what do you do after the undergraduate programme?" "Well," came the answer, "if you're lucky, you go on to do an MA, and if you're even luckier you go on to do a PhD!". Little did I know that, as luck would have it, that ended up being my trajectory as I waited nervously in a corridor. I can't say I felt like the 'typical' Courtauld candidate – I was from a low income background, was state school educated and with no prior qualification in the subject apart from a love for art – even the grandiosity of the spiral staircase of the Somerset House campus alone made me think twice if this was the place for 'people like me', despite having fallen in love with the prospect of studying here. However, my fears were quickly allayed as, a little while later, The Courtauld became my academic home for the foreseeable future.
A Courtauld education, be it undergraduate or postgraduate study, is an exercise in saturation – be prepared to live and breathe art and investigate every foreseeable corner of the discipline. A rigorous and pioneering global approach to is given to both theoretical and material study; something which is highlighted by the component of methodology discussion seminars with the cohort during the first year as part of the PhD programme, which are taken alongside your own independent area of research. As a result, what can often be a lonely road of doctorate study can often result in a close-knit student body. World class supervision is also complimented by regular opportunities to present and publish your research, such as seminar groups for each subject area, yearly conferences and the Immediations journal. My own research was also supported by the ARHC CHASE consortium for the humanities, which as well as providing essential financial support also encouraged inter-disciplinary interaction with peers within other disciplines at participating institutions.