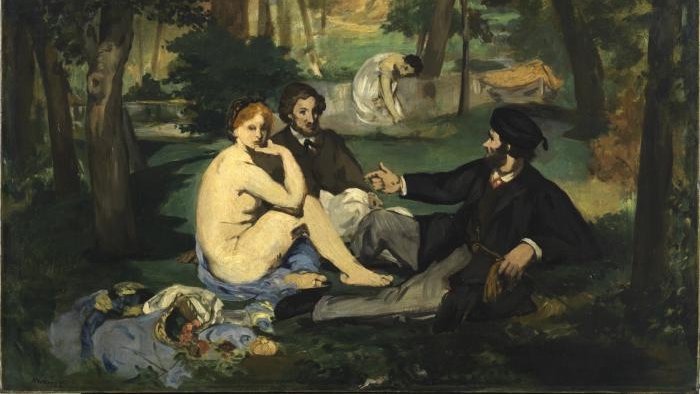 23 – Idealists, Realists and the Avant-Garde: The Battle for Nineteenth-century French Painting
On campus
Course 23 – Summer School on campus
Monday 11 July – Friday 15 July
Dr Lois Oliver
£585
This course is currently full. If you would like to join the waiting list, please still submit a request using the booking form and we will be in touch if a place becomes available.
Course description
In a cartoon published in 1855, Honoré Daumier imagined a battle between two rival aesthetic schools in France: 'Idealism' appears as an ageing neoclassical nude, wearing an antique helmet, with his palette as a shield, heroically raising his mahlstick as a spear, to defend himself against 'Realism', a scruffy figure in rustic clogs, brandishing a small square palette and clumsy paintbrush. The image perfectly encapsulates the artistic and political differences between these two entrenched aesthetic positions, but the real joke is that neither of these veteran combatants is as vigorous as he used to be: both would be vulnerable to a new avant-garde challenger. The French art world witnessed a series of battles as traditionalists grappled with the successive challenges presented by Romanticism, Realism, Impressionism, Post-Impressionism and Symbolism. This course explores the reasons behind the profound innovations in subject matter and technique that characterised the age, and the obstacles faced by avant-garde artists in getting their work exhibited and accepted. We shall explore the work of Ingres, Delacroix, Delaroche, Courbet, Millet, Rousseau, Manet, Renoir, Degas, Cassatt, Morisot, Seurat, Cézanne, Gauguin and Van Gogh.
Lecturer's biography
Dr Lois Oliver studied English Literature at Cambridge University, and History of Art at the Courtauld Institute of Art, completing an MA in Venetian Renaissance Art and writing her doctoral thesis on The Image of the Artist, Paris 1815-1855. She worked at the Harvard Art Museums before joining the curatorial team at the V&A and then the National Gallery, where she co-curated the major exhibition Rebels and Martyrs: the Image of the Artist in the Nineteenth Century (2006) and a series of touring exhibitions. Currently Curator of Paintings and Sculpture at the Royal Academy, Associate Professor in History of Art at the University of Notre Dame in London, and a Visiting Lecturer at the Courtauld Institute, Lois is also co-curator of a forthcoming exhibition about Impressionist Berthe Morisot, a collaboration between Dulwich Picture Gallery and the Musée Marmottan Monet, Paris. She enjoys writing audio and multimedia tours for clients including the National Gallery, Royal Academy, Royal Collection, and Tate, and has appeared on BBC Radio and TV.