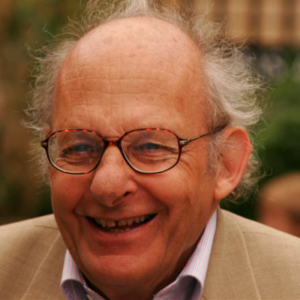 It is with great sadness that we share the news that Michael Kauffmann, former Director of The Courtauld, passed away on 30 June 2023.   
Director of The Courtauld from 1985-1995, Michael was born in Frankfurt in 1931, where his father Arthur Kauffmann was director of the Frankfurt branch of the auction house Hugo Helbing. In 1938, Michael was sent to England, to live with relatives in Burnley in Lancashire and went to Clitheroe Grammar School (1940-43). His parents fled Nazi Germany for London a little later, as did as did so many leading scholars, intellectuals and art-world figures who played such a significant role in British society. It was only in 1943, already now self-reliant, that Michael moved to St Paul's School, then in its temporary home in Berkshire, until it returned to London at the end of the second world war.  Subsequently he went up to Oxford, taking a BA in Modern History at Merton College, and then returned to London to take his PhD at the Warburg Institute (1957). His employment career started at the Warburg, after which he became Assistant Keeper at the Manchester City Art Gallery, before moving to the Victoria & Albert Museum's Department of Prints, Drawings and Paintings as Asst. Keeper from 1960-75 (during which he was also Asst. to the Director, 1963-66), and then Keeper from 1975-85.  During that period he oversaw and produced many exhibitions and publications and managed a major set of moves of the collection within the South Kensington site.  
At The Courtauld Michael achieved much, maintaining its high research and teaching standards, but he will be particularly remembered as the Director who brought the Gallery and the Institute back together in Somerset House, managing as he did the initial renovation of the North Block and then the great "move in". This was a challenging time, with substantial funds to be raised, and many stakeholders to manage. Throughout this period, all those who worked with Michael were beneficiaries of his kindness and generosity, and he showed as much support for students as he did for staff. Typically, once the move to Somerset House was complete, he encouraged student initiatives. When Joshua Compston and fellow students found the walls in the new institute bare and unwelcoming and the collections in the Gallery too historically remote, Michael warmly welcomed the creation of the first showing of what is now known as the East Wing Biennale – an exhibition of works by contemporary artists throughout the East Wing, curated by and for all our students.  
Michael remained a very active scholar throughout his institutional career and beyond, with publications stimulated both by his work on the V&A collections and by his own medieval and later interests. Whilst working at the V&A and cataloguing the paintings collection, he continued to pursue his work as a medievalist and expert on the study of Romanesque manuscripts. He completed his major work Romanesque manuscripts 1066-1190 (London, 1975) in the pathbreaking Harvey Miller series A survey of manuscripts illuminated in the British Isles. After retiring from The Courtauld he was able to return to the study of manuscripts: his book Biblical imagery in medieval England 700-1550  (also Harvey Miller, 2003) was based on courses he had taught at the Institute.  The subject of his most recent major publication, Eve's Apple to the Last Supper (Boydell & Brewer, London, 2017), was about the illustrations of scenes of food and meals recounted in the Bible, and is fascinating – providing food for thought for those  interested in the study of the Bible and biblical commentaries, the history of meals and food, and the history of art. Michael was made a Fellow of the British Academy in 1987.  
All those who knew Michael Kauffmann will miss him greatly, while remembering with affection, admiration and gratitude his quiet modesty, his intellectual acuity and his warm generosity of spirit and action.  
Our deepest sympathies go to his sons Francis and Martin and their families.