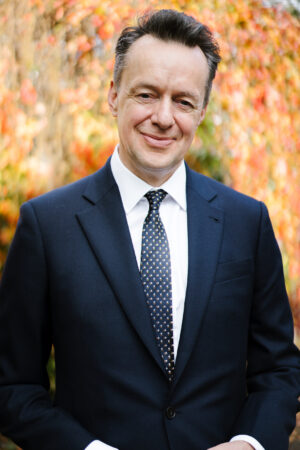 The Courtauld Institute of Art welcomes Professor Mark Hallett as the new Märit Rausing Director. He succeeds Professor Deborah Swallow who stepped down at the end of July 2023. 
On his appointment, Professor Hallett commented, "It's a privilege to be asked to lead The Courtauld at this point in its history. Renowned for its groundbreaking research, exceptional staff, superior collections, and recently refurbished Gallery, The Courtauld is one of Britain's most cherished institutions, attracting a global community of scholars, students, and visitors." 
Professor Hallett, a distinguished figure in the world of art history, brings a wealth of experience and knowledge to the role. His appointment, announced in December 2022, has been met with excitement within our academic community and beyond and his leadership will undoubtedly strengthen the Institute's standing as a beacon of art historical research and education. 
Please join us in welcoming Professor Hallett to his new role. His stewardship heralds an exciting new chapter in The Courtauld's illustrious history.