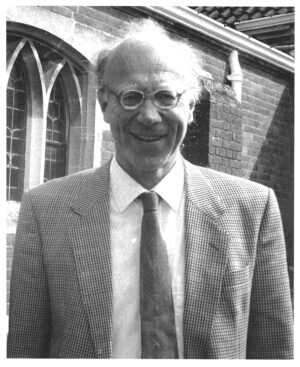 It is with great sadness that we share the news that John Newman, former Deputy Director and (since his retirement in 2001) Honorary Fellow of The Courtauld, passed away on 19 April. 
John was an eminent architectural historian, a specialist in seventeenth-century British architecture but best known to the public as the author of several of the 'Pevsner' architectural guides and for many years Advisory Editor to the entire Buildings of England, Ireland, Scotland and Wales series. He was particularly proud of his work with the volumes on Wales, whose historic architecture had been under-examined and therefore under-valued. This and many other insights, including on his teaching and other work at The Courtauld, emerge in nine hours' worth of recorded interviews with John conducted in 2018 as part of the Society of Architectural Historians' 'Oral History of British Architectural Historians' project. (These recordings, and those of other distinguished historians, are now available at the British Library, with a view to online publication shortly.) The work with Nikolaus Pevsner began when John was a student at The Courtauld, when he answered the latter's advertisement for a driver for a week in Berkshire; the relationship remained close for twenty years until Pevsner's death in 1983. 
He was educated at Dulwich College and Oxford University where he read Greats (or classics) before becoming a classics teacher at Tonbridge School in 1959. In 1963 John, realizing that his heart lay elsewhere, left this post to study at The Courtauld. As a sixth-form student he had read (amongst much else; according to John his early reading was  voracious and disorganised) John Summerson's Architecture in Britain 1530-1830, a book whose impact on him he both acknowledged and is detectable. The same interest in the political and intellectual contexts operating on early modern British architecture, and upon which that architecture operated in turn, is apparent in John's own writing. In 1966 he was appointed as a lecturer at The Courtauld, where he taught until his retirement. Then-undergraduates have happy memories of trailing around the roofs of St Paul's Cathedral after him; John was firmly committed to the on-site teaching which he saw as The Courtauld's strength. His postgraduate supervisions are the stuff of legend. Estimates of how many doctoral dissertations he was supervising at any one time vary; John himself thought that he might have seen thirty Ph.D. students through in total. What is certain is that his supervisions were models of conscientiousness, tact, and lack of dogma, and that his former students include some of the most distinguished historians, curators, and conservationists in the field.  
John was revered and loved by his colleagues, his many students, and the wider international community of those engaged with British architectural, sculptural, and garden heritage. A session at the North American Society of Architectural Historians' annual meeting in Savannah, Georgia in 2006 attracted a huge and appreciative audience simply because he was there: John was not a regular on any conference circuit even after his retirement, just because he was still so hard at work on behalf of his voluntary commitments to some of the most influential bodies in the fields of British architectural history and conservation. Meanwhile he remained a thoughtful and wholly supportive member of the larger Courtauld community, and we will greatly miss him.   
We send our deepest sympathies to his wife Margaret, his daughters and the wider family.  
Essays by Gordon Higgott and former Courtauld director Michael Kaufmann, about John's contributions to scholarship generally and to The Courtauld specifically – first published to mark his retirement — are now available on open access. This is by kind permission of the Society of Architectural Historians of Great Britain and Cambridge University Press. 
John Newman's funeral will take place on Thursday 18 May, 2023 at 2.30pm at the church of St Gregory and St Martin in Wye, Kent, followed by tea and cake in the church. All are welcome. 
Travel: Free parking is available by the church. Trains from London to Wye via Ashford (church is 5-10 minute walk from the station).