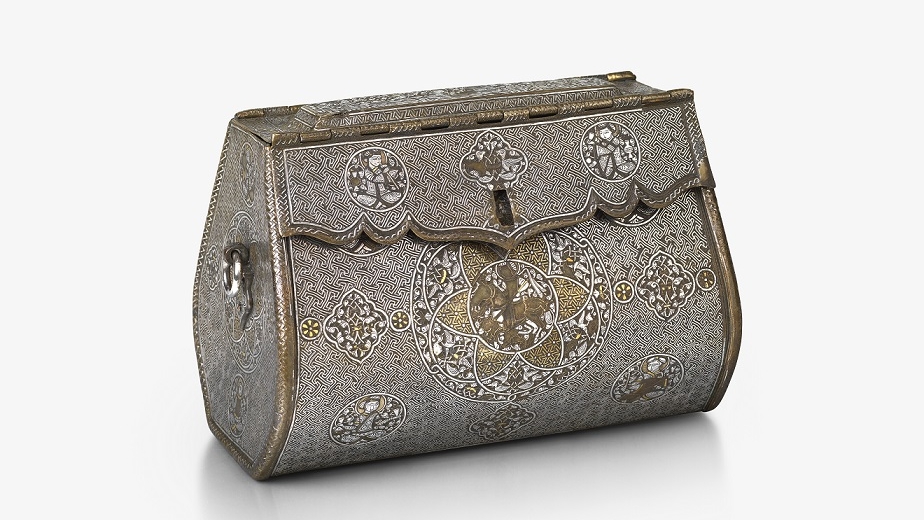 News Archive 2021
Precious and Rare: Islamic Metalwork from The Courtauld exhibition opens at The Holburne Museum, Bath
The final leg of The Courtauld's Precious and Rare UK touring exhibition of exceptional Islamic metalwork will open at The Holburne Museum, Bath on Monday 17 May.
Precious and Rare features ten remarkable pieces of Islamic metalwork in The Courtauld's collection, dating from the 13th to the 16th centuries. The most spectacular piece is the Courtauld Bag, made in Mosul, present-day northern Iraq, for a noble lady of the Persian-Mongol court, around 1300 – 1330. It is recognised as one of the finest pieces of Islamic inlaid metalwork in existence and is the only surviving object of its kind.
The tour is in partnership with the Subject Specialist Network for Islamic Art and Material Culture and is supported by Art Fund. It offers museums and galleries around the country the opportunity to share beautiful examples of this intricate craft with their visitors, either by displaying as a discrete exhibition, or by interpreting alongside objects from their own collections.
The exhibition opened at Royal Cornwall Museum, Truro, in autumn 2019 before travelling to Cartwright Hall Art Gallery, Bradford and the History of Science Museum, Oxford in 2020. The Holburne Museum is the final venue, and the collection will then return to The Courtauld  Gallery in time for its reopening later this year.
Dr Alexandra Gerstein, McQueens Curator of Sculpture and Decorative Arts at The Courtauld said: "We are delighted to partner with The Holburne Museum on the final leg of the Precious & Rare tour. The display provides an opportunity for people to experience and enjoy some of the most treasured art works from The Courtauld's collection and to find out more about their fascinating history. It is on at the same time as The Holburne's important exhibition, Canaletto: Painting Venice and highlights the importance of that city as the gateway to European markets for these beautiful luxury objects."
Admission to the display is included in The Holburne Museum general admission ticket.
For booking information, visit The Holburne Museum website.
Precious and Rare: Islamic Metalwork from The Courtauld
17 May – 1 August 2021