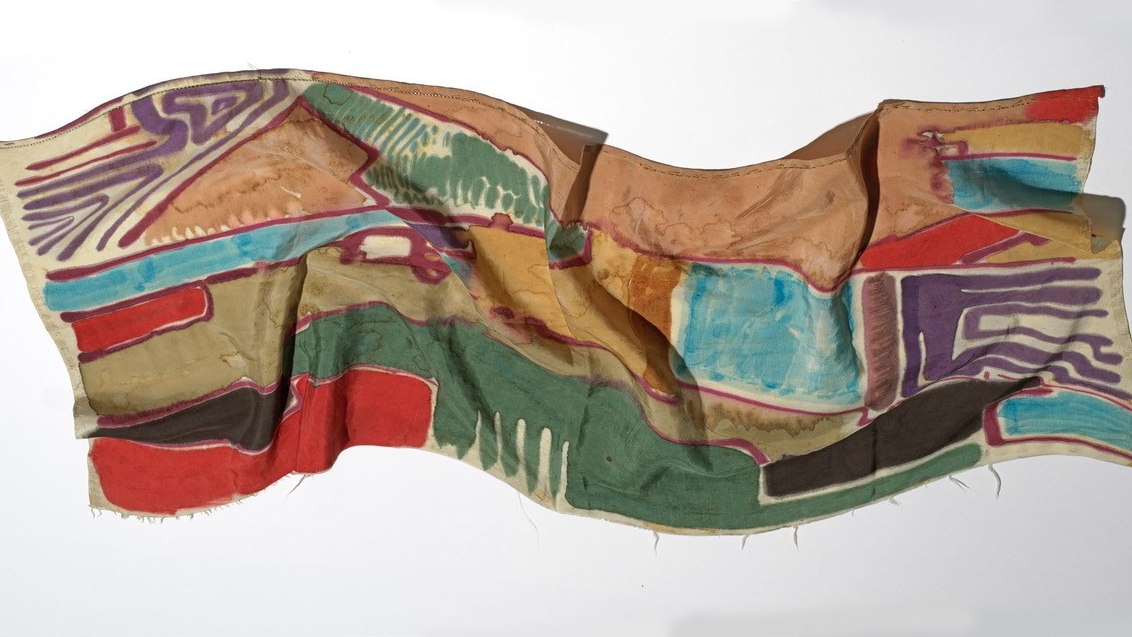 News Archive 2021
The Courtauld announces its latest Illuminating Objects display at The Science Museum
The Courtauld is today launching its latest Illuminating Objects display, a hand-painted silk created within the Omega Workshops by little known artist Jock Turnbull.
Launched in 2012, the Illuminating Objects internship programme is supported by McQueens Flowers and explores some of the ornate, unusual and largely unknown objects in The Courtauld's sculpture and decorative arts collections. Delivered in partnership with young scholars outside the History of Art in disciplines such as anthropology, theology and the sciences, and with partner higher education institutions, the interns focus on researching one object in The Courtauld's collection that sparks their curiosity.
Their project culminates in their research being presented online, and the object being displayed at The Science Museum in London whilst The Courtauld Gallery is closed for a major transformation project. The connection to The Science Museum provides an opportunity to focus on the scientific ideas and techniques embodied in this painted silk fragment.
The latest Illuminating Objects intern is Sophie-Nicole Dodds, who has been part of the Illuminating Objects Programme since March 2020. Sophie is a designer and making practitioner. She recently graduated from her MA Design: Expanded Practice, a radical post-disciplinary programme within the Fashions and Embodiment Studios at Goldsmiths, University of London, having gained her BA in Bespoke Tailoring at UAL: London College of Fashion.
Sophie was drawn to objects in The Courtauld's collection which could be described as 'fragments', and to the narratives they enclose or inspire, exploring conversations that may arise from them through gestures of movement and touch.
The hand-painted silk is the third and final object from The Courtauld to be displayed in the Science Museum, The silk was given to The Courtauld Gallery in 1959 by Winifred Gill and was made in 1913-14 by Jock Turnbull. Both artists were part of The Omega Workshops, an art and design studio set up by artist and critic Roger Fry. The hand-painted silk encapsulates a moment of artistic response to a long period of industrial change in Britain and blends the realms of fine art and wearable clothing with an aesthetic that stood against the machine-made production of the time.
Illuminating Objects is supported by McQueens Flowers.