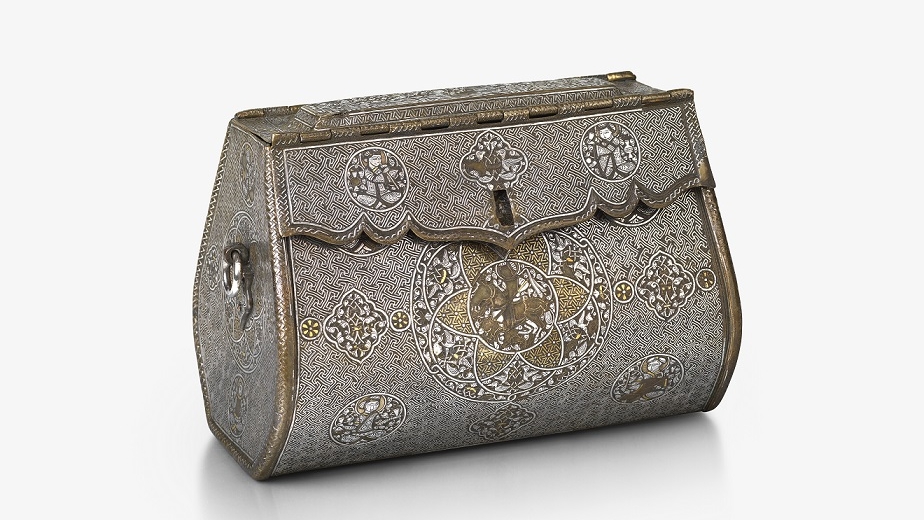 News Archive 2020
Precious and Rare exhibition opens at The History of Science Museum, Oxford
The Courtauld's Precious and Rare UK touring exhibition of exceptional Islamic metalwork has opened today (9 October) at the History of Science Museum, Oxford.
Precious and Rare features ten remarkable pieces of Islamic metalwork in The Courtauld's collection, dating from the 13th to the 16th centuries, displayed alongside the History of Science Museum's own world-class collection of scientific instruments from the Islamic World.
The exhibition at the History of Science Museum provides a modern-day interpretation of our Islamic metalwork collection, with an accompanying online exhibition featuring objects and stories not seen in the physical exhibition, and contributions by the local community in Oxford.
Precious and Rare opened at Royal Truro Museum, Cornwall, in autumn 2019 before travelling to Cartwright Hall Art Gallery, Bradford earlier this year. The History of Science Museum is the third date of the tour, and the final venue is the Holburne Museum, Bath, in January 2021. The tour offers museums and galleries around the country the opportunity to share these beautiful examples of this intricate craft with their visitors.
The most spectacular piece in The Courtauld's collection is the Courtauld Bag, made in Mosul, present-day northern Iraq, for a noble lady of the Persian-Mongol court, around 1300 – 1330. It is recognised as one of the finest pieces of Islamic inlaid metalwork in existence and is the only surviving object of its kind.
Dr Alexandra Gerstein, McQueens Curator of Sculpture and Decorative Arts at The Courtauld said: "We are thrilled to partner with Oxford's History of Science Museum on the Precious & Rare tour and to be the first exhibition on display when the museum reopens to the public. The exhibition provides an opportunity for people to experience and enjoy some of the most treasured art works from both The Courtauld and History of Science Museum's collections and to find out more about their fascinating history."
Precious and Rare will be accompanied by an engaging programme of free virtual talks and online events at the History of Science Museum. On 26 November, 4-6pm (BST) The Courtauld Research Forum will also host a symposium event about the exhibition in partnership with The Oxford Research Centre for the Humanities (TORCH).  This symposium will explore curatorial, practical and public engagement aspects of the touring exhibition and a keynote lecture will uncover the historic importance of the works on display. This free online event will be of particular interest to students in the humanities and colleagues in the museum and heritage sector, from curators and collection managers to educators and public engagement professionals. Book tickets.
Precious and Rare is in partnership with the Specialist Subject Network for Islamic Art and Material Culture and is supported by Art Fund.
The History of Science Museum, Oxford
9 October 2020 – 10 January 2021