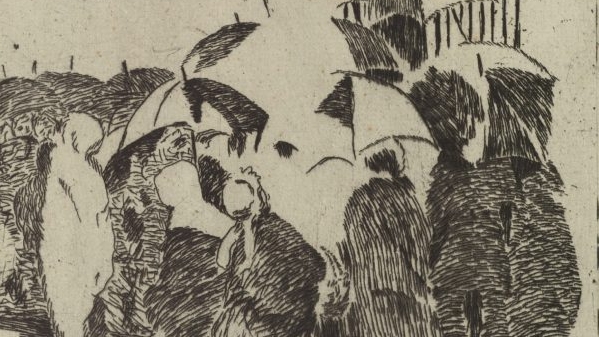 News Archive 2020
The Courtauld Research Forum announces Open Courtauld Hour series 4
The Courtauld Research Forum is pleased to announce series 4 of Open Courtauld Hour supported by Bloomberg Philanthropies.
Open Courtauld Hour is an online miniseries providing one-hour packages of pop-up talks, performances and in detail object study sessions that explore and celebrate The Courtauld's collection, research in art history, curation and conservation. The series has been enjoyed by over 21,000 people to date and our upcoming monthly episodes will touch on pertinent issues and give attendees the chance to access, engage and read art and art history through a different lens.
Open Courtauld Hour
Episode 1: 'Radical Printmaking' – 4 February 2021 (8 – 9pm GMT).
The Courtauld is home to one of the most significant collections of works on paper in Britain, with approximately 26,000 prints ranging from the late Middle Ages to the 20th century avant-garde.
Our latest Courtauld National Partners exhibition, Renoir and the New Era: Impressionist works from The Courtauld at Ulster Museum, Belfast, explores the Impressionists in the late 1900s, refocusing attention on their position as agitators and anarchists against the established art system.
This Open Courtauld Hour will celebrate the ways in which this printmaking is radical and will delve into our impressionist print collection, explore how a political drive continues to permeate contemporary practice while also giving you the opportunity to get creative yourself and make your own radical prints!
We will be joined by Anna Liesching (Curator of Art, National Museums NI), Elaine Shemilt (Artist and Professor of Contemporary Art Practice at Duncan and Jordanstone College of Art and Design) and Nathan Crothers (Artist) for an Open Courtauld Hour
Episode 2: 'Indecent Exposure?'- 4 March (8 – 9pm GMT)
The Courtauld is home to numerous depictions of women historically labelled or deemed courtesans, prostitutes and night-walkers – women of disrepute painted as sexually and/or morally dubious.
This Open Courtauld Hour will ask if it is in fact women's 'indecent' exposure, in other words their nudity, that provides legitimised 'slut-shaming' in traditional art historical dialogues. We will question why these images of naked women are sanctioned as 'Fine Art', appropriate and un-bashfully displayed in family-friendly spaces, yet some images of naked women are censored from these places, and beyond, due to assumed 'overt-sexuality' and 'pornographic' content.
We are joined by Rosumund Garret (Associate Curator of European & Decorative Arts, Memphis Brooks Museum of Art), Kate Lister (Founder of Whores of Yore, author of 'A Curious History of Sex and Lecturer in the School of Arts and Communication at Leeds Trinity University) and Imma Ramos (Curator of the South Asia collections at the British Museum and lead Curator of 'Tantra: enlightenment to revolution') and more to lay bare the contradictory, complex and challengeable shame and stigma associated with some representations of nude females and not others. Full line up to be announced soon!