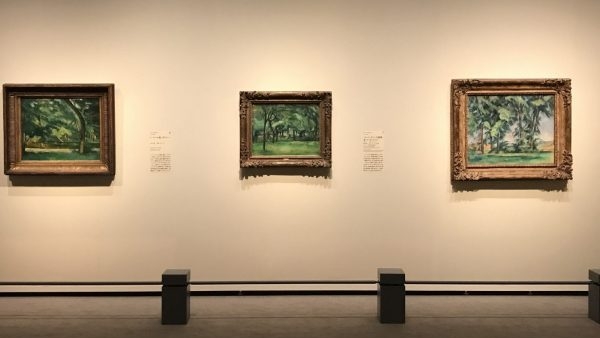 Kobe venue of The Courtauld's major touring exhibition in Japan is cancelled
The final stage of The Courtauld's major touring exhibition, Masterpieces of Impressionism: The Courtauld Collection, in Japan has been cancelled due to ongoing uncertainty around the coronavirus and museum closures.
Part of The British Council's UK in Japan 2019-20 season, Masterpieces of Impressionism was developed by The Courtauld in collaboration with the newspaper and media group, The Asahi Shimbun, NHK and NHK Promotions.
The touring exhibition of 60 works from The Courtauld Gallery was enjoyed by almost 430,000 visitors at Tokyo Metropolitan Art Museum and Aichi Prefectural Museum of Art, Nagoya. It was scheduled to open at Kobe City Museum, Kobe in March but after an initial decision to postpone the exhibition, it has now been cancelled. The exhibition will instead be made available to view online in due course.
The Courtauld Gallery is renowned internationally as the home of one of the most important collections of Impressionist and Post-Impressionist art. The touring exhibition included iconic paintings from our collection such as Edouard Manet's A Bar at the Folies-Bergère, Renoir's La Loge, Paul Cézanne's Card Players, Vincent van Gogh's Peach Trees in Blossom and Paul Gauguin's Nevermore.
Ernst Vegelin, Head of The Courtauld Gallery, said: 'It has been a great pleasure to be able to bring some of The Courtauld Gallery's masterpieces to audiences in Japan, and we have been delighted by the reception they received in both Tokyo and Nagoya. We are very sorry not to be able to open in Kobe, but public health is paramount at this time. We would like to thank our colleagues at The Asahi Shimbun, NHK, and NHK Promotions, the Tokyo Metropolitan Art Museum, Aichi Prefectural Museum of Art and Kobe City Museum for all their support during this tour – as well as to thank everyone who came to see the exhibition. I hope to be able to  warmly welcome our friends in Japan to The Courtauld Gallery when it reopens in its newly restored London home in 2021.'
The Masterpieces of Impressionism touring exhibition follows The Courtauld Collection: A Vision for Impressionism exhibition at The Fondation Louis Vuitton, Paris, in 2018 which attracted almost 483,000 visitors. These exhibitions were made possible due to the temporary closure of The Courtauld for the Courtauld Connects transformation project – preserving the magnificent Grade 1 listed, 18th century building at Somerset House, while making The Courtauld's world-class artworks, research and teaching facilities more accessible to wider audiences.