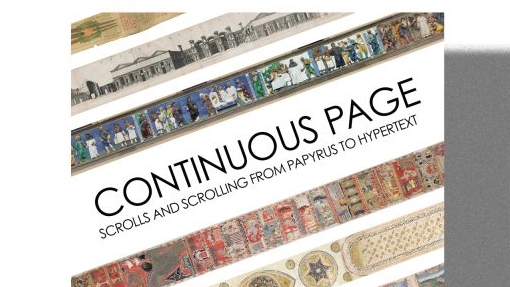 News Archive 2020
Courtauld Books Online publishes open-access book on the history of the scroll
Continuous Page: Scrolls and Scrolling from Papyrus to Hypertext is the latest online, open-access publication from Courtauld Books Online.
This open-access book of 12 essays, accompanied by a series of fully digitised scroll objects, constitutes the first systematic attempt to approach the subject of the scroll from an interdisciplinary standpoint, incorporating contributions from an internationally renowned group of scholars who address material from the ancient world to the twenty-first century, ranging across objects from Asia, Africa, the Middle East, Europe, and the Americas.
Scrolls encompass in one sweep the oldest and the most contemporary ideas about images and image-making. On the one hand, some of the most enduring artefacts of the ancient world adopt the scroll form, evoking long-standing associations with the Classical tradition, Eastern and Middle Eastern cultures, theatrical oration, and the word of the law. Yet today, scrolling is also the single most common interaction between people and their digital media: fingers routinely swipe across trackpads and touch-screens through reams of infinite hypertext.
Edited by Jack Hartnell (University of East Anglia), with contributions by:
Luca Bochicchio (University of Genoa)
Stacy Boldrick (University of Leicester)
Rachel E. Boyd (Columbia University)
Pika Ghosh (Haverford College)
Jack Hartnell (University of East Anglia)
Katherine Storm Hindley (Nanyang Technological University)
Michael Hrebeniak (Cambridge University)
Kristopher W. Kersey (University of California, Los Angeles)
Eva Michel (Albertina)
Judith Olszowy-Schlanger (École Pratiques des Hautes Études)
Claire Smith (British Film Institute)
Rachel Warriner (Courtauld Institute of Art)
Michael J. Waters (Columbia University)
Courtauld Books Online is a series of online scholarly books published by The Courtauld. The series includes research publications that emerge from Courtauld Research Forum events and Courtauld projects involving an array of outstanding scholars from art history and conservation across the world. The series consists of discrete books, shaped by a rigorous academic peer-review process. It is an open-access series, freely available to read online and to download without charge.