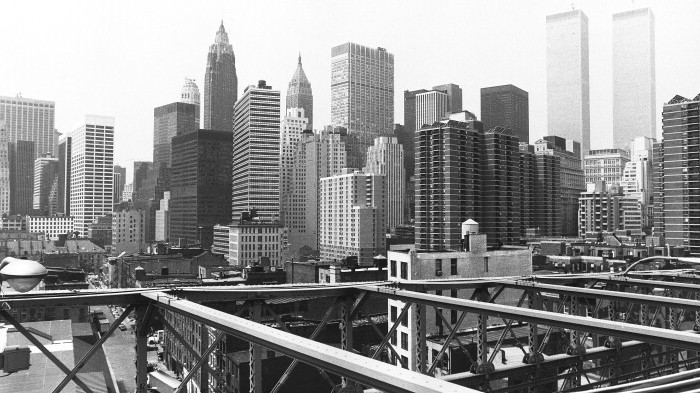 An Art-Historical Tour of Manhattan, c.1920-1970
Study Tour 6
Uptown, Midtown, Downtown: An Art-Historical Tour of Manhattan, c.1920-1970
MaryKate Cleary and Dr Tom Day
Friday 1 – Sunday 3 October 2021
£145
Course Description
In this study tour we shall explore the art-historical past of one of the globe's most dynamic cultural capitals: New York City. Covering a fifty-year period, we shall witness dramatic shifts in New York's landscape of visual culture as we examine movements from Realism to Abstract Expressionism; Happenings, to Pop and Minimalism. We shall pay particular attention to the role the metropolis itself played as an incubator of artists and art forms, from the Art Deco-influenced 'Skyscraper culture' of the 1920s and 1930s to the reinvention of New York's industrial spaces as artist colonies in the 1950s and 1960s. In consideration of wider cultural contexts, we shall engage with the intellectual and social movements of the Harlem Renaissance; the politics of the Works Progress Administration; the poetry and art criticism of New York School writer/curators like Frank O'Hara; and the explosion of popular music in the 1960s. We shall also highlight histories of New York's key art institutions, from the founding of The Museum of Modern Art (MoMA) and the Whitney Museum of American Art by women collectors, to the patronage of the American avant-garde by female art dealers like Edith Halpert and Peggy Guggenheim. Our lectures and discussion will be enriched by a contextual framework of primary readings, immersive online tours and musical playlists.
Lecturers' Biographies
MaryKate Cleary is an art historian and lecturer specializing in modern art, the history of the art market and collecting, provenance research and cultural property issues in the Nazi era. She is completing a PhD in art history at the University of Edinburgh, where her research focuses on the Galerie Paul Rosenberg and the transnational market for Modern Art in the inter-war era. MaryKate has lectured extensively, including as an Adjunct Professor at New York University, and held roles at MoMA, the Art Loss Register, Sotheby's, artnet.com and the Jewish Museum. She has a BA in German Literature, and an MA from The Courtauld.
Dr Tom Day is a Terra Foundation Postdoctoral Fellow at The Courtauld's Centre for American Art where he is working on a co-edited collection of essays entitled Pop Cinema (under consideration with Edinburgh University Press) examining the relationship between Pop art and experimental forms of cinema and television. He was previously a Postdoctoral Fellow at the Paul Mellon Centre for Studies in British Art/Yale Center for British Art where he completed a research project on the relationship between television and sculpture: 'Making it Function Differently: TV Sculpture'. He is also currently completing a monograph, 100 TV Artworks, for Bloomsbury Academic/British Film Institute and from October 2021 will be offering a special option MA at the Courtauld: '"Drop Dead" New York: Art, Film and Activism Downtown, 1971-1992'.