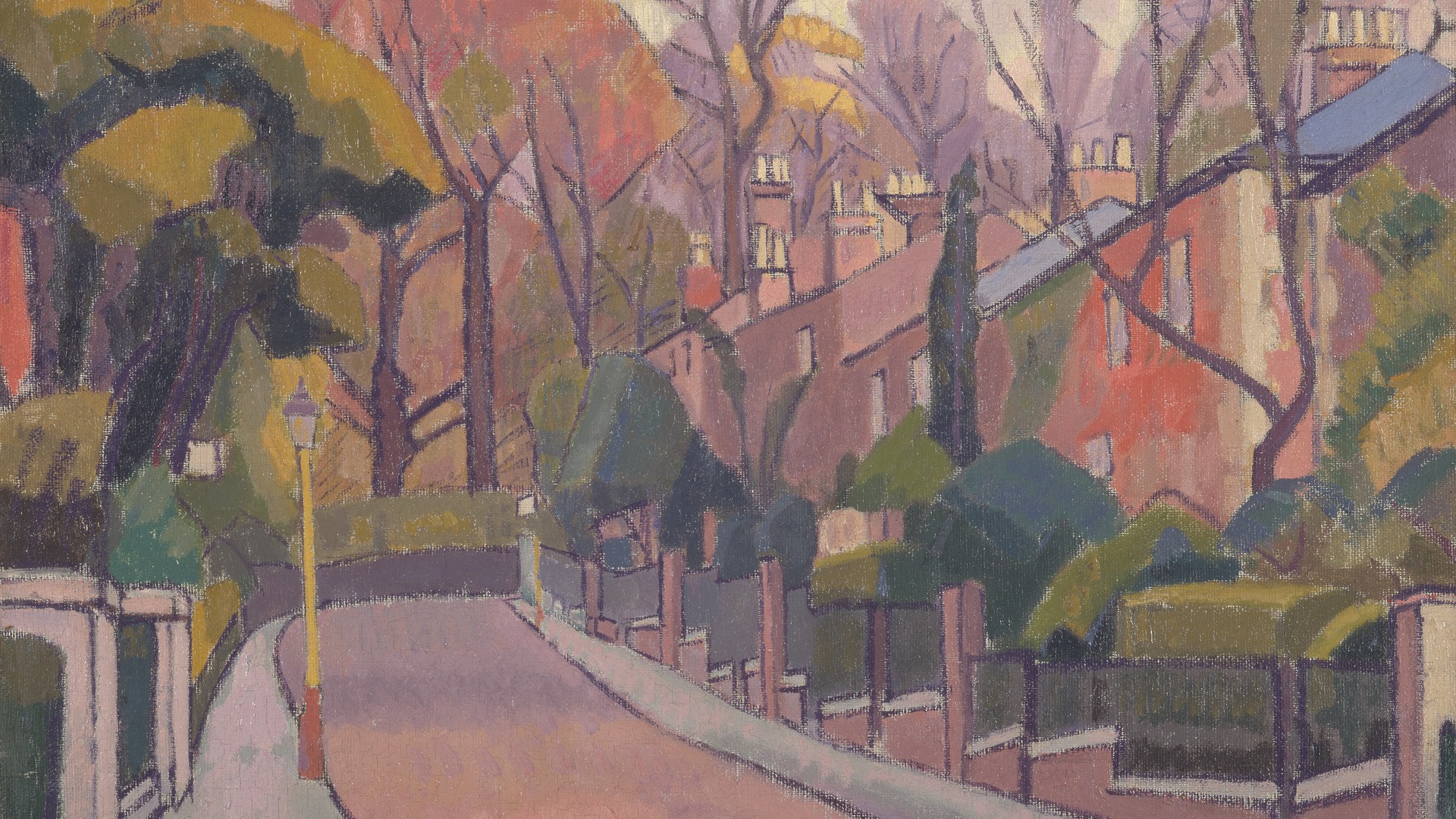 Autumn School Online
Our Spring and Autumn Schools typically offer four to five-day intensive short courses familiarising students with fundamental aspects of the visual arts and of art history and its methodologies. An archive of the Spring School Online 2021 can be found at the bottom of this page.
Organised thematically, they go considerably beyond introductory surveys, and are intended to provide a solid basis for further studies in areas of Western art from the Renaissance to the twentieth century, and of the arts of the Islamic world.
In 2021, we introduced new programme strands to the Spring School:
Variations on a Theme is a new series of interdisciplinary courses exploring the visual arts in relation to other manifestations of culture.  Our successful pilot course brought together an art historian and a musician to investigate the challenges and joys of 'Modernism'.
Media, Materials and Methods is another new series of courses foregrounding aspects of the practice of art-making, which are then also situated in the historical contexts of patronage and reception.  Our first course in this programme explored the watercolour medium via the case study of one of its most famous practitioners, J.M.W Turner.
Archive - Spring School Online courses 2021
Variations on a Theme: Modernism in Art and Music
Variations on a Theme: Modernism in Art and Music
Dr Charlotte de Mille and Benedict Collins Rice
Delivered online
Monday 22 – Friday 26 March 2021
£195
This course has now passed
Course Description
"To continue in one path is to go backward" – Igor Stravinsky
What is 'modernism' and how does it manifest itself in art and music? An art historian and a musician join forces to gain a more varied perspective of the cultural transformations produced during the turbulent period from the European revolutions of 1848-1849 to the aftermath of the Second World War.   This course looks outward at the plurality of ways in which artists and composers responded to and reflected this shared context of artistic and socio-political upheaval.  What was Wagner's musical 'revolution' and how did it draw on, and affect, the visual arts?  What 'subjective' novel forms of art and music did Vienna and its new psychology produce around the turn of the 20th century?  Are there musical equivalents to Cubist and Abstract art?  What role do spontaneity and chance play in the paintings of Piet Mondrian and in John Cage's musical compositions?
Over the course of five pre-recorded lectures and two live seminars, we shall encounter exciting and challenging images and sounds from this dynamic period.  Our live discussions will address the relationships between creator and audience, the role of the artist in a post-patronage society, and the perceived austerity and elitism of modern art and music. The course will feature contributions from The Facade Ensemble – a group founded to perform the repertoire of musical modernism, challenge its reputation as 'difficult', delight in its thrilling soundworlds, and promote it to a wider audience.
Lecturers' Biographies
Dr Charlotte de Mille curates The Courtauld Gallery's music programme. With them she co–authored Animating Art History, a joint initiative with Central St. Martin's and the University for the Creative Arts, which was long–listed for a Clore Award in Museum Learning. She was Visiting Scholar at Lingnan University, Hong Kong in 2018, and Mid-Career Fellow at the Paul Mellon Centre for British Art 2019-20. She is currently supported by a Paul Mellon Centre Research Continuity Fellowship. She edited Music and Modernism (2011) and is co-editor of The Bloomsbury Handbook to Music and Art (2022).
Benedict Collins Rice has performed throughout Europe and America (from The Royal Albert Hall to Carnegie Hall); recorded for several record labels, for BBC and NBC Television, the BFI, and broadcast on Radio 3.  He follows Holst and Tippett as Lecturer at Morley College. Recent conducting highlights include working with the Berlin Sinfonietta, CBSO Chorus, BBC Concert Orchestra, Southbank Sinfonia and British Youth Opera.
The Facade Ensemble is a dynamic collective of young professionals comprising 'rising stars' of institutions like the BBC and The Orchestra of the Age of Enlightenment and fellows with groups such as The Sixteen and Tenebrae.
Making Sense of Ideas on Art: A Beginner's Course in Art Theory, c. 1790 – c.2000
Making Sense of Ideas on Art: A Beginner's Course in Art Theory, c. 1790 – c.2000
Dr Matthias Vollmer
Delivered online
Monday 19 – Friday 23 April 2021
This course has now passed
£195
Course Description
This intensive, introductory course is designed for everyone with an interest in art theory.
Philosophical theories on the nature, characteristics and function of art, and more narrowly, on beauty, have been very influential in the development of art history and in the ways we have interpreted, and sometimes also made, images. The names of their authors crop up time and again in art–historical texts – Immanuel Kant and Georg Wilhelm Friedrich Hegel, among others – but for all their impact, the theories of these philosophers are not always well or widely understood. From the later nineteenth and early twentieth centuries, art history came into its own as a serious academic discipline and influential art historians like Heinrich Wölfflin, Aby Warburg, Erwin Panofsky and Ernst Gombrich developed their own approaches to the study of art. Charles Sanders Peirce's semiotic reading of visual signs was stimulating and influential for art and art theory. A more recent approach is represented by W.J.T. Mitchell´s 1992 'pictorial turn' in the humanities, registering a renewed interest in, and prevalence of, images in a so–called 'age of simulation', with its extensive and increasingly diverse visual culture. Bildgeschichte (the history of the image) is a more recent form of German art history and focuses primarily on meaning, message and composition, not as an end in itself, but in pursuit of the image as a vehicle by which political and social power is enacted and disseminated. Art historians Hans Belting and Horst Bredekamp have extended the scope of their studies to investigate a much greater range of visual material and the contexts of its production, proposing a Bildwissenschaft (the study of images) with a complex relationship to the older, institutionally more secure discipline of art history.
This course offers a thorough but accessible investigation of the influence of these important thinkers on art–historical writings and on the making of art from the 18th to the 20th centuries.
Day 1: Aesthetics and 'Genius': Kant and Hegel
Day 2: The Emergence of Art History and Psychology: Wölfflin, Warburg and Jung
Day 3: Subject–Matter, Artist, And Sign: Panofsky, Gombrich, Semiotics
Day 4: The 'Pictorial Turn' And The Nature of Images: W.J.T. Mitchell, Hans Belting and Horst Bredekamp
Lecturer's Biography
Dr Matthias Vollmer is Adjunct Professor at the Freie Universität Berlin European Studies Programme. He studied art history, philosophy and orientalism at the Freie Universität Berlin and wrote his PhD thesis on medieval book illustration. Matthias teaches interdisciplinary seminars on medieval and Renaissance art, as well as courses on modern art at the Freie Universität Berlin, the Universität der Künste Berlin, the Universität Münster and the Universität Frankfurt. He currently researches the principles of visualisation in art and science.
Watercolour: J.M.W. Turner's Theory and Practice
Media, Materials, and Methods – Case Studies in Context
Watercolour: J.M.W. Turner's Theory and Practice
Nicola Moorby
Delivered online
Monday 19 – Friday 23 April 2021
£195
This course has now passed
Course Description
This course introduces students to the art of watercolour through the case study of the nineteenth-century master, J.M.W. Turner. Starting with an examination of the material properties and practical challenges of the medium, we shall explore Turner's ground-breaking theories and techniques specific to the art form. In order to unlock some of the secrets of his extraordinary genius, the sessions will include accessible explanations of painting techniques and processes, and thereby offer an enjoyable introduction to historical media and materials.
In addition, the course will contextualise Turner's watercolour practice within the wider history of eighteenth- and nineteenth-century art. With reference to the artist's predecessors and contemporaries we shall interrogate the idea of the 'Golden Age of British Watercolour', investigating the role of watercolour practice in the ascendancy of British landscape, and the attendant theories of the Picturesque and the Sublime. We shall also consider the commercial and professional platforms for the medium, including exhibitions and exhibiting societies, and the role of the reproductive print market.
Lecturer's Biography
Nicola Moorby is an independent curator, writer and lecturer specialising in British art of the nineteenth and early twentieth centuries.  An alumna of the University of York (BA) and of Birkbeck (MA), she was formerly a curator and researcher at Tate Britain where she worked on the exhibition Watercolour (Tate Britain, 2011). Nicola has curated several exhibitions on J.M.W. Turner including Turner and the Sun (Winchester Discovery Centre and Willis Museum and Sainsbury Gallery, Basingstoke, 2017). She has also contributed to numerous publications on the artist, was co-editor and author of How to Paint Like Turner (Tate Publishing 2010) and is currently part of the team preparing Tate's online catalogue of the Turner Bequest. Nicola is an Art Society accredited lecturer and has recently appeared as an expert on television and radio.
An Introduction to Art History
An Introduction to Art History
Delivered online
Monday 22 – Friday 26 March 2021
Dr Anne Puetz and Clare Richardson
£395
Course Description
This course is concerned with the making, materials, representational conventions and the interpretation and curation of Western art.  We aim to discuss examples from antiquity through to the present day, but we are both most at home in the period from the early seventeenth to the late nineteenth centuries, and will give particular weight to case studies from this period.
Days 1 and 2 will take a close and critical look at the 'periods', 'movements' and 'isms' by which the history of Western art is conventionally structured.  We shall discuss stylistic developments, and their contexts, and debate some of the problems inherent in periodization.
Day 3 will introduce students to works of art as material objects and as means of communication with the viewer.  We shall examine how works were made and what important representational conventions they employed.  During the afternoon session, we shall apply our insights to the analysis of a relevant work from the Courtauld Collection, via remote access to the conservation studios.
Day 4 will cover some of the range of different approaches to art history taken now and in the past. In our Zoom seminar, we shall use a key work from the Courtauld as a case study of different ways to examine and interpret a painting.
Day 5 will look at the role museums and art galleries play in the understanding and interpretation of works of art.  We shall examine museums' and galleries' collecting policies, and display, conservation and interpretation strategies.  Our Zoom seminar will focus on the thorny question of the 'ownership' of art.
Lecturers' Biographies
Dr Anne Puetz is responsible for The Courtauld's extensive programme of art history short courses. She is a scholar of early modern visual culture, with a particular interest in 18th– and 19th-century British art, and in the concept of 'modernity' in Britain and France. She co-edited a special issue of RIHA Journal, 'When Art History Meets Design History' (March 2014) and was Research Curator of The Courtauld Gallery's ground-breaking Art on the Line: The Royal Academy Exhibitions at Somerset House 1780-1836 (2001). Anne has written on various aspects of British art and her current research interests focus on eighteenth- and early nineteenth-century ideas about colour and on theories and techniques of reproduction.
Clare Richardson is a paintings conservator whose research interests include painting techniques and pigment deterioration and a Lecturer in the Department of Conservation and Technology at The Courtauld.   Prior to this Clare was Head of Painting, Paper and Frames Conservation at Royal Museums Greenwich, and before that she was employed at the Victoria & Albert Museum preparing paintings for the European Galleries and working on Constable's oil sketches, notably the six-foot Sketch of the Leaping Horse. She contributed to the exhibition catalogue of John Constable: Oil Sketches from the V&A and is working on the publication of her research on the painting techniques of Rubens, 1609-12.
Spring School 2022
Our Spring School courses for 2022 will be on the website in early December 2021.