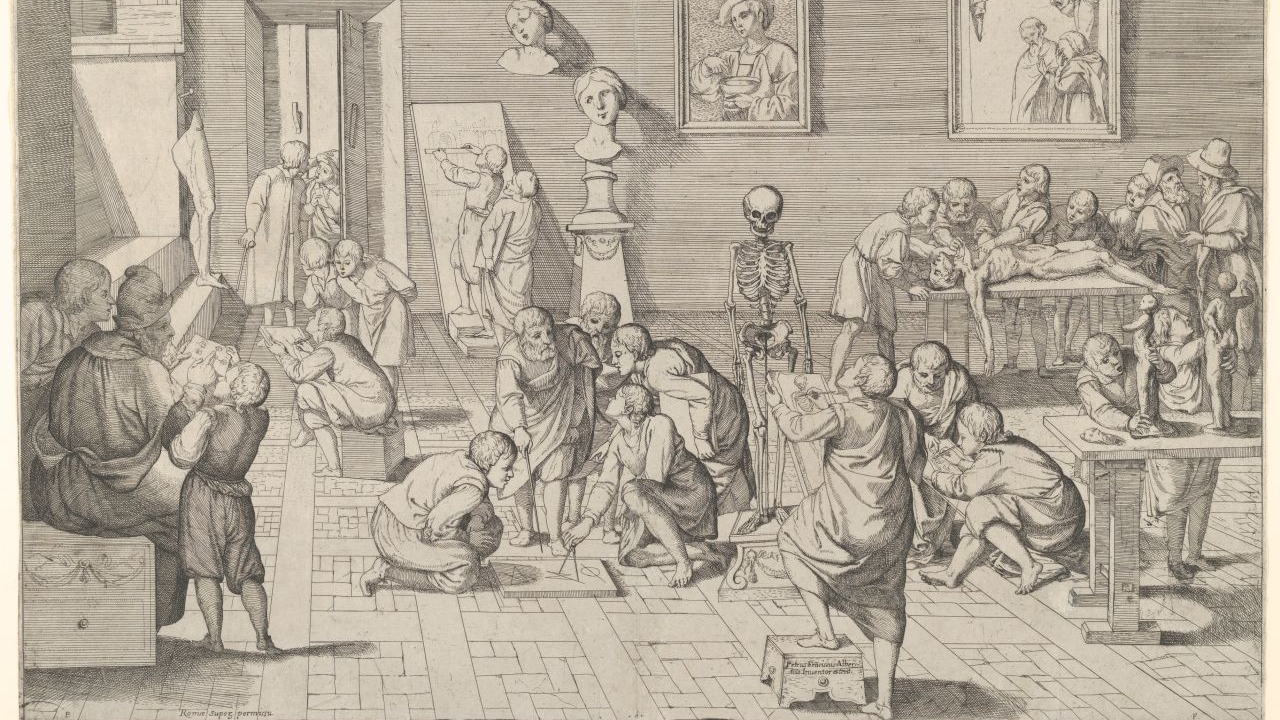 An Introduction to Art History
On campus
Dr Anne Puetz and Clare Richardson
Monday 17 – Thursday 20 April 2023
£475
This course and its waiting list are now full. You may also be interested in our course "The Root of Everything" on the fundamental practice of drawing, which takes place in the same week. 
Course description
This course is concerned with the making, materials, representational conventions and the interpretation and curation of Western art.  We aim to discuss examples from antiquity through to the present day, but we are both most at home in the period from the early seventeenth to the late nineteenth centuries and will give particular weight to case studies from this period.
On day 1 we shall take a close and critical look at the 'periods', 'movements' and 'isms' by which the history of Western art is conventionally structured. We shall discuss stylistic developments, and their contexts, and debate some of the problems inherent in periodisation.
Day 2 will introduce students to works of art as material objects and as means of communication with the viewer. We shall examine how works were made and what important representational conventions they employed.
Day 3 will cover some of the range of different approaches to art history taken now and in the past. A major work from The Courtauld Gallery collection will serve us as a case study for the exploration of different ways to examine and interpret a painting.
On day 4 we shall look at the role museums and art galleries play in the understanding and interpretation of works of art. We shall examine museums' and galleries' collecting policies; display, conservation and interpretation strategies, and discuss, among other topics, the thorny question of the 'ownership' of art works.
The course includes afternoon visits to The Courtauld Gallery and print room, and to The Courtauld's conservation studios and encourages lively debate with the course lecturers and fellow participants.
Lecturers' biographies
Dr Anne Puetz is Head of Short Courses at The Courtauld, where she designs and manages a wide-ranging programme of on-campus and online short courses in art history, and in-person and online Study Tours. Anne's own research and teaching focuses mainly on British, and also on French and German art from the late seventeenth to the late nineteenth centuries. She was the research curator of the ground-breaking exhibition Art on the Line: The Royal Academy Exhibitions at Somerset House 1780-1836 (Courtauld Gallery, 2001) and has written on various aspects of British art, including on notions of 'modernity'; theories, practices and technologies of artistic reproduction; display and exhibition cultures; and art education. Anne is particularly interested in collaborative and interdisciplinary approaches to art history and has recently designed and led workshops on visual literacy for medical professionals.
Clare Richardson is Senior Lecturer in paintings conservation at The Courtauld, where her research interests are focused on the materials and techniques of paintings in the Renaissance and Early Modern periods. She is also co-founder of a business undertaking infrared examination of paintings in situ for a diverse client base since 2002. Clare studied for her BA in Art History (1998) and Diploma in the Conservation of Easel Paintings (2001) at The Courtauld. Clare is currently engaged in research into historic lining methods at The Courtauld and Greenwich and the implications of the longevity of modern linings on collections care planning. Clare is also interested in using infrared examination for the study of works on paper.