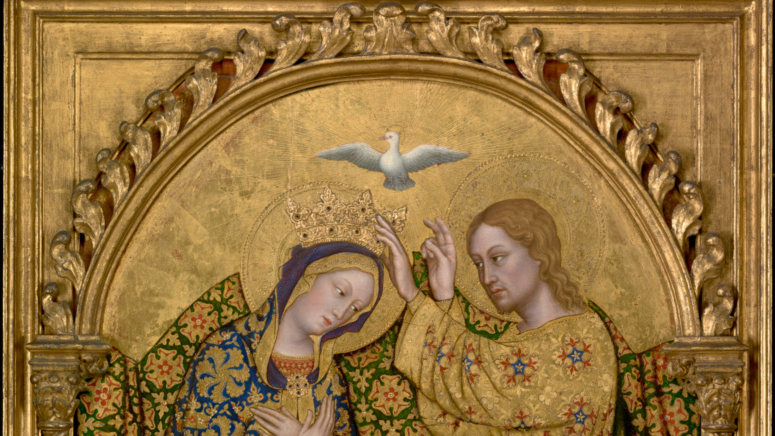 21 – The Merchants of Lucca: Art, Patronage and Luxury, 1300-1500
On campus
Course 21 – Summer School on campus
Monday 11 July – Friday 15 July
Dr Geoffrey Nuttall
£585
Course description
For over 200 years, merchants from the small Tuscan city of Lucca dominated the production and sale of sumptuous silks and phenomenally expensive gold and silver brocades throughout western Europe.  These clothed the palaces, churches and persons of its secular and ecclesiastical elites, and can still be admired in innumerable paintings and manuscript illuminations, perhaps most famously in the Wilton Diptych in London's National Gallery. Exceptionally wealthy, well-informed and cosmopolitan patrons, they commissioned some of the most famous yet enigmatic masterpieces of the early Renaissance, including Jan van Eyck's Arnolfini Double Portrait, Jacopo della Quercia's Tomb of Ilaria del Carretto, and The Boucicaut Master's Trenta Missal.
This course focuses on these and other great works executed north and south of the Alps by the merchants of Lucca, in Paris, London, Bruges, Avignon, Venice and elsewhere.  It explores the processes involved in the design, manufacture and purveying of the luxury silks, and the Lucchese's influential role as agents of artistic and cultural exchange during the late Middle Ages and early Renaissance.
Lecturer's biography
Dr Geoff Nuttall specialises in the art and history of Lucca, and wrote his PhD thesis at The Courtauld on the role of Lucchese silk merchants as patrons and purveyors of luxury goods at the end of the Middle Ages.  He has recently edited a book on the Florentine artist, Filippino Lippi, contributing a chapter on Filippino's Lucchese patrons.  In 2014 he was a fellow of the Huntington Library and Art Collection San Marino, and in 2017 was Scholar-in-Residence at the Dutch Institute for Art History (NIKI) in Florence. Geoff is currently working on the book, The Merchants of Lucca, and the chapel of the Lucchese in Paris.