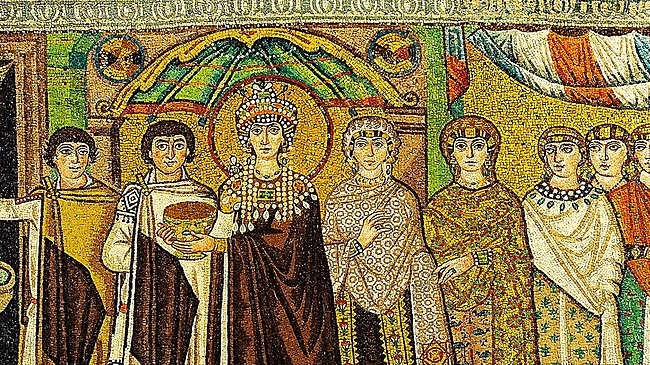 Women and Art in Byzantium: Female Agency in the Visual Culture of the eastern Roman Empire
On campus
Dr Andrea Mattiello
At our Vernon Square campus, Friday evenings, 22 April to 20 May, 18:30-21:00, and a museum visit on Saturday 28 May, 10:00-13:00
£465
Course description
Byzantine sources rarely address women in relation to art, yet numerous art objects from the eastern Roman Empire demonstrate the powerful agency of women in Byzantium. This course proposes an art-historical narrative that reinstates women into Byzantine history.
After introducing Byzantium more widely, this course will examine a selection of art works from the early decades of the 4th CE, when Constantinople was founded, to the middle of the fifteenth century, when the Ottomans conquered the city.  In five classroom-based lecture and seminar sessions and one Saturday visit to relevant collections in London, the course will introduce the concept of female agency expressed in the arts and culture of the Byzantine Empire.  The course will explore female agency in the  relations linking patrons, artists, art works and their audiences, and it will discuss ways in which agency is indexed in art works produced by artists employing a variety of materials, models and aesthetic research.  Agency will serve as a multidisciplinary lens to discuss sculptures, mosaics, painted and carved decorations as well as manuscript illuminations, textiles, jewellery, archaeological remains, and architecture.
The course will consider connections to Byzantine empresses and noble women such as Galla Placidia, Theodora, Irene of Hungary, and Anna Palaiologina but will also extend its analysis to objects linked to the invisible laywomen of Byzantine society. Who were the women related to these objects? What social spaces did they inhabit? How and when were their intellectual contributions received? By answering these questions, the course will show how their lives matter in understanding Byzantium, a socio-political entity that shaped the history of the European continent.
Lecturer's biography
Dr Andrea Mattiello holds a PhD from the Centre for Byzantine, Ottoman and Modern Greek Studies, University of Birmingham, and a PhD in History and Theory of Performance Art from the School for Advanced Studies in Venice. He has published and lectured on Medieval, Modern and Contemporary Art and Architecture, queer art in Antiquity, female agency in Byzantium, and Greek-Italian exchanges in fifteenth-century Humanism. He researched at CISA "Andrea Palladio", at MIT, at Kunsthistorisches Institut in Florenz, and with the Gerda Henkel Stiftung. He lectured at Università IUAV of Venice, the University of Birmingham, and Christie's Education London. He co-edited the volume Late Byzantium Reconsidered and is currently working on a monograph on the queens at the late Palaiologan Byzantine court in Mystras.