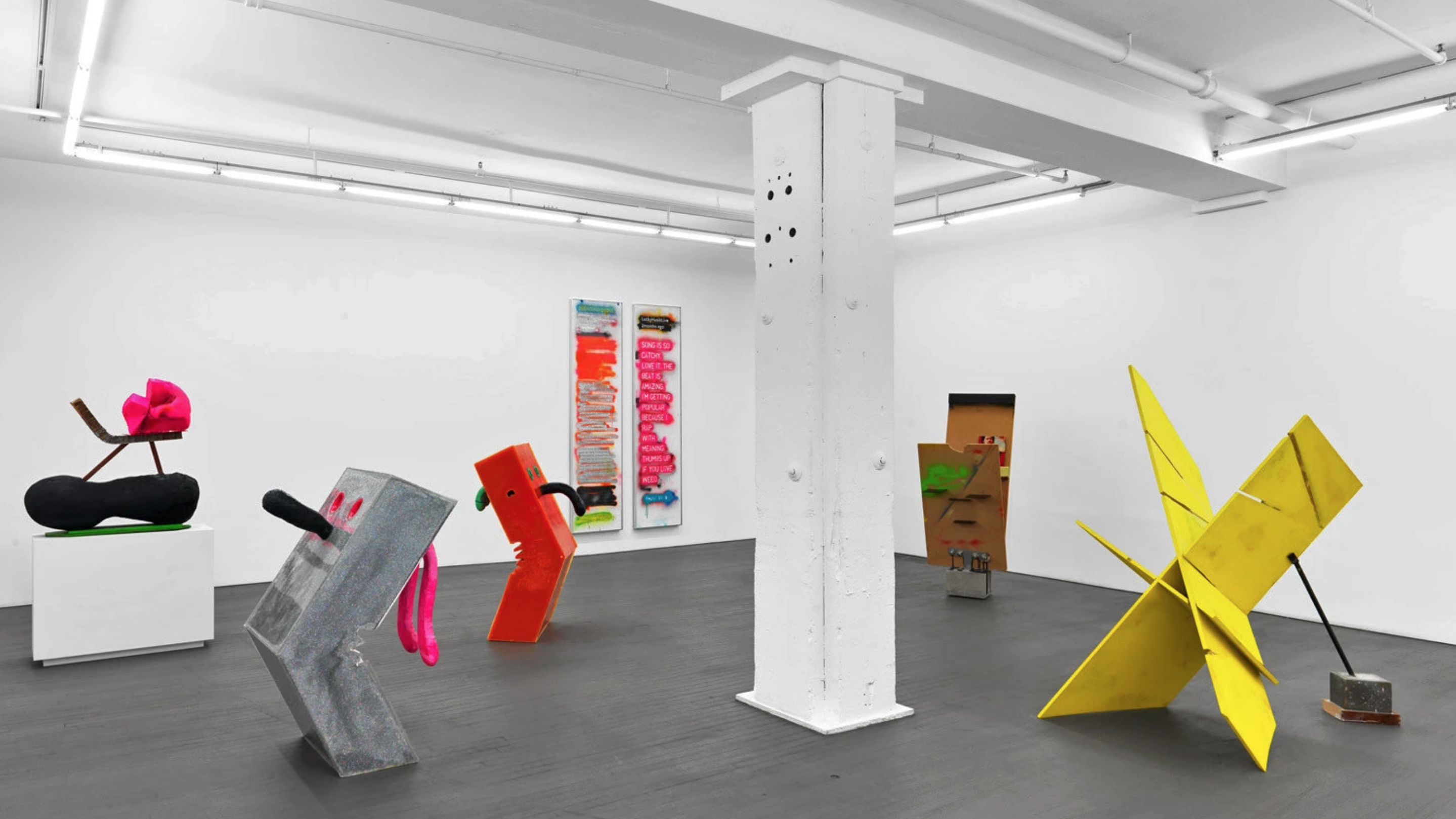 'I ride a figurative horse into abstraction': Harry Dodge's Consent-not-to-be-a-single-being series
Dr Tilly Scantlebury
[This blog post was commissioned by The Courtauld's Gender & Sexuality Research Group, published 26 September 2022]
Harry Dodge is an American multidisciplinary artist working in video, sculpture, performance and literature. Dodge's first major work is By Hook or By Crook (2001), a film made with Silas Howard that follows the friendship of two small town genderqueer people, Shy (Howard) and Valentine (Dodge).1 The film has been praised as a rare example of trans-masculine representation, where both protagonists make clear the mutability of gender; a child asks Shy, 'are you a man or a woman?' to which Shy replies, 'both,' and Valentine describes their gender as 'a special—a two for one.'2 For the past four years while I was writing my PhD, the themes of queer community, pregnancy, and family framed my art historical research. Focussing on American art from 1990 to 2020, I've been writing about the tactics that artists use as attempts to make visible, and thus make viable, queer ways of being together with others. Family, friendship, and community are at the heart of By Hook or By Crook, with the main narrative chronicling Shy trying to help Valentine find their birth mother, whilst Valentine comforts Shy whose father has just died. Yet rather than thinking about this work, which speaks to more explicit visibility, here I'm going to focus on Dodge's series Consent-not-to-be-a-single-being (2015) and explore the interplay of abstraction and figuration in his sculptural objects.
Consent-not-to-be-a-single-being series was first shown in a solo exhibition titled The Cybernetic Fold, which ran from May until June 2015 at Wallspace Gallery in New York. Each sculpture has a double name: Fuck Me / Who's Sorry Now [Fig.1] , In This Hole / Honey Bucket [Fig.2] , and Love Fuzz / Many Mr. Strange [Fig.3]. Almost identical in height, each between 40 and 43 inches, the sculptures first appear as stark cuboid-like objects, with hard edges and firm, rigid structures. Made from non-traditional art materials such as socks, nails, resin and automotive body filler, the rectangular works are monochromatic orange, grey and black which emphasises their serial nature. Each double-titled sculpture is also double-sided. Deep holes and extended protrusions are rendered in different colours from their monochrome planes. In all three works, phallic appendages emerge from the boxy shapes, either in pairs or singular, which Dodge made by filling socks with sand, coating them in resin, and installing them in the objects.3 In Love Fuzz / Many Mr. Strange and In This Hole / Honey Bucket, their lone flaccid protrusions hang and sag, whereas in Fuck me / Who's Sorry Now it juts out rigid and upright. Rendered in a patent black polyester resin, the stiff protrusion looks like a salacious sex toy. While the object can appear intimidatingly sexual, it is also humorous, verging on the ridiculous. The dangling protrusions look like they leak from the objects, as if they have been sucked out to the other side. This sense of seepage is compounded by the matching colour scheme of hole to appendage: pink leads to pink, green to green, and black to black.
Speaking on his multidisciplinary practice and what inspires him to work in one medium rather than another, Dodge articulates: 'I ride a figurative horse into abstraction.' 4 When I first read this statement it conjured the image of the Ancient Greek story of the Trojan Horse, a structure that soldiers used to invade the city of Troy. But reading the statement back, it's clear that there's a key difference; where the soldiers hid in the horse, Dodge instead rides it. Indeed, rather than a covert operation, Dodge's statement makes clear his aesthetic priority; figuration is the place from which he starts, and abstraction is the goal. In considering Dodge's abstract tactics, I draw on David Getsy's writing about the relationship between queerness and abstraction.5 Getsy writes that 'the history of queer practices in art has been wrapped up with a desire to testify to the existence of those who love and live differently. This means that both art and its histories have tended to be preoccupied with the production of evidence.' 6 It is important to linger over the word 'evidence' here, insofar as it speaks to the availability of factual or visual information used to deem something valid, true, or even lawful. Queer art practices have historically relied on an 'evidential' approach to demand legal and social recognition. Whilst abstraction appears to conflict with this insistence on explicit visual evidence, it also provides artists and viewers with new ways of understanding non-conforming genders and sexualities.7
I'm influenced by Jack Halberstam's writing about visibility and the trans subject in In a Queer Time and Place: Transgender Bodies, Subcultural Lives (2005). Halberstam explains that whilst visibility promises affirmation or representation, it can also be 'equated with jeopardy, danger, and exposure' such that it 'often becomes necessary for the transgender character to disappear in order to remain viable.' 8 How then, might abstract tactics afford a specific mode of viability to the trans subject? And could abstraction form the basis of a type of resistance to the codifying systems of legibility and assimilation? With this in mind, we can understand Dodge's sculptural practice to be employing a tactic of queer abstraction. It is important to acknowledge that as a contemporary sculptor working in the American context, Dodge would have inevitably inherited the legacies of sixties abstraction to some extent. However, my claim here is a specific one: that rather than move from 'figuration' to 'abstraction' in one decisive shift, Dodge's sculptures combine both ('a special—a two for one') which extends beyond the immediate realm of the three-dimensional work of art to the bodily, the social, the communitarian aspects of coming together.
The three mixed media sculptures occupy the same ground and space as the viewer, sitting directly onto the gallery floor without the structural support of a stand or plinth. Positioned away from the gallery wall and far enough into the central space of the room, the viewer can move around and between the sculptures. Able to be drawn closer to the works, their shifting materiality contrasts with their boxy, hard edges; cast resin makes their surfaces gleam and shine as if wet. Resin has a viscosity that solidifies over time, and the move from liquid to solid is captured in the objects. The sculptures catch the light in some places more than others, as if their surface is on the move. This visual juxtaposition is most potent in Fuck Me / Who's Sorry Now, where Dodge uses rainbow metallic glitter within the resin itself. In some places this creates a subtle shimmering sensation, and in others the shine of the resin acts like a hazy mirror, as if the sculpture is retreating into itself [Fig.4]. The cavities within the objects seem to lead straight through from one side to the other and draw the viewer in further to inspect the holes. Looking closer, we notice an array of different textures; Love Fuzz / Many Mr. Strange and In This Hole / Honey Bucket have cavities with jagged and raised borders which look bolted on with nails, whereas Fuck Me / Who's Sorry Now has sleek and shiny orifices which melt seamlessly into the surface of the structure [Fig.5]. This hot pink orifice sits above the black erect protuberance making visual Dodge's sculptural title and demanding a sexual reading. All three works bend in the middle; from one side they thrust forward, the folds of resin appearing like springs, as if the sculpture is prepared to bounce back to an upright position at any given moment. From another view they are bent double in a forlorn slump, the folds of resin resembling the creases of skin on a stomach. Although their weight looks strangely distributed when standing alone, when seen together a sense of partnership emerges, an air of equilibrium. Their gallery display draws out their erotic dynamic: Fuck Me / Who's Sorry Now and In This Hole / Honey Bucket are placed side by side. Where one thrusts the other bends backward, allowing us to imagine how they might slot together [Fig.6]. The use of the word 'consent' in the title certainly lends itself to relational, sexual dynamics. Indeed, the sculptures solicit a bodily response, and invite us to mimic their movements, to imagine how our own bodies might fit within the series. Further to this bodily response, the witty and intriguing titles invite a conversation, and as we read them aloud the relational dynamics of the series are impossible to ignore: 'Fuck Me', 'In This Hole'.
There is an obscure fourth sculpture in the Consent-not-to-be-a-single-being series which substantiates my analysis of abstraction and figuration in Dodge's work. Sickly Abstractions / Original Concrete looks like the unwell fourth sibling of the original trio [Fig.7]. It was shown in one of Dodge's more recent exhibitions titled Works of Love, first held at JOAN Arts Centre in Los Angeles in 2018. Its rectangular, cuboid-like structure does not sustain the rigidity or unity that its form suggests. Indeed, this sculpture is shorter and squatter than the other three, and rather than a sleek or glittery finish, its surface is rendered in putrid yellow.9 The differing rates of thickness and colour of the resin add to the sense of fetid looking skin; in some places brighter yellow is visible, and at others it looks like curdled cream gone bad in the back of the fridge. Dodge titles his work once he's finished making it, yet claims to know the 'strange, affective truth' of his interest throughout the process — and interrogating this sculptural title is informative.10 Sickly Abstractions/Abstract Concrete is a reference to Walt Whitman's Specimen Days and Collect from 1882, in which he reflects on society in the American Civil War era. It contains the following passage: 'Perhaps the efforts of the true poets, founders, religions, literatures, all ages, have been, and ever will be, our time and times to come, essentially the same – to bring people back from their present strayings and sickly abstractions, to the costless, average, divine, original concrete.'11
Although itself somewhat abstract, it has been interpreted as Whitman urging us to return to nature, to the 'original concrete', and away from the empty promises of war, what he terms 'sickly abstractions.' In combining the abstract and the concrete in his sculptural title, and indeed in the aesthetics of the sculpture itself, Dodge makes a case against the assumed opposition of these adversaries. Yet more than just a rejection of the binary, Dodge instead articulates how these polarities can be undone, and then remade again in a continual, accruing process. He explains: 'I have a long-standing interest in moments when the ooze of the flesh of the world is swept into structure, however that might happen…Which is to say structuring happens and then unravels again, or transforms. I'm interested in the fertility of that flexing, errant hybridity.'12 In my view, Dodge's Consent series advocates for this 'errant hybridity', and with the title Sickly Abstractions Dodge makes an uncharacteristically explicit nod to his method: the figurative horse he rides, in which he queers abstraction in the process.
About the author
Dr Tilly Scantlebury studied art history at University College London and the Courtauld Institute of Art, and gained a PhD at the Courtauld in 2021. Tilly delivers arts workshops to schools, colleges and adults across the UK as a Public Programmes Educator, and is set to deliver a course about the relationship between art and feminism at Imperial College London in the winter term 2022. Tilly's academic research focuses on queer American art from 1990 to the present, ranging from sculpture, photography, and graphic novels.
You can find Tilly on Twitter at @tillyscant.
References
[1] Howard co-founded The Bearded Lady with Dodge in 1992, a queer community arts space in the Mission District of San Francisco. The phrase 'by hook or by crook' means to do anything necessary to accomplish a goal, which Howard relates to political representation: 'what is involved in inventing your own world—when you don't see anything that represents you out there, how can you seize upon that absence as an opportunity to make something out of nothing, by hook or by crook.' Howard quoted in Halberstam, In a Queer Time and Place: Transgender Bodies, Subcultural Lives, New York University Press, 2005, p.96.
[2] Howard and Dodge quoted in By Hook or By Crook. Accessed online at: http://harrydodge.com/portfolio/by-hook-or-by-crook-2001/. Last accessed 03/08/2022.
[3] Dodge explains the way he made these sculptures in a lecture he gave at Pacific Northwest College of Art, for the students on the MFA Visual Studies programme in March 2018. Unpaginated. Accessed online at:   https://www.youtube.com/watch?v=pS20sA38Zi4&ab_channel=PNCALiveVideo. Last accessed 08/08/2022.
[4] Dodge, quoted in an interview with Carrie Kellerby, 2017. Unpaginated. Accessed online at: https://lunchticket.org/harry-dodge-artist/. Last accessed 01/08/2022.
[5] Alongside Getsy's model, Briony Fer's diagnosis of abstraction being 'at war with itself' as well as her contention that abstraction is 'inherently polymorphic' greatly influenced my understanding of the crisis of abstract art. 'Polymorphic' points to the multifarious forms that abstraction can take, as well as imbuing abstraction with sexual dynamics, recalling Freud's 'polymorphous perversity' that describes the ability of desire to be directed to subjects and objects outside of normative frameworks. See, Fer, Briony, 'Abstraction at War with Itself', in Adventures of the Black Square: Abstract Art and Society 1915–2015, ed. Iwona Blazwick and Magnus Af Petersens, Prestel and Whitechapel Gallery, 2015, pp.225-226.
[6] Getsy, David J., 'Appearing Differently: Abstraction's Transgender and Queer Capacities', in Pink Labour on Golden Streets: Queer Art Practices,eds. Christiane Erharter, Dietmar Schwärzler, Ruby Sircar, and Hans Scheirl, Sternberg Press, 2015, p.39. This 'desire to testify' was particularly important during the AIDs crisis, with activist groups such as ACT-UP, Queer Nation, Lesbian Avengers, Gran Fury, and Fierce Pussy taking a confrontational approach to visibility, making queer life and death impossible to ignore. See: Berlant, Lauren and Elizabeth Freeman, 'Queer Nationality', in Boundary, Vol.2, No.19.1, 1992, pp.149-180; Crimp Douglas, Melancholia and Moralism: Essays on AIDS and Queer Politics, MIT Press, 2002; Leng, Kirsten, 'Fumerism as Queer Feminist Activism: Humour and Rage in the Lesbian Avengers' Visibility Politics', in Gender & History, Vol.32, No.1, 2020, pp.108-130; Rand, Erin J., Reclaiming Queer: Activist and Academic Rhetorics of Resistance, University of Alabama Press, 2014; Walks, Michelle, 'We're Here and We're Queer! An Introduction to Studies in Queer Anthropology', in Anthropologica, Vol.56, No.1, 2014, pp.13-16.
[7] For further resources on queer abstraction, see: Getsy, David J., Abstract Bodies: Sixties Sculpture in the Expanded Field of Gender, Yale University Press, 2015; 'Jennifer Doyle and David Getsy in Conversation', in Art Journal, Vol.72, No.4, 2013, pp.58-71; Hall, Gordon, 'Object Lessons: Thinking Gender Variance through Minimalist Sculpture', in Art Journal, Vol.72, No.4, 2013, pp.46-57; Henry, Joseph, 'Queering Queer Abstraction', in The Brooklyn Rail, 2017; Bryan-Wilson, Julia, Queer Abstraction: Harmony Hammond and Tirza Latimer in conversation with Julia Bryan-Wilson, Queer Conversations on Culture and Arts at California College of the Arts, San Francisco, 2014; Simmons, William J., 'Notes on Queer Formalism', in Big, Red, and Shiny, Vol.2, No.15, 2013.
[8] Halberstam, Jack, In a Queer Time and Place: Transgender Bodies, Subcultural Lives, New York University Press, 2005, p.78.
[9] Personal email correspondence with Dina Deitsch, curator of Works of Love, 4th December 2020.
[10] Dodge, quoted in Kellerby, 2017.
[11] Whitman, Walt, Specimen Days and Collect, David McKay, 1883, p.200.
[12] Dodge, quoted in Pacific Northwest College of Art lecture, 2018.